Take a "Unique" resident tour of our program!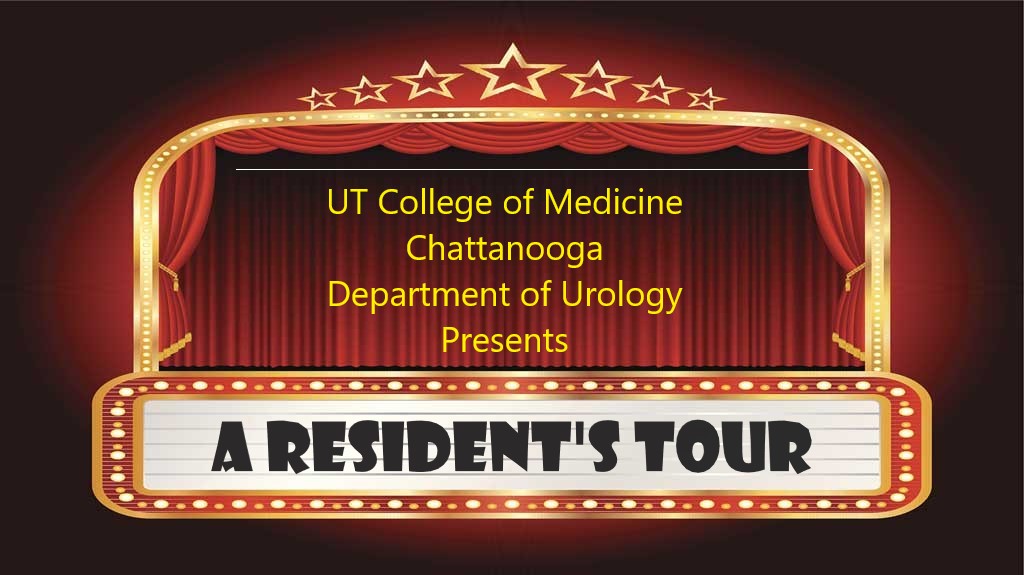 Virtual Tour by PGY-5 Resident, Michael Tonzi, MD
Urology Virtual Open House Video
Browse our department website and the special section offering videos featuring UT COM Chattanooga, Erlanger and living in Chattanooga.
We have recently been approved by the ACGME to expand our program to two positions at each of our five years of training.   
If you are interested in applying to our Urology Program during the Fall of 2022 (to begin training on July 1, 2023 please remember the following:
Applicants must go through the American Urological Association Match for Urology for PGY-1 positions. Please check their website addresses for deadlines and details:  
AUA Match (for PGY-1 Urology Positions) 
Applications are accepted through

 

ERAS.
We will follow the recommendations of the American Urological Association Match, the Association for American Medical Colleges, and the Coalition for Physician Accountability recommendations regarding virtual versus in-person interviews for Fall 2022.
Scheduled Open House Events (Resident-Led)
RSVP: UT-Chattanooga Urology Residency Virtual Open House
Wednesday, August 31, 2022 @ 6:30 pm EST  (VIA ZOOM)
Tuesday, September 27, 2022 @ 6:30 pm EST (VIA ZOOM)
Scheduled VIRTUAL Interviews
Saturday, November 12th
Saturday, December 3rd
All applications must be submitted via ERAS and must include:
Curriculum Vitae

Copy of Medical Diploma

ECFMG Certificate, if applicable

USMLE and ABSITE Scores

3 Letters of Recommendation included your MSPE

Personal Statement
Residency Contact Information:
email:  Stacey.Blanks@erlanger.org 
phone:  423.778.4691
We hope you will contact us about our program and consider the wonderful training, life, and opportunities in Chattanooga with the University of Tennessee and Erlanger Health System.
Recruitment Information
Chattanooga Videos, Photos, and Links