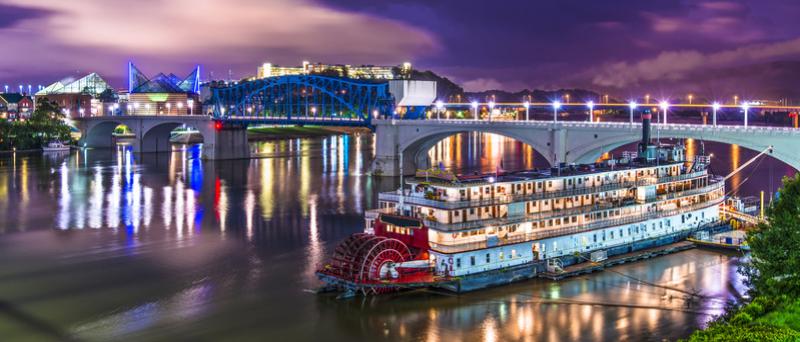 Surrounded by mountains, rivers and lakes, Chattanooga and Hamilton County, Tennessee, offer one of the most beautiful settings that can be imagined.  Chattanooga offers a little bit of everything - the fastest internet service in the western hemisphere, a thriving innovation business district and a booming downtown along the Tennessee River brimming with shops, dining and history.   We are known as both the "Gig City" and the "Scenic City."   Yes, Chattanooga was the first city in the Western Hemisphere to offer one-gigabit internet service.  Now, we have taken it to the next level – now we're 10-GIG city.
Awarded Outdoor Magazine's "Best Town Ever" title for two years, Chattanooga always delivers.  There is always something enjoyable for singles and families alike!  According to Chattanooga Trends, we're "literally perfect!"
We know how important your education and career are, but we want you to have a balanced life.  There's plenty to do in and around Chattanooga.  If you like it, we've got it:  Food, Sports, Art, and Music.   To make life in Chattanooga even sweeter, you can get from our downtown to a hiking trail on a ridge in 10 minutes.  Chattanooga's ever-changing, magnificent views always surprise. Best of all -- Chattanooga enjoys all four seasons.  Check out #noogagram.  
Chattanooga seamlessly blends outdoor lifestyle with business acumen. In fact, Chattanooga's economic opportunity and outdoor recreation choices allow our companies to draw talent from around the world. This allows us to build a thriving economic base that's the envy of many larger communities.
For a map of the area click here.
Economic highlights include:
Manufacturing Magnet – Since the late 1800s, Chattanooga has been a center of manufacturing prowess in the Southeast. Today, we are home to companies that make everything from Allegra allergy medicine to Zebra Cakes.
Financial Services and Technology – Thousands of Chattanooga employees work in the financial services and technology sectors. Insurers like BlueCross BlueShield of Tennessee and UNUM were born here and we have a thriving base of young technology and logistics companies experiencing exponential growth.
Entrepreneurial Ecosystem – Chattanoogans were the first to put Coca Cola in a bottle. We invented the tow truck. Today, we are building on this legacy with a strong infrastructure to support your business. For more information click here.
Once you've visited us, we truly hope you will feel the need to "Come home to Chattanooga!"
Chattanooga Links