Urology Residency - Chattanooga
Welcome to the UTHSC College of Medicine Urology Residency Website. 
View the video below to learn more about our program.
A Message from the Program Director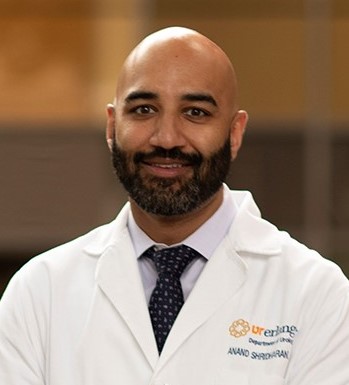 Thank you for your interest in the University of Tennessee College of Medicine Chattanooga (UTCOMC) Department of Urology for your urologic training. We are a 5-year, 2 resident per year ACGME-accredited Urology Program.  Our exciting program has been built from the ground up by our teaching faculty to meet the contemporary needs of urology trainees. Our goal is to prepare our residents for excellence in urology, whether they seek to practice in an academic or community setting. 
We are proud of our dynamic and diverse department, with faculty, residents and staff from a multitude of backgrounds.  Our teaching faculty are fully invested in the personal, academic, and operative growth of our trainees. To that end, we strive to promote an environment of inclusivity and wellbeing.  Furthermore, the faculty and residents get along well both inside and outside of the hospital, and we will continue to foster that tradition going forward.
We offer a robust tertiary care, hospital-based surgical practice led by fellowship-trained faculty covering the full breadth of urologic disease. Our case volume and case complexity are exceptional, owing credit to the drive of our department and large catchment area in Southeastern Tennessee. There are two clinical sites, Baroness Erlanger Hospital (BEH) and Erlanger East Hospital (EEH), both part of Erlanger Health System.
Erlanger Health System is the 6th largest public health system in the country and provides the majority of uncompensated care in our region. We perform the majority of our complex oncology, endourology, and robotic upper tract reconstruction cases at BEH. Children's Hospital at Erlanger is adjacent to BEH and is home to our two fellowship-trained pediatric urologists and the pediatric urology rotation. Erlanger East is a quick 15-minute drive from BEH downtown, and this is where we perform the majority of our female pelvic reconstruction, lower urinary tract reconstruction, prosthetics, and male microsurgery cases.  General urology is performed at both sites and by multiple teaching faculty. We have a resident-run, attending supervised, indigent care clinic that offers residents continuity of care for their patients throughout their training. 
In addition to exceptional urologic surgical and academic training, we offer opportunities for involvement in clinical research and quality improvement projects supported by UTCOMC.  Given our high surgical volume, we are involved in trialing new devices and surgical platforms. We were one of the first clinical sites to implement the Da Vinci SP system, and we are a Urolift and Penile Implant Center of Excellence.
Chattanooga, Tennessee is a wonderful small city (population 184,143 with more than 570,000 in the greater metropolitan area), perfect for young professionals and families.  Not many cities offer hiking in the mountains, paddle boarding on the river, and a live concert in the same day.  The cost of living is low, traffic is not an issue, and the weather is great.  Chattanooga has been consistently voted one of the best small cities to live in by Conde Nast Traveler and Outdoor Magazine.
Our program's future is bright.  Applicants necessarily need to have a strong academic record, communicate clearly, work well in a team environment, and love to operate.  Leadership experience, prior work experience and having successfully overcome personal hardships are all factors especially important to us in an applicant, but not necessarily a prerequisite.  We encourage all those interested in joining our team to apply, and we look forward to working with you in the future.
Sincerely,
Anand Shridharani, MD
Urology Residency Program Director