The Diabetes Wellness and Prevention Coalition (DWPC) is a patient, provider, and research partnership initiated in 2009 by Dr. Michael Ugwueke, President/CEO of Methodist Le Bonheur Healthcare (MLH), to improve care for diabetes and obesity. Dr. Ugwueke sought to emphasize "prevention through proactive disease management," shifting treatment to outpatient settings and "reducing the incidence and severity of the complications experienced by the patient, leading to an increase in quality of life." This multi-year effort has sought to develop the patient, provider, and research collaboration necessary to transform the paradigm of diabetes care in the Mid-South from a focus on reactive, rescue care to a focus on high-value, patient-centered care that mobilizes and engages the entire community.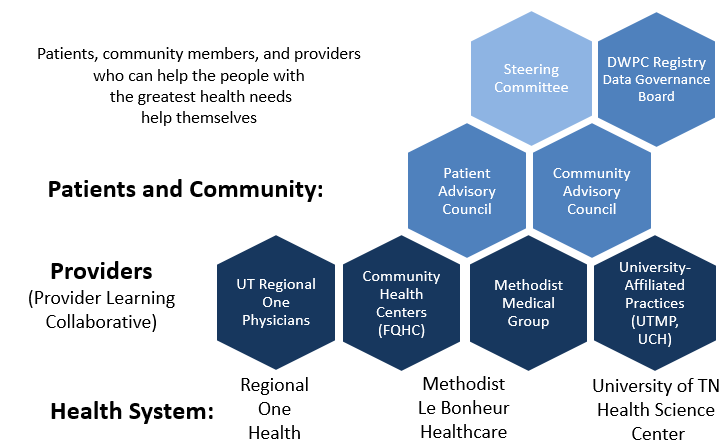 The Diabetes Wellness and Prevention Coalition (DWPC) governance structure is shown above. The DWPC is supported by University of Tennessee Health Science Center (UTHSC) Center for Health System Improvement (CHSI) staff.
All DWPC participating practices have signed collaborative agreements pledging to work together through the DWPC to improve diabetes care and promote wellness for people with diabetes or at risk for diabetes and its many complications in the Mid-South. DWPC partners participate in a learning collaborative with other Coalition members to learn and share:
Best practices in care for obesity and diabetes
Best methods to develop and strengthen patient-centered medical home capacity
Ways to identify and overcome barriers to effective obesity and diabetes care
DWPC partners support, contribute to, and help oversee: 1) the DWPC Registry to track practice-level diabetes care performance and use this data to improve care, and 2) the DWPC Practice-Based Research Network (PBRN) to participate in practice-based research to improve health care delivery and outcomes for people in the Mid-South.