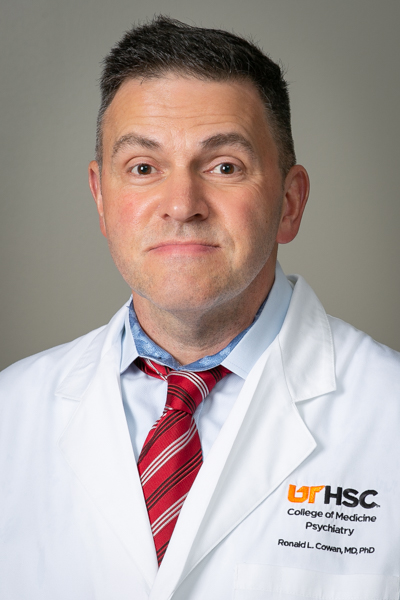 Welcome to the UTHSC Department of Psychiatry 
It is an exciting time for psychiatry as good mental health is increasingly recognized as an essential foundation for quality of life and all aspects of physical health and longevity. Psychiatrists are in exceptional demand and there is a great need to increase the numbers of psychiatrists trained with the goal of meeting current and projected mental health care needs.
The Department of Psychiatry at UTHSC is well-positioned to embrace present challenges and future trends in psychiatric training, research, and clinical care. The Department's mission is to improve the mental health and well-being of Tennesseans and the global community by fostering integrated, collaborative, and inclusive education and clinical training, research, clinical care, and public service. We emphasize compassion and empathy in all endeavors and have a strongly patient-centered treatment approach. In all interactions, the Department celebrates diversity and inclusion in age, class, ethnicity, gender, gender identity, physical and mental abilities, race, sexual orientation, and spiritual practice. We actively embrace the full range of human differences.
The Department has a long tradition of excellence in patient care, education, clinical training, and research in mood disorders. Department faculty and trainees provide clinical care in a broad range of settings, including emergency departments, inpatient psychiatry, the general hospital, outpatient departments, schools, and residential settings; and we are building our public service mission to expand care delivery to the underserved.
UTHSC's Memphis campus has research, educational, and clinical partnerships with St. Jude Children's Research Hospital, Methodist Healthcare, Regional One Health, Le Bonheur Children's Hospital, Baptist Memorial Health Care, the Memphis Veterans Administration Medical Center, and St. Francis Hospital. Additional training sites for psychiatry include the Memphis Mental Health Institute and Lakeside Behavioral Health System. The medical campus is a vibrant and thriving training center, with over 600 medical students and 1,100 residents and fellows in the College of Medicine and many more trainees in the Colleges of Dentistry, Graduate Health Sciences, Health Professions, Nursing, and Pharmacy.
The future of psychiatry is bright, and psychiatrists will hold ever-increasing and essential roles in the healthcare of the nation and the global society. I hope that you will be inspired to learn more about psychiatry, our department, UTHSC, and Memphis as we embrace our mission and advance the care of our patients.
Ronald L. Cowan, MD, PhD
Harrison Distinguished Professor and Chair
Find Us On Social Media