Supervision and Procedures: Amos, Jared, MD
The Residency Supervision Area is designed to assist hospitals and clinics with the protocols outlined for specific duties residents and fellows can perform. These guidelines are determined by the faculty of the University of Tennessee College of Medicine Chattanooga, Department of Pediatrics.  Any questions about certain procedures not listed should be addressed to the faculty and not decided by the resident or fellow.
A credentialed and privileged attending physician ultimately provides supervision or oversight of each Resident's patient care activities. Direct supervision by a qualified attending physician (or a more senior Resident with Indirect Supervision immediately available) is required in the OR/Delivery Room or for non-routine invasive procedures like Cardiac Cath, Endoscopy, and Interventional Radiology.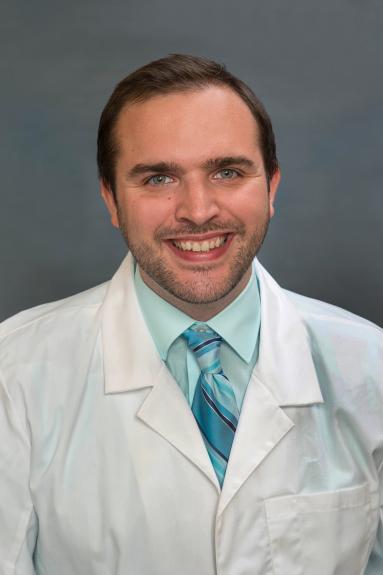 Jared Amos, MD
PGY-3
Pediatric Resident
Direct Supervision - the supervising physician is physically present with the resident and patient.
Indirect Supervision with Direct Supervision IMMEDIATELY available - the supervising physician is physically within the hospital or other sites of patient care, and is IMMEDIATELY available to provide Direct Supervision.
Indirect Supervision with Direct Supervision available - the supervising physician is not physically present within the hospital or other sites of patient care, but is IMMEDIATELY available by means of telephone or other electronic means, and can be available if required for Direct Supervision
Oversight - Supervising Physician is available to provide a review of procedures or the encounter with feedback after the care is provided but the procedure or care does not warrant the physical presence of the attending.
In particular, PGY-1 residents should be supervised either directly or indirectly with direct supervision immediately available as described in the levels of supervision, unless denoted as Oversight in the list that follows.
In an emergency, defined as a situation where immediate care is necessary to preserve life or prevent serious impairment, residents are permitted to initiate whatever care is necessary and reasonable to save a patient from serious harm even if an attending physician is not immediately available to supervise. The appropriate Medical Staff member should be notified as soon as possible.  
Supervising physicians may be more advanced residents or fellows. 
Certifications current when the resident entered training at the UTCOMC.
Basic Life Support (BLS)
Advanced Cardiac Life Support (ACLS)
Advanced Trauma Life Support (ATLS)
As a 3rd Year Pediatrics Resident, the Resident can perform any Pediatric physician skill or procedure deemed appropriate by his/her attending physician or specialty physician skill or procedure deemed by an attending physician in a department in which the Resident is assigned for rotation (e.g., Pediatric Surgery). Residents are expected to progressively assume more responsibility throughout each level oftraining and demonstrate competence in skills/procedures requiring less Direct Supervision. The supervising physician may make adjustments in the level of supervision required for that specific procedure.
Patient Care Skills or Procedures that do not require Direct or Indirect Supervision presence of a supervising physician (i.e., Oversight) are reported in the Procedure Logger Module and Privilege Report in New Innovations.  Anything not specifically listed requires either Direct Supervision, Indirect Supervision with Direct Supervision Immediately Available, or Indirect Supervision with Direct Supervision Available by phone or other electronic media, at the discretion of the supervising physician.
Nursing and other healthcare staff at Children's Hospital at Erlanger should log into our web-based New Innovations Residency Management System using their login credentials to view individual procedure privileges and levels of supervision for each Pediatrics Resident. 
For any procedure for which the Resident is not listed as being able to perform with only general supervision or oversight, those procedures must be performed under direct supervision of a faculty member or more senior resident.