Saint Francis Family Medicine Residency
The care of the ambulatory patient is the cornerstone of family medicine.
Housestaff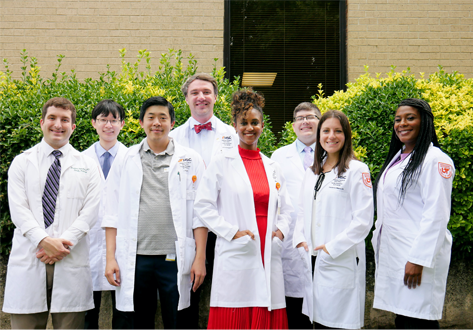 Chief Residents


Puneet Lakhmani, MD
Dr. Lakhmani's Bio
Hometown: Jackson, MS
Undergrad: Davidson College
Medical School: Tulane University School of Medicine
What do I enjoy doing in my free time: Walks in Overton Park. Eating sandwiches of different shapes and sizes.
Interesting tidbits: I used to be a firefigher and massage therapist.
What do I like about our residency: There is a strong culture of collegiality here. I feel listened to and respected by peers and attendings. Also, Memphis is incredibly affordable to live in.
Career aspirations: I'm still deliberating. I'm glad I have so many options with Family Medicine.


Bindusri Paruchuri, MD
Dr. Paruchuri's Bio
Hometown: Aurora, IL
Undergrad: St. Louis University in St. Louis, Missouri
Medical School: St. George's University School of Medicine in Grenada
What do I enjoy doing in my free time: I love catching up with my friends and family! I am a major foodie so I love checking out new places to eat or baking new recipes. I also love endlessly binge-watching tv shows/movies. When I'm not being a couch potato, I love going out and having new adventures, especially in the outdoors.
Interesting tidbits: Reese's are my weakness.
What do I like about our residency: When first applying to residencies, I was searching for a FM program that was unopposed with a diverse patient population, offered well-rounded training, and most importantly, had a friendly and supportive faculty. On interview day and everyday since, this program continues to meet everything I was looking for! In Memphis, we serve an under served population, which is invaluable since it provides us the opportunity to provide critical and life-changing care to our patients. I also love how well-rounded my training has been during my rotations through various hospitals/clinics and the wide range of procedures I've been able to learn. Additionally, our program has extremely friendly residents and faculty that I enjoy working with and learning from on a daily basis!
Career aspirations: In the future, I hope to pursue an FM-OB fellowship where I can further develop my interests in Women's Health! I also enjoy teaching so I hope to incorporate that into my future career one day!