Applicant Information and Criteria

Video from Our Program Director and Faculty

Video from Our Residents
Virtual Interviews
This year, based on recommendations from the American Orthopaedic Association (AOA), our program will conduct virtual interviews only.  The intent is to be mindful of the continuing battle against the COVID-19 pandemic and our part to curb its spread.
Applicants for our Orthopaedic Surgery Residency Program must participate in the National Residency Matching Program. We also participate in AAMC's Electronic Residency Application Service, called ERAS, to accept and process residency applications. ERAS is a computerized application service which is available to all medical students attending accredited schools in the United States and foreign medical graduates via the Educational Commission for Foreign Medical Graduates (ECFMG). Medical students interested in applying to our program can request information and brochures from us, but applications and supporting documentation must be submitted directly from the medical schools via the Internet. Someone in your medical school's Dean's Office should be able to counsel you regarding this procedure. Each year we seek three PGY-1 level positions in the Orthopaedic Surgery Program. The NRMP Program Code for these Categorical positions is #1689260C0. Our Program ID # for ERAS is #260-47-11-164.

For additional information about our program, you can contact us by:
Mail:
University of Tennessee Health Science Center College of Medicine Chattanooga
Department of Orthopaedic Surgery
ATTN: Donna Gibson, Residency Program Coordinator
975 East Third Street, Box 260
Chattanooga, TN 37403 
Email:  UTorthosurg@erlanger.org
Phone: 423.778.9008 
2021-2022 Interview Dates:
*Note: there will not be an interview date in December*
January 12, 2022
January 19, 2022
*All interviews will be virtual. Online opportunities to interact with the program TBA.
Quick Links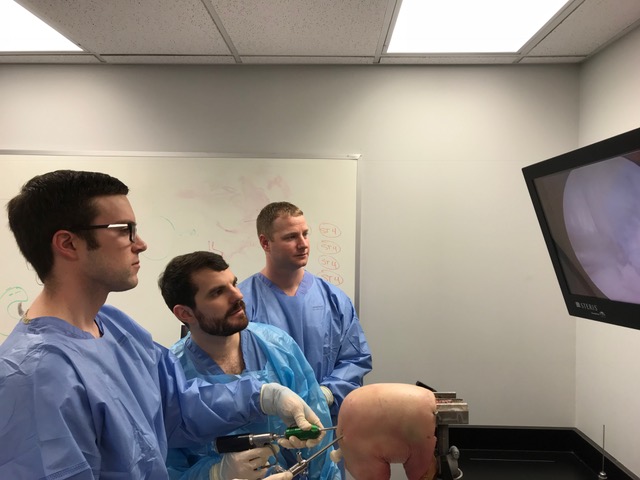 Chattanooga Videos, Photos, and Links
Applicant Criteria
Minimum Criteria
Applicants for the Orthopaedic Surgery Residency will be considered only if they meet eligibility requirements for residency established by the ACGME and our institution, the University of Tennessee College of Medicine Chattanooga.  In addition, applicants will be interviewed only if they meet the following:
Step I USMLE - score of at least 235 on first attempt
Step II USMLE - score of at least 235 on first attempt*
(*may adversely affect applicant if Step II scores are not available)
Preference for members of current year's graduating class.  Applicants should be ranked within the top 25% their graduating class.
Note:  Medical students from the University of Tennessee College of Medicine may take the four week orthopaedic surgery elective at the UTCOM Chattanooga, but must meet expected criteria in order to be eligible for an interview.  No students from other medical schools are being accepted at this time. Qualifying data must be verified on the ERAS application to be eligible for interview.  Rotation does not guarantee an interview.  Contact Orthopaedic Conference Coordinator, Kim Davis (kimberly.davis@erlanger.org) to request elective application forms.
Institutional Policy on Resident Recruitment, Eligibility, and Selection The Graduate Medical Education Programs of the University of Tennessee College of Medicine Chattanooga acknowledge and follow the eligibility and selection criteria for resident applicants stated in the Accreditation Council for Graduate Medical Education (ACGME) Institutional Requirements, as well as the rules of the National Resident Matching Program (NRMP).
Applicant Eligibility
Medical Education: Only the following individuals will be considered as applicants in residency programs in the University of Tennessee Graduate Medical Education Programs
Visa Status: Visa status for International Medical Graduates must fall within the following categories:
Eligible to seek J-1 visa
Permanent Resident or Alien status (i.e., "Green card")  
In accordance with University of Tennessee Graduate Medical Education guidelines, this program does not sponsor residents for "H" type visas.
Application Process and Interviews
All applications for first year positions will be processed through the Electronic Residency Application Service (ERAS)
Opportunities for interviews will be extended to applicants based on their qualifications as determined by USMLE scores, medical school performance, and letters of recommendation.
The Department of Orthopaedic Surgery selects residents with due consideration of their preparedness to enter into the program.  Personal characteristics and aptitude, as well as academic credentials, will be considered in selection.  The Orthopaedic Surgery Residency Program participates in the National Resident Matching Program (NRMP).
National Resident Matching Program (NRMP) & Rank Order Process
This program participates in the NRMP MATCH and will only consider applicants participating in the MATCH.
All interviewed applicants will be considered for ranking in the MATCH in order of preference based on the following criteria: USMLE scores, medical school performance, letters of recommendation, residents' and faculty perceptions during interviews, determination of communications skills, motivation and integrity via interviews.
Characteristics such as gender, age, religion, color, national origin, disability or veteran status will not be used in the selection procedure. (The University of Tennessee is an EEO/AA/Title VI/Title IX/section 504/ADA/ADEA employer.)
Recommendations of all interviewing faculty and residents will be considered in determining the rank order of the interviewed applicants.
Appointments
Applications must be received through the Electronic Residency Application System (ERAS) of the Association of American Medical Colleges and are screened according to the preferences detailed below.  Screened applications are then reviewed by the Selection Committee and the Program Director/Chairman to determine which candidates will be invited for personal interviews.  Once the interviews have been completed, each applicant is assigned a priority score based on his/her academic performance in medical school, Dean's and other letters of recommendations, class standing, USMLE scores and the assessments of faculty and residents from our program who met with the applicant during the interview process.
Appointments will be issued to all matched applicants who meet eligibility requirements.
Following the release of the MATCH results, attempts will be made to fill any vacant positions in accordance with the terms of the UTCOM Chattanooga Institutional Agreement with the NRMP.

Letters of Agreement

 

for all positions will be issued through the Graduate Medical Education Office following a review of eligibility and advancement.
Note:  The Tennessee Board of Medical Examiners requires that applicants for license in Tennessee must be graduates either from LCME or AOA accredited schools or from international schools whose admission meet or exceed those of medical schools accredited by the Liaison Committee on Medical Education.  The UT College of Medicine Chattanooga and its programs have determined that they will only consider applicants for student rotations or residency/fellowship applications who are from schools who meet these same criteria so they would be eligible for medical license in Tennessee after completing residency.  The Board of Medical Examiners adopts the following list of accreditation bodies: