Chattanooga Orthopaedic Surgery Residency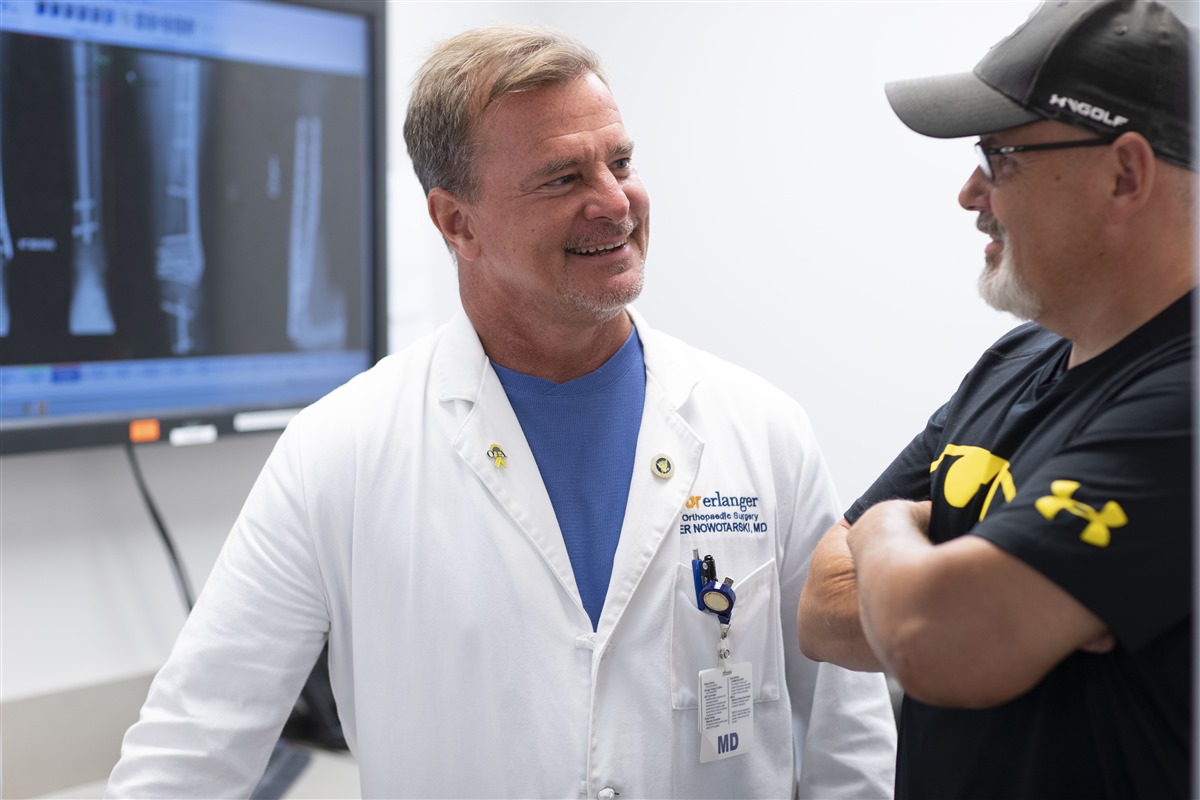 Our Orthopaedic Surgery Residency is a five-year program, beginning with the PGY-1 level, with three positions at each level. Our program is fast-paced and provides comprehensive training in adult and pediatric orthopaedic surgery. The Department of Orthopaedic Surgery also sponsors a one-year Orthopaedic Trauma Fellowship for residents who have completed an Orthopaedic Surgery Residency. 
Rotations at the PGY-1 level include four months of surgery including trauma, six months of orthopaedics, and two months of other rotations consistent with directives of the Residency Review Committee. The PGY-1 year also includes focused Surgical Skills Training outlined by the American Board of Orthopaedic Surgery.
The remaining four years provide clinical orthopaedic training in subspecialty areas:
Shoulder/Elbow Surgery
Didactic and basic science elements of the program include:
Five hours of conferences per week.
Monthly journal club
Attendance at courses in basic trauma, musculoskeletal pathology, basics in arthroplasty and an orthopaedic board review course.
Chief residents attend the

 

AAOS

 

Annual Meeting.

An institutional Core Curriculum that has been developed for education in issues that affect all residents
Orthopaedic residents are an integral part of the Level I Adult and Pediatric Trauma Centers. The one-year Orthopaedic Trauma Fellowship experience emphasizes pelvic and periarticular fractures. 
The institution has a Surgical Skills and Simulation Lab where basic surgical skills are taught and practiced during the PGY-1 level. 
The Department of Orthopaedic Surgery has its own library as well as a four-station arthroscopic/technical skills lab which includes arthroscopic simulation.
We invite you to consider our residency and contact us regarding our interview schedule. We accept residency applications only through the Electronic Residency Application Service (ERAS), via the Association of American Medical Colleges (AAMC). 
Erlanger Health System announces receipt of the Orthopedic Center of Excellence Designation from DNV. This designation affirms an organization's excellence in the provision of diagnostic services, surgical services, and therapies related to orthopedic care.
The DNV Orthopedic Center of Excellence designation is obtained by achieving advanced certification in at least three (3) advanced orthopedic programs. The DNV advanced orthopedic requirements are informed by the guidelines and recommendations of organizations such as the American Academy of Orthopaedic Surgeons, the American Association of Hip and Knee Surgeons, the ERAS® Society, the American Society of Anesthesiologists, and relevant requirements of the CMS Conditions of Participation for Hospitals.
Graduates
Contact Information
Location: Department of Orthopaedic Surgery
Erlanger POB (Elevator B), 979 East Third Street, Suite 202
Chattanooga, TN 37403
Phone: 800.947.7823, ext 9008 or 423.778.9008
Fax: 423.778.9009 
Email: utorthosurg@erlanger.org 
Mail: UT College of Medicine Chattanooga
Department of Orthopaedic Surgery
975 East Third Street, Hospital Box 260 
Chattanooga, TN 37403
Residency Program Director: Jeremy R. Bruce, MD
Fellowship Program Director: Warren E. Gardner II, MD
Residency and Fellowship Coordinator: Kim Davis
Medical Students: Artnita Paris