Chattanooga Emergency Medicine Fellowships
EMS Fellowship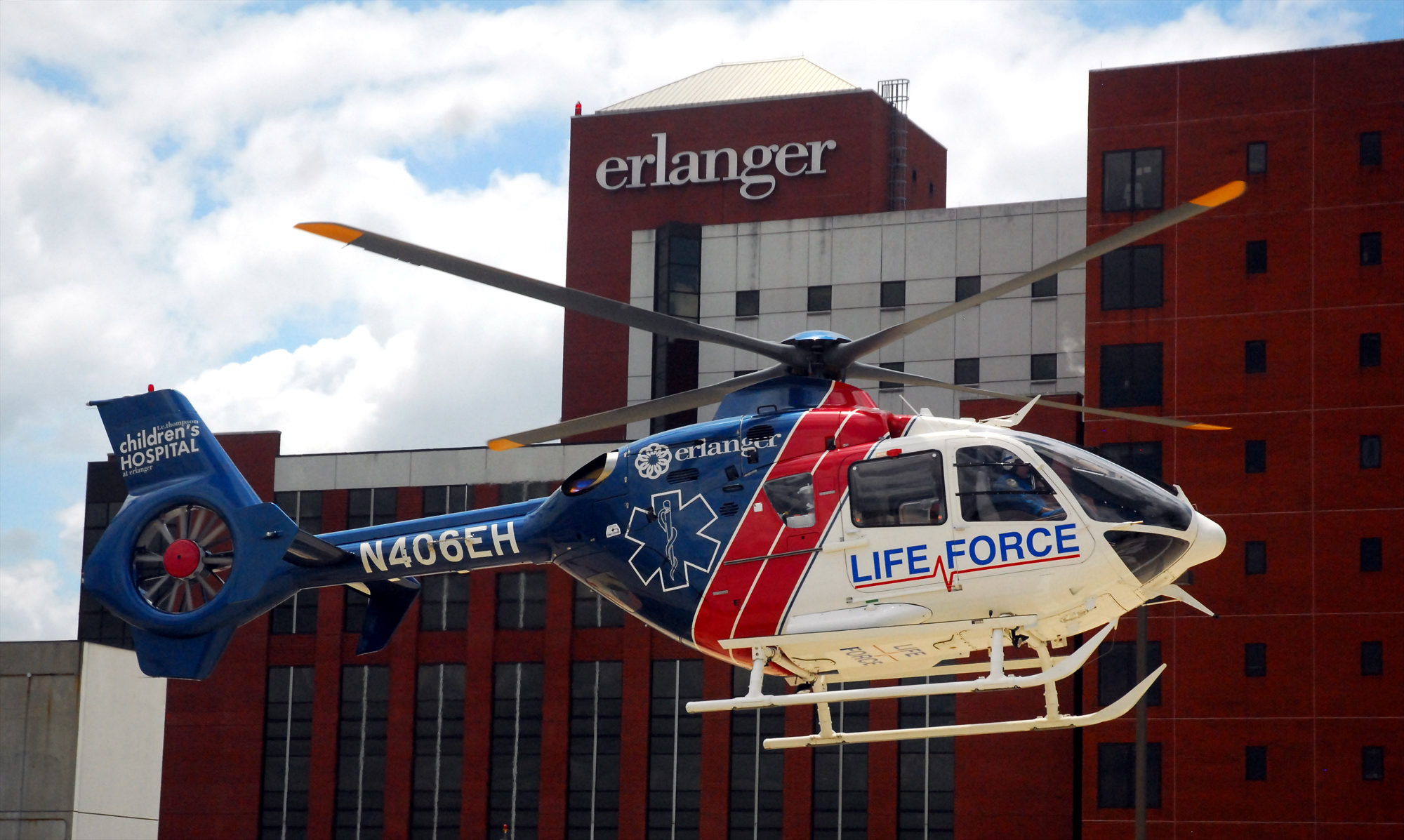 The University of Tennesee College of Medicine Chattanooga proudly offers an ACGME-accredited fellowship in Emergency Medical Services (EMS).
This is the first accredited EMS fellowship in Tennessee and continues to be a valuable learning opportunity for physicians interested in pre-hospital medicine and transport medicine.
The fellowship is a one-year program covering all aspects of EMS practice.
Each section of the program emphasizes a different aspect of EMS with related readings and text assignments, including:
Pre-hospital experience: major time in the pre-hospital response and setting
Didactic sessions: held weekly to discuss each topic and facilitated by core faculty
Journal Club: organized and presented by the fellow on a bi-monthly basis and held at a faculty member's house or as a night out with faculty (depending on work schedules)
Mentorship: by assigned core faculty mentors
Fellows are also expected to continue practicing clinically (a monthly obligation of four clinical shifts) in the ED at Erlanger Health System.
The monthly schedule is flexible to meet the individual fellow's needs. After completing all orientation and training, the fellow typically has most monthly meetings on Tuesday mornings, a 12-hour flight shift on Wednesdays, and weekly didactics on Thursday mornings. All other days are free for ground response with HCEMS, research/teaching, responding to SWAT or search and rescue calls, or additional ED shifts (with pay) as desired. Weekends are usually free unless working in the ED or on a call-out.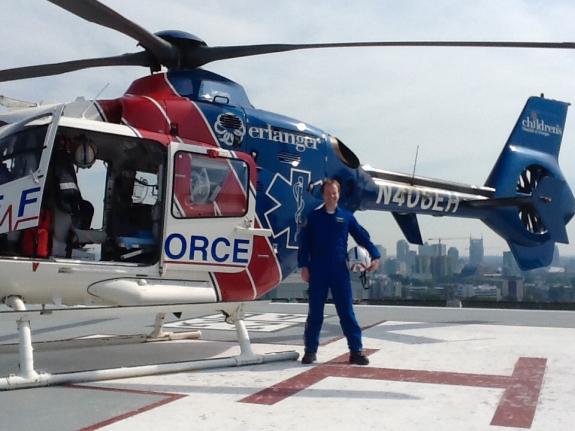 Dr. Tift graduated summa cum laude from Wake Forest University and earned his doctorate from Medical College of Georgia. He completed his Emergency Medicine residency at Georgetown University in Washington, DC, then came to Chattanooga for his EMS Fellowship.
He is board certified in Emergency Medicine and Emergency Medical Services from the American Board of Emergency Medicine. He is a fellow of the American College of Emergency Physicians and the National Association of EMS Physicians.
EMS Fellowship Applicants
Applicants interested in the EMS Fellowship should send the following materials to the EMS Fellowship Coordinator:
CV;
Personal Statement;
Letters of Recommendation:

1 from your residency Program Director (required)
1 from an EMS physician you have worked with (preferred but optional)
For more information contact:
Velvet Green, EMS Fellowship Coordinator
Velvet.Green@erlanger.org
Ultrasound Fellowship
The Emergency Medicine Ultrasound Fellowship is a non-ACGME accredited one-year program sponsored by the Department of Emergency Medicine and our Emergency Medicine Residency.
Fellowship Requirements
The Ultrasound Fellow is hired as an attending physician and holds a faculty appointment to the University of Tennessee College of Medicine Chattanooga. The fellow must meet these requirements by the time the fellowship begins:
Be a licensed physician in Tennessee;
Be credentialed as a member of the Erlanger medical staff;
Be a graduate of an accredited emergency medicine residency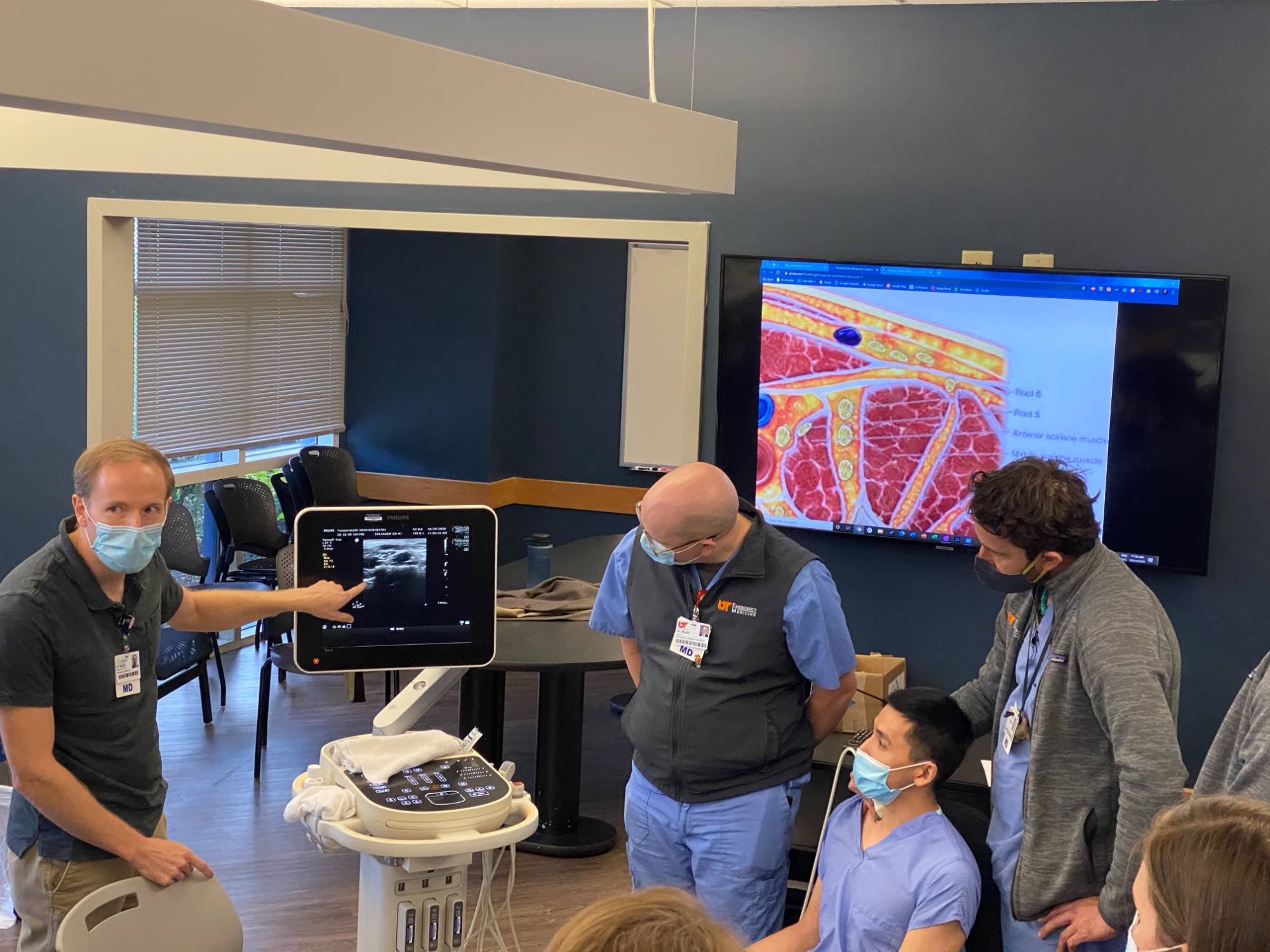 Dr. Smith is seen here with the 2023-24 Ultrasound Fellow, Dr. Elijah Wyatt (center), and EM residents during a weekly lecture.
About Dr. Smith
Ultrasound Fellowship  Director Dr. Benjamin Smith is an board certified emergency medicine physician and core faculty member of the UTCOM-Chattanooga Emergency Medicine residency. He is also an internationally recognized ultrasound educator in point of care ultrasound (POCUS). In 2021 the American College of Emergency Physicians selected Dr. Smith as the ACEP Outstanding Speaker of the Year for his teaching excellence. This award is based on feedback from approximately 6,000 emergency physicians.
One of Dr. Smith's most noted achievements is the creation of CoreUltrasound.com, the highest-ranked POCUS educational site online with more than 1.2 million views. His other digital education tools include Ultrasound of the Week (ranked in the top 20 of ALiEM social media sites) and the websites 5minsono.com and CriticalCareNow.com.
Interested applicants should direct their inquiries to:
Ben Smith, MD, FACEP
Email:   bensmith.md@gmail.com
Twitter: UltrasoundJelly