The primary aim of our fellowship programs is to create the next generation of leaders and innovators in pediatric academic medicine. We help our trainees develop core competencies in academic medicine focusing on education, research, patient care and advocacy. We are dedicated to fostering your success during fellowship training and beyond.
Read about our programs and learn more about living in Memphis in our Le Bonheur Fellowship Booklet.
Pediatric Fellowship Office
The UTHSC Pediatric Fellowship Office provides a centralized resource for all pediatric fellowship programs at Le Bonheur. We strive to create a community for fellows to network, grow and share common interests. Research Week introduces our fellows to core academic skills in research while our monthly noon conference focuses on personal and professional development. We are the administrative point of contact for the Research Grants Program for clinical fellows helping them stay on track with their individual scholarship oversight committees (SOC). Through the Fellowship Office, we ensure that you have the key resources you need for a successful fellowship and medical career.
Noon Conferences
The Fellowship Office hosts monthly noon conferences just for fellows covering a variety of topics that supplement individual division conferences.
Examples of topics covered are:
Quality improvement and patient safety
First job considerations and CV prep
Negotiations, interview skills and contracts
Career opportunities
Wellness
Fellows as educators
Personal finance
Leadership
Managed care and business of medicine
Risk management
Epidemiology and biostatistics review
Presentation skills
Health care policy and advocacy
Introduction to E&M coding
International health
Promotion and tenure
Social media and medicine
Advice from senior mentors
Professionalism
Fellowship Research Support
Research Week
In the fall of the first year, all fellows are given a week of protected time to participate in the Fellowship Office-sponsored Research Week. During this time, fellows will hear from different speakers as well as receive assistance from mentors to prepare a research project proposal.
Examples of Research Week topics are:
How to formulate a research question
Research study design and clinical trials
Biostatistics and epidemiology
Grants, Institutional Review Board (IRB) and ethics in research
Databases available at UTHSC including REDCap
Grants
The Research Grants Program for clinical fellows promotes meritorious clinical and basic investigation carried out by pediatric fellows at Le Bonheur. The Fellowship Office provides guidance and management of applications for available funding.
Children's Foundation Research Institute
The Children's Foundation Research Institute (CFRI), a partnership between Le Bonheur, UTHSC and the Children's Foundation of Memphis, is committed to making new discoveries in pediatric medicine.
Le Bonheur investigators have access to state-of-the-art research facilities and support that provides the best opportunity to find new diagnostic tools, treatments and cures. Some of the facilities include:
Administrative Core: oversees all aspects of CFRI operations
Grant and Contract Management: assists researchers in securing funding
Regulatory Core: ensures research is carried out in compliance with local and federal regulations
Scientific Editing: PhD level scientific editor assists researchers with preparation and development of scientific publications and presentations
Biomedical Informatics Core: provides informatics support for all CFRI researchers
Biostatistics Core: provides assistance with study planning and design, power calculations and statistical analyses
Clinical Trials Support: provides infrastructure and clinical expertise to facilitate therapeutic, pharmaceutical and disease-oriented research
CFRI Laboratories: contains over 30,000 square feet of basic laboratory space with shared laboratory equipment
Clinical Trials Advisory Committee: reviews new investigator-initiated research projects in order to enhance funding opportunities
BIG Initiative
The CFRI established the Biorepository and Integrative Genomics (BIG) Initiative – a collection of DNA samples to study the influence of genes on diseases and treatment response. The BIG Initiative recently collected its 10,000th sample. Researchers have access to DNA samples by submitting a BIG Materials Distribution Request, which are reviewed on a monthly basis.
Pediatric Research Day
This annual event brings together faculty and trainees at all levels from Le Bonheur Children's Hospital, the Department of Pediatrics at UTHSC, CFRI and other institutions to facilitate presentations and discussions on the latest research findings, medical advances and scientific innovations.
ACGME-Approved Pediatric Fellowship Programs
Collaboration and Community: Surveying the Fellowship Landscape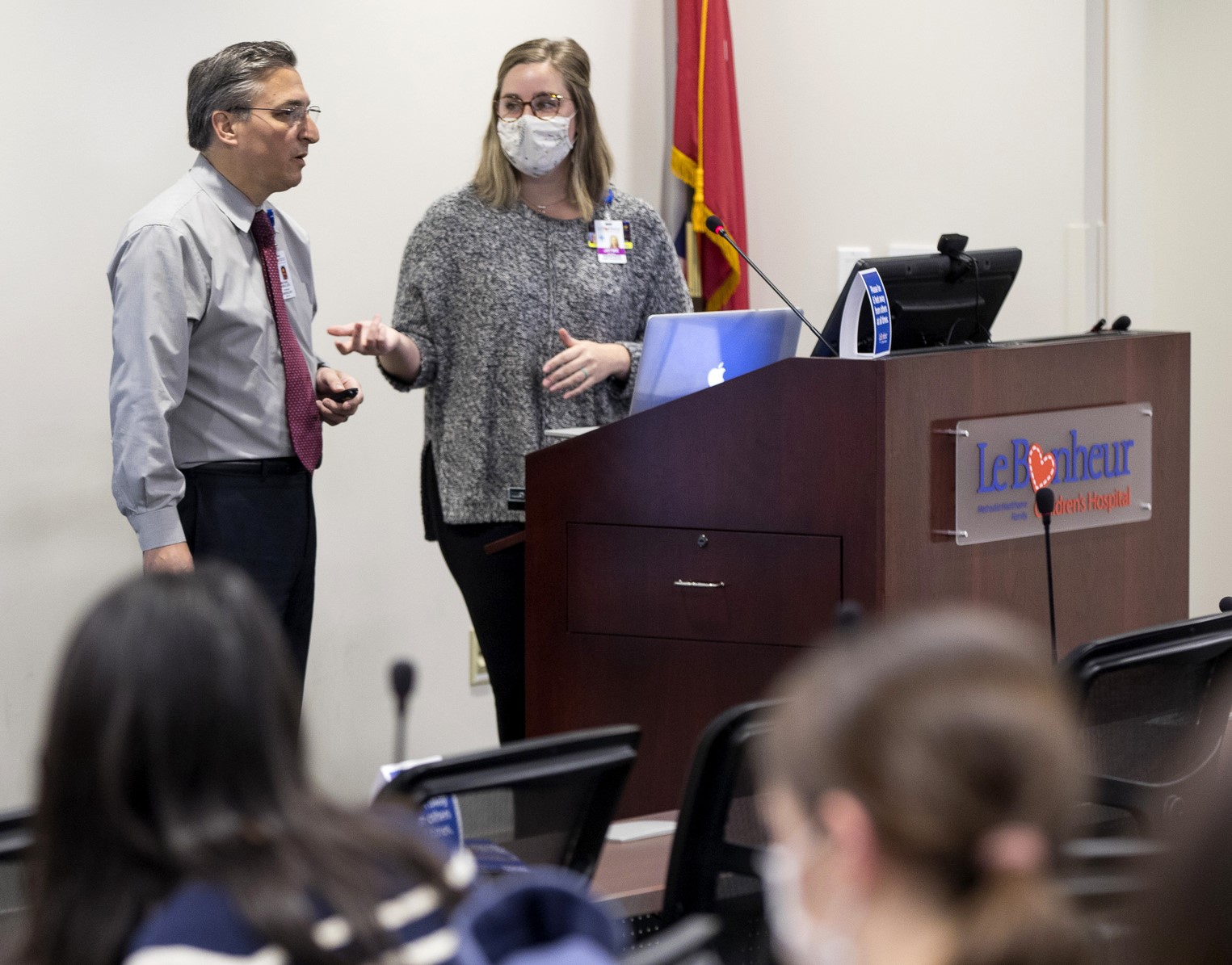 To determine an overview of the landscape of fellowship offices across the country, McGrail and Rebolledo, with former Le Bonheur Scientific Editor Courtney Bricker-Anthony, PhD, recently published the article "Creating Value: Many Roles of a Centralized Pediatric Fellowship Office" in Academic Pediatrics. The intent of the article was to determine how frequently a centralized administrative model is used for fellowship programs and to better understand some of the barriers to implementation at other institutions. Read More