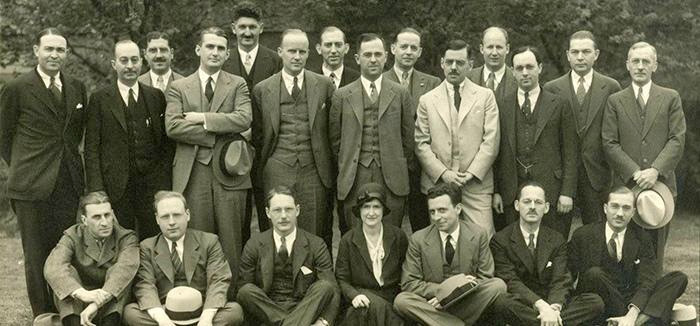 Dr. Eustace Semmes was among the top ten in his medical school graduating class at Johns Hopkins University. He was awarded a surgical internship at the Johns Hopkins Hospital where he received his neurosurgical training under Dr. Harvey Cushing, the Father of Neurosurgery in America. Following an additional year of surgical training in New York, Dr. Semmes returned home to Memphis in 1912 to establish a practice in both general and neurological surgery. This was the same year that Baptist Hospital opened its doors. Later, he served as a neurosurgeon in France during WW I, returning to Memphis in 1919 at which time he limited his practice to neurosurgery. He was appointed the first Professor of Neurosurgery in 1932 at the University of Tennessee.
Dr. Francis Murphey, on completing his internship at the University of Chicago, came to Memphis in 1934 as Dr. Semmes' first trainee and subsequently his associate. They remained associated throughout both of their careers. Dr. E. C. Schultz joined in 1948, and Dr. R. L. DeSaussure was added in 1950. The group operated as a partnership until 1961, at which time it was incorporated. Dr. Schultz suggested the name of the Clinic with the primary purpose for the incorporation being that it would enable the Clinic to establish a retirement plan for the medical staff and employees.
Since that time, other physicians and staff have been added in the specialties of neurological surgery, neurology, physiatry, anesthesiology/pain management, and neuropsychology. Our Permanent office is in Memphis, Tennessee. Outpatient clinics are operated in Union City, Tennessee; Grenada, Mississippi; and West Memphis, Arkansas. Physicians, both neurosurgeons and neurologists, travel to the outpatient clinics to provide patient care at these sites.
In April, 1995 Semmes-Murphey Clinic added four physicians to its staff through its merger with the Neurosurgical Group of Memphis. This was a well-respected group of neurosurgeons, founded in 1936, practicing primarily at Methodist Hospital in Memphis. The addition of office locations associated with the Methodist Hospital system added an additional level of service and convenience to our patients and referring physicians.
As the demand for outpatient testing continued to rise steadily over the years, a Diagnostic Radiology Department was established which has grown to include MRI, CT, X-ray, Ultrasound, and Transcranial Doppler. After Radiology showed good progress, an Electro-neurophysiology laboratory was established and today includes EEG, EMG, and Nerve Conduction Study. An Ambulatory Surgery Center was opened with the completed construction of our new East Memphis office building in 2002.
The Semmes-Murphey Clinic has been closely associated with the University of Tennessee Center for Health Sciences. Dr. Semmes, Dr. Murphey, Dr. J. T. Robertson, and Dr. Jon H. Robertson were Professors and Chairmen of The Neurosurgery Department. Dr. R. L. DeSaussure is a past Professor for the UT Center for Health Sciences and remains a Professor Emeritus with the UT Center. Semmes-Murphey's distinguished neurosurgeon, Dr. Rick Boop is currently Professor and Chairman of the University of Tennessee, Department of Neurosurgery and Dr. William A. Pulsinelli is Professor and Chairman of the University of Tennessee, Department of Neurology.
Many of the physicians on staff have contributed to the development of neurological surgery on a national level. Dr. Semmes was one of the founding members of the Harvey Cushing Society, which was subsequently named The American Association of Neurological Surgeons. Dr. Francis Murphey was an originating Member of the American Academy of Neurological Surgery. This association is one of the most prestigious of the neurosurgical fraternities. Two early contributors to the Congress of Neurological Surgeons were Dr. DeSaussure and Dr. Schultz. This has grown to become the second largest Neurosurgical society in the world. Drs. Semmes, Murphey, DeSaussure, J. T. Robertson, and Jon H. Robertson have held the office of President of the American Association of Neurological Surgeons. Dr. E. "Dutch" Schultz was the Founding President of the Congress in 1951, and Dr. R. L. DeSaussure served as President in 1962 followed by Dr. J.T. Robertson in 1975. Dr. DeSaussure was the first neurosurgeon to serve as President of both the American Association of Neurological Surgeons and the Congress of Neurological Surgeons. Dr. Semmes was a founding member and the first president of the Southern Neurosurgical Society, the third largest neurosurgical society in the United States. The Clinic, through its active members, has made many contributions to the world of neurological surgery and neurological literature.
The American Board of Neurological Surgery was established in 1940. Dr. Semmes, Dr. Murphey, Dr. DeSaussure, Dr. J. T. Robertson and Dr. Jon H. Robertson have all been members of this certifying board. Full Associate Physicians of the Clinic are expected to become certified by their respective certifying Boards.
In March, 1995 the Medical Education Research Institute (MERI) opened its doors at 44 South Cleveland near the Memphis Medical Center. MERI is a teaching and research laboratory designed to conduct workshops to teach new surgical techniques and devices to physicians. It is also designed with laboratory space which may be leased for large or small research projects. MERI is a tax-exempt organization founded through the joint efforts of Semmes-Murphey Clinic and Methodist Health Systems, Inc. Baptist Memorial Healthcare Corporation is also now a key sponsor.
The Clinic, through its various hospital affiliations, has access to all of the advanced diagnostic tools; including Interventional Neuroradiology, Nuclear Medicine, Linac Scalpel, Gamma Knife and much more. In addition new services have been added in recent years such as Physical Medicine and Rehabilitation, Neuropsychology, and Anesthesia/Pain Management.
Semmes-Murphey Clinic has progressed significantly from an era of no air conditioning and inadequate radiology and arteriography. It started with two physicians and only a few employees. Today, in comparison, there are over 250 employees and over 40 physicians. The Memphis professional staff has grown to include 20 Neurosurgeons, 11 Neurologists, 2 Neuropsychologists, 2 Physiatrists, 1 Anesthesiologist, and 2 Interventional Neuroradiologists.
Semmes-Murphey Clinic has come a long way over the years but growth alone does not measure success. Success is measured by an undying commitment to service: service to patients, to other physicians, to employees, to family and to the community.