Regional One Health (ROH)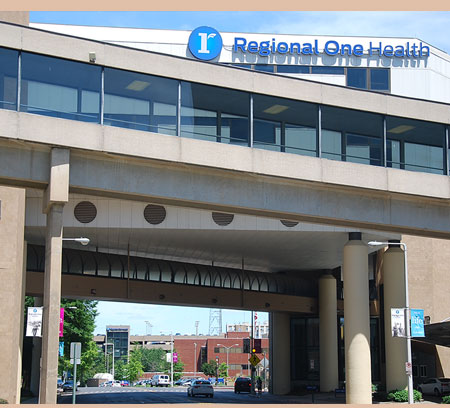 Address: 877 Jefferson Avenue, Memphis, TN 38103
Phone: 901.448.3469 / 24 hour line: 901.448.3469
Scheduling: 901.545.6262
Fax: 901.448.3521
Email: heme_onc@uthsc.edu
https://www.regionalonehealth.org/oncology-main-campus/ 


Regional One Health is the oldest hospital in Tennessee with a history of serving the region's sickest patients. ROH provides services to residents from all backgrounds in a 150-mile radius from Memphis medical district, where its main campus is located, the Regional Medical Center. ROH proudly has the expertise, research orientation, and commitment to innovation.

Relationship with UTHSC and the Division: 
The Regional Medical Center, at the heart of the medical district, serves as one of the largest medical and surgical teaching sites for the University of Tennessee Health Science Center. The academic partnership between ROH and UT Health Science Center includes the UT Regional One Physicians group, with the mission to improve outcomes through research and innovation. UTHSC faculty members staff all of Regional One Health.
Dr. Patricia Adams-Graves, MD and Dr. Ugochi Ogu, MD are UT Regional One Physicians in the hematology/Oncology specialty. Dr. Adams-Graves is a professor in the Division of Hematology and Oncology at UT Health Science Center. Dr. Ogu is an assistant professor in the Division of Hematology and Oncology at UTHSC. She also serves as the director of the Diggs-Kraus Sickle Cell Center at ROH.