Emergency Medicine Research
Our residency program considers curiosity an important character trait of all successful emergency physicians.
We believe research is the process of asking and answering questions in a scientifically valid way. This is why we focus on questions regarding the best ways to deliver care to our patients, the most effective ways to teach and learn as healthcare providers, and how to most efficiently work in teams.
Each faculty member and resident engages in meaningful scholarly work including quality-based, educational, and clinical research. Faculty take an active part in encouraging and supporting residents in their research pursuits. 
Ongoing areas of interest include diagnostic applications of ultrasound, sepsis, respiratory support, and optimal resource utilization for vulnerable patient populations. Additional areas of interest include adult education and the development of free open access educational material.
Published Research
Leonard S, Strasser W, Whittle JS, Volakis LI, DeBellis RJ, Prichard R, Atwood CW Jr, Dungan GC 2nd. Reducing aerosol dispersion by High Flow Therapy in COVID-19: High Resolution Computational Fluid Dynamics Simulations of Particle Behavior During High Velocity Nasal Insufflation with a Simple Surgical Mask. J Am Coll Emerg Physicians Open. 2020 May 29;1(4):578–91. doi: 10.1002/emp2.12158. Epub ahead of print. PMID: 32838373; PMCID: PMC7283709.
Tift FW, Nable JV. Online Medical Control for EMS: A Lecture and Case-Based Teaching Module. MedEdPORTAL. 2020;16:10902. Published 2020 May 15.
Martin RA, Couture, R, Tasker N, et al. Emergency Medical Care of Incarcerated Patients: Opportunities for Improvement and Cost Savings. PLoS One. 2020;15(4):e0232243. Published 2020 Apr 27.
Martin RA, Buchheit R, Carman C, Gray JK, Mendiratta S, Whittle JS. A paramedic patient flow coordinator improves ambulance offload times in the emergency department. 2020. J Hosp Manag Health Policy 2020;4:21.
Whittle JS, Pavlov I, Sacchetti AD, Atwood C, Rosenberg MS. Respiratory support for adult patients with COVID-19 [published online ahead of print, 2020 Apr 13]. J Am Coll Emerg Physicians Open. 2020;10.1002/emp2.12071.
Doshi PB, Whittle JS, Dungan G 2nd, et al. The Ventilatory Effect of High-Velocity Nasal Insufflation Compared to Non-Invasive Positive-Pressure Ventilation in the Treatment of Hypercapneic Respiratory Failure: a Subgroup Analysis [published online ahead of print, 2020 Apr 6]. Heart Lung. 2020;S0147-9563(20)30095-9.
Leonard S, Atwood CW Jr, Walsh BK, Whitte JS, et al. Preliminary Findings on Control of Dispersion of Aerosols and Droplets During High-Velocity Nasal Insufflation Therapy Using a Simple Surgical Mask: Implications for the High-Flow Nasal Cannula [published online ahead of print, 2020 Apr 2]. Chest. 2020;S0012-3692(20)30579-1.
Haywood ST, Volakis LI, Whittle JS. Beyond NIPPV: HVNI Expands Potential Treatment Options For Acute Decompensated Heart Failure. AM J Emerg Med. 2019;38(8):1589.
Haywood ST, Whittle JS, Volakis LI, et al. HVNI vs NIPPV in the Treatment of Acute Decompensated Heart Failure: Subgroup Analysis of a Multi-Center Trial in the ED. Am J Emerg Med. 2019;37(11):2084-2090.
Whittle J, Goyal P, Tarrant N, Schuur DJ, Yealy DM, Venkatesh A. Urban and Rural Emergency Department Performance on National Quality Metrics for Sepsis Care in the United States. J Rural Health. 2019 Sep;35(4):490-497.
Walsh BA, Gregorie WD, Whittle JS. Deconstructing Dissections: A Case Report and Review of Blunt Cerebrovascular Injury of the Neck. Case Rep Emerg Med. 2018 Aug 9;2018:6120781.
Doshi P, Whittle JS, Bublwicz M, Kearney J, Ashe T, Graham R, Salazar S, Ellis TW Jr, Maynard D, Dennis R, Tillotson A, Hill M, Granado M, Gordon N, Dunlap C, Spivey S, Miller TL. High Velocity Nasal Insufflation in the Treatment of Respiratory Failure: A Randomized Clinical Trial. Ann Emerg Med. 2018 Jul;72(1):73-83.e5.
Martin RA, Reuhland B, Carlson LS, Love M, Maxwell RA, Whittle JS. Gastropericardial Fistula Presenting 27 Years After Bariatric Surgery. Clin Pract Cases Emerg Med. 2017 Oct 6;1(4)435-436.
Neal M, Culberton MC 3rd, Mendiratta S, Smith BC 3rd, Whittle JS. Boy With Muscle Spasms. Ann Emerg Med. 2017 Sep;70(3):432-440.
Venkatesh AK, Slesinger T, Whittle J, Osborn T, Aaronson E, Rothenberg C, Tarrant N, Goyal P, Yealy DM, Schuur JD.  Preliminary Performance on the New CMS Sepsis-1 National Quality Measure: Early Insights From the Emergency Quality Network (E-QUAL). Ann Emerg Med. 2017 Aug 5. pii: S0196-0644(17)30872-7.
Martin RA, Wharton D, Barker C, Haivas, CH, Kaur B, Whittle JS. Elderly Woman With Altered Mental Status and Hypoxia. An Emerg Med. 2016 Dec; 68(6):778-779.
David J. Barton BS, Frank W. Tift MD, Lauren E. Cournoyer BS, Julie T. Vieth MBChB & Korin B. Hudson MD. Acute Alcohol Use and Injury Patterns in Young Adult Prehospital Patients, Prehospital Emergency Care, 2016 Mar.20:2, 206-211.
Smith BC 3rd, Avila J. M.mode.ify: A Free Online Tool to Generate Post Hoc M-Mode Images From Any Ultrasound Clip. J Ultrasound Med. 2016 Feb;35(2):435-9.
Clinkscales JD, Fesmire FM, Hennings JR, Severance HW, Seaberg DC, Patil N. The Effect of Emergency Medicine Residents on Clinical Efficiency and Staffing Requirements. Acad Emerg Med. 2016 Jan;23(1):78-82.
Avila JO, Noble VE. The irregular diaphragmatic pleural interface: a novel sonographic sign facilitating the diagnosis of pneumonia. J Ultrasound Med. 2015 Jun;34(6):1147-57.
Avila JO, Smith BC, Seaberg DC. Use of echocardiography to identify appropriate placement of a central venous catheter wire in the vena cava prior to cannulation. Acad Emerg Med. 2014 Aug;21(8):E1-2. 
Grant Awards
Principal Investigator: Jessica Whittle, MD, PhD
Co-Investigators: Rebecca Martin, MD, PhD and Jenny Holcombe, PhD
$25,000 for one-year award 2019; also obtained additional donations of naloxone (approximate value: $75,000)
Implementing an Emergency Medical Service-directed Overdose Education and Naloxone Leave Behind Program in the Local Community. 
Funded jointly by the University of Tennessee Health Science Center and University of Tennessee at Chattanooga.
Abstract/Research Presentations
R. Martin, D Duk, J Holcombe, R Buchheit, S Mendiratta, JS Whittle. "Exploring Barriers to Implementing an Emergency Medical Services Naloxone Leave Behind Program." Society For Academic Emergency Annual Meeting. Denver, CO. May 14-18, 2020.
R. Martin, D Duk, J Holcombe, R Buchheit, S Mendiratta, JS Whittle. "Exploring Barriers to Implementing an Emergency Medical Services Naloxone Leave Behind Program." Society For Academic Emergency Medicine Southeast Regional Meeting. Greenville, SC. February 24, 2020.
Invited Lecures/Grand Rounds
"Respiratory Support for Adult Patients with COVID-19." Albert Einstein Hospital, webinar live virtual lecture. Sao Paolo, Brazil. May 8, 2020.
http://www.acep.org/DART/
ACEP Expert Panel on Sepsis Member, 2020
ACEP liaison to IDSA for Workgroup on Antibiotic Selection in Sepsis, 2017
Jessica Whittle, MD, PhD, FACEP
Ultrasound of the Week
Ben Smith, MD, FACEP
About our Director of Research:
Dr. Jessica S. Whittle is a Fellow of the American College of Emergency Physicians. Since completing Emergency Medicine residency at Orlando Regional Hospital in Florida, she has practiced in both community and academic practice settings.
Dr. Whittle has served on the ACEP Sepsis Technical Expert Panel and as the national ACEP liaison to the Infectious Disease Society of America.
Her research interests include sepsis, critical care, and patient access issues.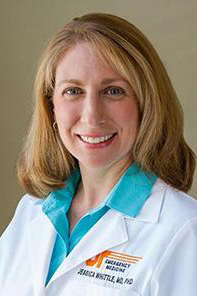 B.S. (Biology Education), Appalachian State University
M.D., University of Alabama Birmingham
Ph.D. (Immunology and Molecular Pathogenesis), Emory University