The Tennessee Health Population Consortium is a statewide partnership including the University of Tennessee Health Science Center (UTHSC) and its Memphis, Nashville, Chattanooga, and Knoxville campuses; the University of Tennessee, Knoxville; and partnering academic institutions, health systems, health plans, quality improvement (QI) organizations, providers, and patients. The Consortium aims to strengthen primary and preventive care to measurably improve population health and health equity in Tennessee. Our university and health system partners are: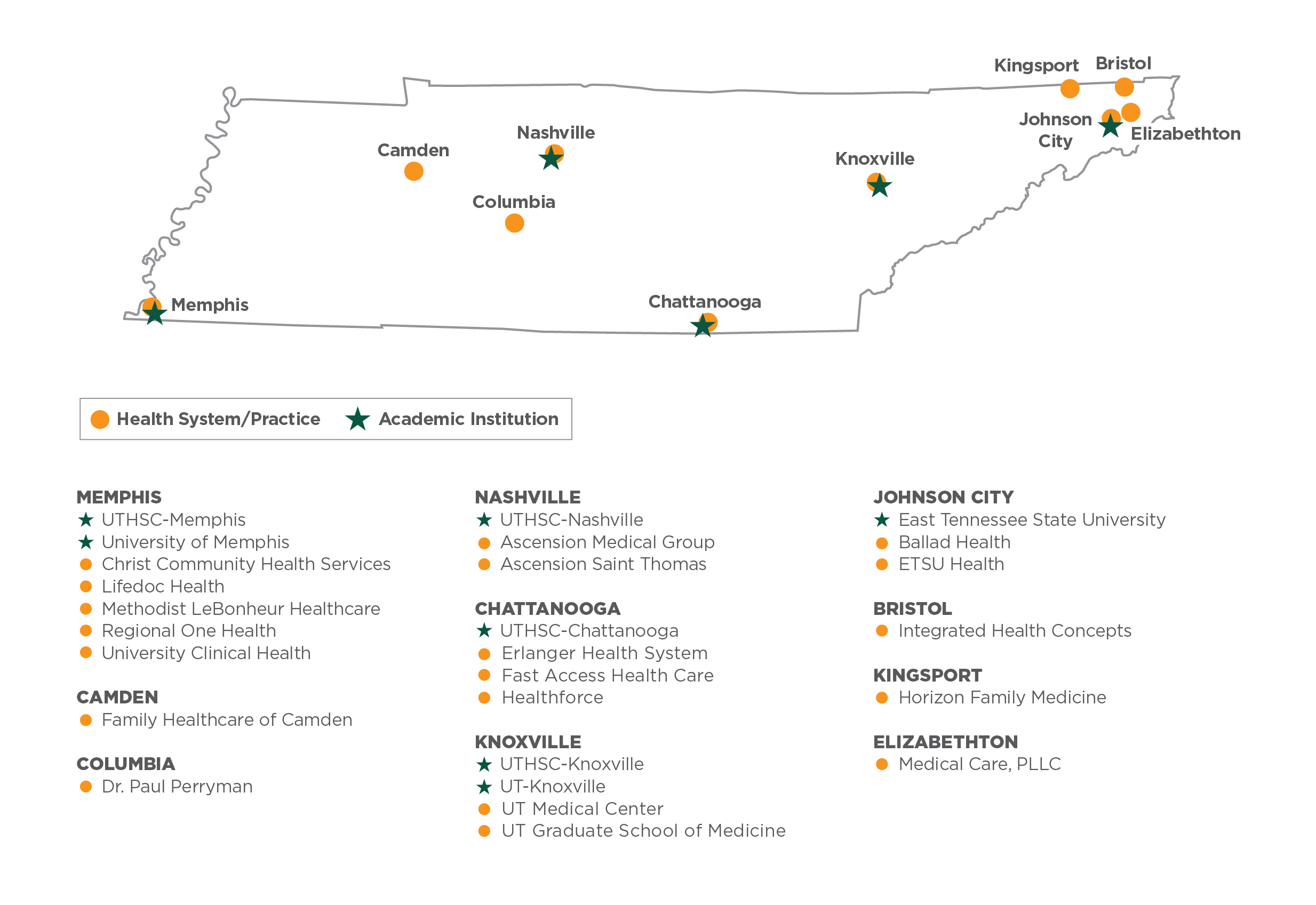 The Tennessee Population Health Consortium conducts practice-based quality improvement (QI) and population health research initiatives to strengthen, support, and transform primary care practices across Tennessee. The Consortium's signature initiative—the Tennessee Heart Health Network funded by the Agency for Healthcare Research and Quality (AHRQ)—is developing sustainable, statewide QI support capacity for primary care. This network of primary care practices will work together to make primary care more patient-centered and effective at improving heart health for people in Tennessee. The Consortium also leads the Tennessee Population Health Data Network (TN-POPnet), and supports its registries for obesity and diabetes, heart health, and cancer prevention to track outcomes and measurably improve population health across the state. Other initiatives include Equitable Health in Neighborhoods, and Everyone Has a Provider initiatives. We also train health coaches, patient navigators, and provider champions (e.g. physicians, nurses, and other health professionals) for primary care clinics through targeted Consortium training programs.
The Consortium seeks to encourage adoption of evidence-based practices, to transform primary and preventive care, and to measurably improve health outcomes, quality of life, and population health for the people of Tennessee.  Our long-term goals are to:
Reduce obesity, diabetes, strokes, heart attacks, cancers, and associated disability and death
Increase access to primary care and decrease preventable emergency and hospital visits
Save millions in expensive medical treatments and lost work productivity
The Consortium aims to accomplish this by sharing, promoting, and supporting implementation of best evidence from patient-centered outcomes research (PCOR) and shifting practice focus away from pill-pushing and toward changing health behavior using proven primary care-based health coaching approaches.