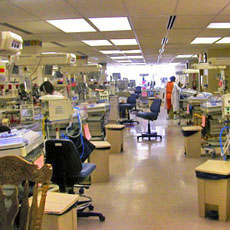 Sheldon B. Korones Newborn Center
Regional One Health
877 Jefferson Avenue
Memphis, TN  38103
(901) 545-7100
The primary location is the Sheldon B. Korones Newborn Center at Regional One Health. The Newborn Center is a 65 bed level III NICU with about 1350 admissions a year and over 3000 deliveries. There are significant numbers of high risk deliveries as this is the regional referral center for West Tennessee.
Unit practices have lead to some of the best neonatal outcomes at the regional and national levels.
The NICU is staffed by attending neonatologists, fellows, Pediatric/Med-peds residents and NNPs. There is over 100 staff RNs and 12 respiratory therapists covering patient care services. The NICU team also has the support of fulltime social workers, nutritionist, pharmacist, speech and occupational therapist and research nurses. The rotations through this NICU expose fellows to high risk deliveries, resuscitation, stabilization, and management of VLBW infants. It also provides opportunities for the fellows to learn prenatal consultations and supervision and teaching of residents and NNPs.
The Newborn Center follow-up clinic also provides the fellows training in follow-up and developmental assessments. Located at the Regional One Health, the clinic is staffed by neonatologists, developmental pediatricians and general pediatricians. The clinic is supported by clinical psychologists, social workers, nutritionist and speech and occupational therapists.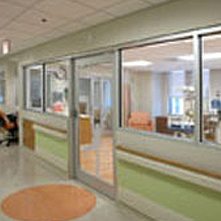 Le Bonheur Children's Hospital NICU
848 Adams Avenue
Memphis, TN  38103
(866) 870-5570
The second facility is the NICU at Le Bonheur Children's Hospital. This NICU is a level IV NICU receiving transports from surrounding areas. Over 400 admissions a year are mainly comprised of surgical and cardiac neonates along with some infants who need multispecialty care. Le Bonheur Children's Hospital has a 64 bed NICU with all private rooms and state of the art facilities for critically ill neonates and ranks among the country's top neonatology programs for children. In 2018 the hospital had 8 specialties ranked among the top as ranked by US News reports. The fellow trainees thus interact with highly trained and up to date professionals, and this will enhance their own raining.
Pedi-flite transports babies to the hospital, accompanied by Neonatal Nurse Practitioners (NNPs) or neonatal physician fellows, if needed.