Neonatal-Perinatal Medicine Fellowship Program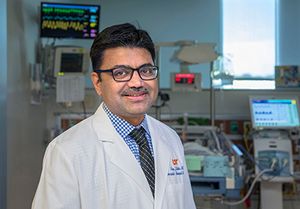 Upon completion of our Neonatal-Perinatal Medicine subspecialty fellowship, the trainee will have acquired an in-depth knowledge and necessary clinical skills to recognize and manage most neonatal clinical conditions and to teach others involved in neonatal care in the areas of neonatal stabilization, transport, and delivery of intensive care.
The training in research will impart knowledge in hypothesis testing, study design, data collection, and analysis of results utilizing appropriate and commonly used statistical methods.
The program currently has full accreditation by ACGME and meets all the requirements for American Board of Pediatrics. The Division is a component of Department of Pediatrics with close ties to Department of OB/GYN – Maternal-Fetal Medicine.
Talati Receives Founder's Award from Southern Society of Pediatric Research
Ajay J. Talati, MD, Sheldon B. Korones Chair and Chief of Neonatology in the College of Medicine at the University of Tennessee Health Science Center, received the Founder's Award from the Southern Society for Pediatric Research (SSPR). Read More