Ansley Grimes Stanfill, PhD, RN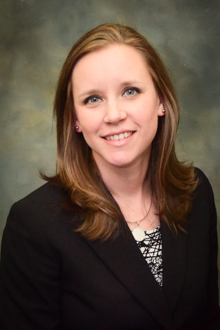 Associate Professor
Associate Dean of Research
920 Madison, #542
Memphis, TN 38163
astanfi4@uthsc.edu
Ansley Grimes Stanfill, PhD, RN joined the College of Nursing faculty in 2016. Her work is on the influence of genetic and epigenetic factors on long-term outcomes in neurological injury and chronic disease.
Dr. Stanfill received a BS in neuroscience from Vanderbilt University in 2003. She worked as a research assistant in genetics and neuroimaging research before receiving her BSN in 2007 from Saint Louis University. She has clinical experience in neurology and neurosurgery, endoscopy, and critical care. She received her PhD in 2014 from the University of Tennessee Health Science Center for her dissertation titled "Dopaminergic genetic contributions to obesity in kidney transplant recipients." She was awarded an NIH/NINR F31 training grant for this project. Prior to assuming her faculty role, Dr. Stanfill also completed postdoctoral training in omics research at the University of Pittsburgh, supported by the NIH/NINR T32 "Targeted Research and Academic Training of Nurses in Genomics." She is currently PI of a $1.1M NIH/NINR R01 titled "A multivariate predictive model for long-term disability post subarachnoid hemorrhage in Caucasian and African American populations."
In addition to her NIH support, Dr. Stanfill has received grants from Sigma Theta Tau, the International Society of Nurses in Genetics, and the Southern Nursing Research society. In 2011, she attended the NINR sponsored Summer Genetics Institute and was an invited alumna speaker for the 2015 and 2016 sessions. She is a member of the American Society of Human Genetics and the International Society of Nurses in Genetics. She has been published many times in basic science and nursing research journals and regularly presents her work at local, regional, national, and international conferences.