Sickle Cell Nursing Boot Camp
The Sickle Cell Boot Camp to Promote Nursing Excellence Nationally and Globally Utilizing a Train the Trainer Model addresses the critical need for specialized education and training for nurses who care for sickle cell patients. 
Sickle Cell Disease (SCD) affects 100,000 people in the U.S., but education about the disease in nursing schools is limited. To address the gap, a pilot Sickle Cell Boot Camp for Nursing Excellence was offered in 2022 with funding from a $50,000 grant from Global Blood Therapeutics, Inc (GBT). A second grant from GBT for $100,000 has allowed the program to expand to offer two, week-long boot camps using a train-the-trainer model - one in April and one in November, 2023. This effort is a collaboration of the UTHSC College of Nursing, St. Jude Children's Research Hospital, and the International Association of Sickle Cell Nurses and Professional Associates (IASCNAPA).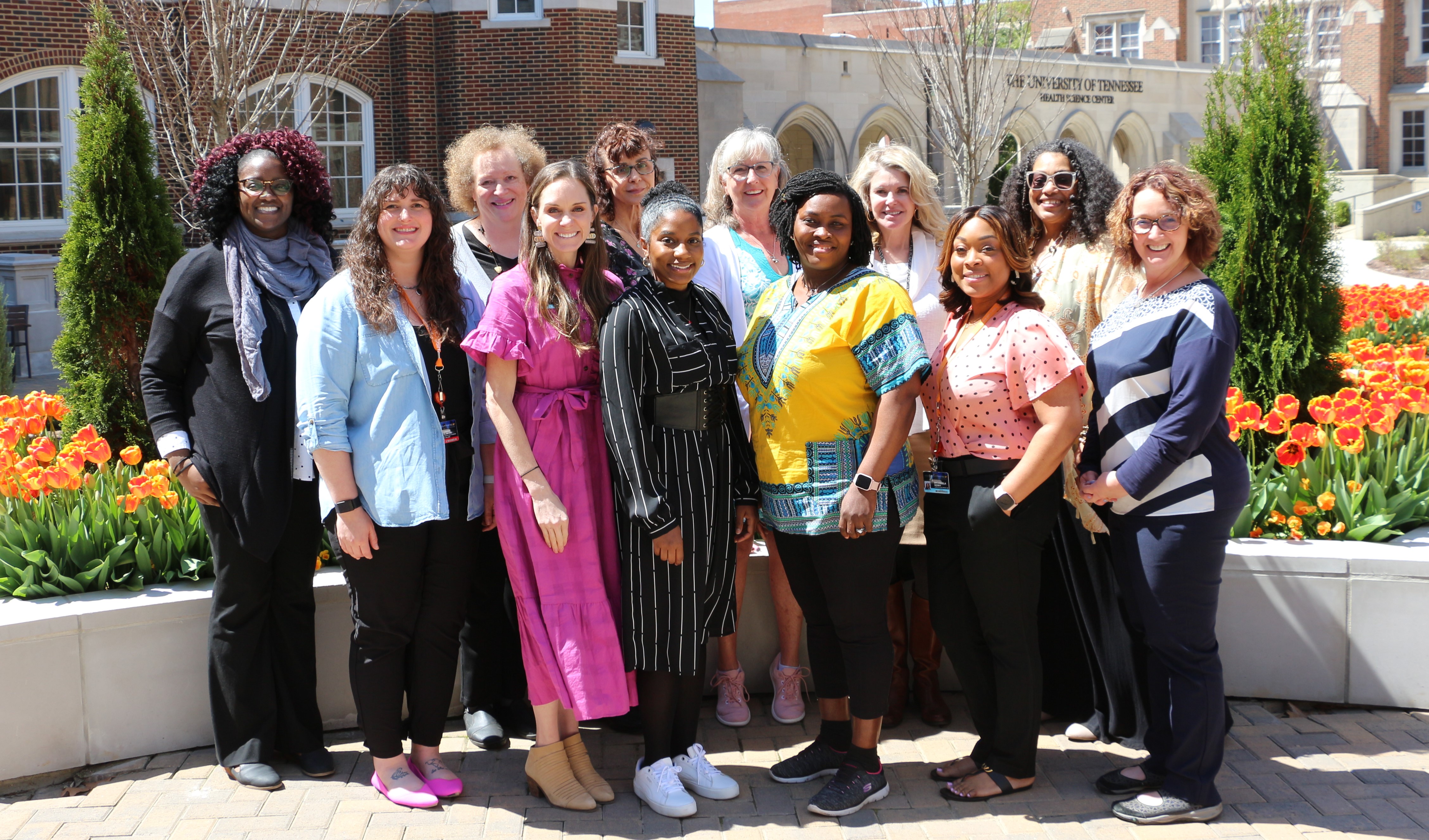 This group of nurses from around the country met to develop the curriculum for the pilot program of the Sickle Cell Boot Camp for Nursing Excellence.
Program Overview and Goals
The Sickle Cell Boot Camp to Promote Nursing Excellence Nationally and Globally Utilizing a Train the Trainer Model will be held Oct. 30-Nov. 3, 2023, at the UTHSC College of Nursing in Memphis. This program will include all the information provided in the original 2021-2022 Nursing Boot Camp. But it will be expanded to include the Train the Trainer Model to empower nurses to become SCD nurse educators at their institutions. The application deadline for the November boot camp is Aug. 1, 2023.
Implementation. All participants will complete the curriculum for the Sickle Cell Boot Camp to Promote Nursing Excellence. To ensure the patient perspective is established, a patient panel will take place on the first day of the boot camp. The comprehensive curriculum will focus on theory and clinical skills and integrate the cornerstones of nursing education, including evidence-based practice, skills, attitudes, and values. A lifespan approach will explore age-based disease complications progressing from birth to adulthood. Current evidence, best practices, and critical analysis skills will also be taught. 
Adapting a Train the Trainer Model. Train the trainer content that focuses on adult learning principles will be incorporated throughout the five-day boot camp.
Development of Teaching Materials for Trainers. A condensed version of the Sickle Cell Boot Camp to Promote Nursing Excellence content will be developed and provided to graduates. Content will include the essential components of the care of sickle cell patients and include both theory and clinical skills. Content will include learning objectives for each section, review questions for the participants, and learning activities. The trainers will also receive videos developed by the Sickle Cell Planning and Curriculum Committee to teach assessment skills and early recognition and treatment..
Support a Core Group of Trainers. Follow-up support to trainers will be provided to strengthen the transfer of sickle cell theoretical content and clinical skills and support their teaching efforts. Follow-up support will include online meetings to talk about the trainer's progress with teaching the content, answer questions, provide additional teaching materials if needed, and discuss any obstacles they have encountered with implementation.
Learn more about the course curriculum and agenda.
Application and Eligibility 
Who: This program is geared to nurses who provide care and develop nursing policy for patients with SCD, including bedside and clinic nurses, nurse managers and administrators, and nurses in academia with a focus on SCD. Applicants must be registered nurses actively involved with the SCD patient community.
What: This is a five-day, in-person, interactive event. Space is limited.
When: Boot Camp is scheduled Oct. 30 - Nov. 3, 2023.
Where: UTHSC College of Nursing in Memphis, TN.
Cost: This is free to participants. Funding is provided by GBT Therapeutics. Transportation, food, and lodging will be provided for out-of-town participants in the nursing bootcamp.
Application deadline: Aug. 1, 2023
APPLICATION LINK
Application Checklist:
Have a copy of the RN license ready to upload.
Prepare a statement about "Why I want to participate in the SCD Nursing Bootcamp."
Student Testimonials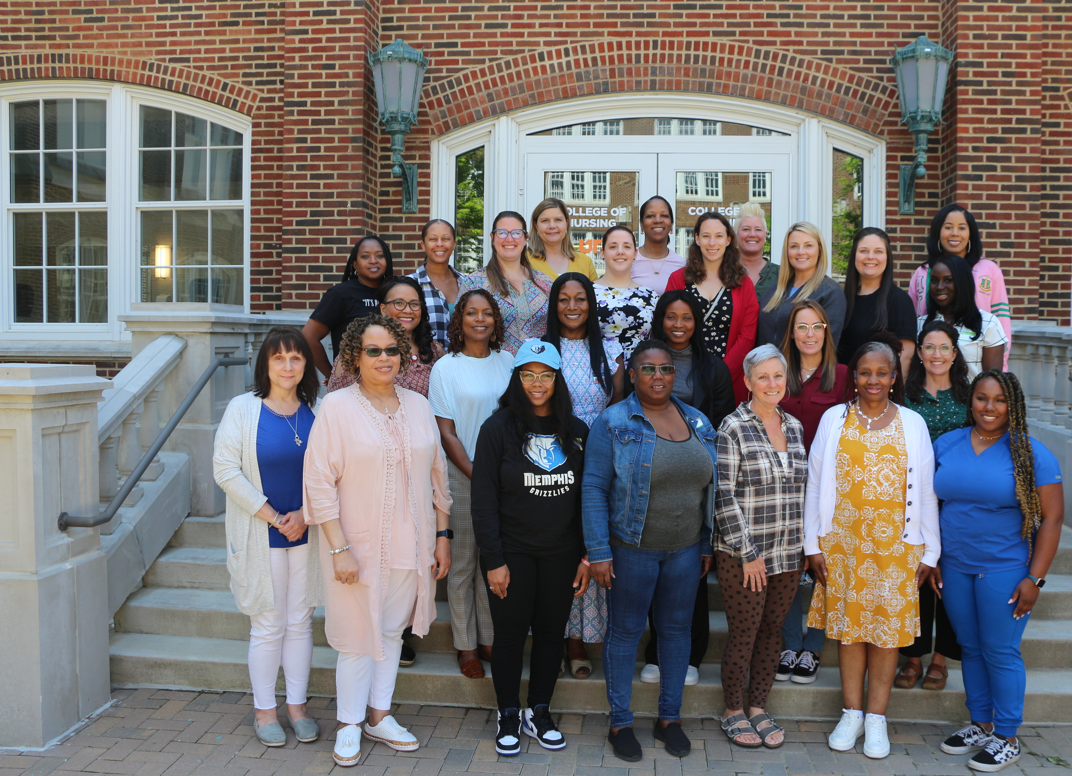 Twenty-five nurses attended the April boot camp from institutions including Johns Hopkins Hospital, the Cleveland Clinic, the Ann & Robert Lurie Children's Hospital of Chicago, and St. Jude Children's Research Hospital. Students came from across the nation and other countries such as Sierra Leone.
Evaluation Comments
"You all filled me back up, and I am brimming with motivation, excitement, and renewed spirit for our collective work."
"This week was truly electrifying, from listening to the patient panel to everyone's wonderful presentations and all the insightful discussion! I feel so privileged and grateful to have you all as friends and colleagues in the fight to improve care of sickle cell. This is only the beginning." 
"All was essential information to provide appropriate care for SCD patients."
"All the presenters have been very helpful in helping us understand sickle cell. The interaction among the group is amazing."
"I cannot wait to do all I can to make the lives and outcomes better for these patients."
"Although we have our work cut out for us to impact change for the sickle cell population systemically, by meeting and interacting with each of you, I am confident that we will definitely, positively improve sickle cell patient care and patient outcomes."