Donna Lynch-Smith, DNP, ACNP-BC, APN, NE-BC, CNL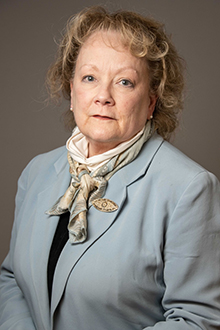 Associate Professor
Adult-Gerontology Acute Care Concentration Coordinator
920 Madison, #944
Memphis, TN 38163
(901) 448-4152
dlynchsm@uthsc.edu
Dr. Donna Lynch-Smith joined the UTHSC College of Nursing in September 2009 as an Associate Professor in the Advanced Practice and Doctoral Studies Department. She is the Concentration Coordinator of the Adult-Gerontology Acute Care Nurse Practitioner Option. Dr. Lynch-Smith teaches Acute Diagnostic Reasoning, Advanced Acute Care, Advanced Critical Care, and Synthesis Practicum.
Dr. Lynch-Smith has extensive experience in Pulmonary/Critical Care and Nursing Administration. As a member of the Institute for Healthcare Improvement, she implemented the medical response team at Methodist University Hospital and ICU Redesign at Methodist Healthcare in the adult medical-surgical intensive care units. Her clinical experience, academic, and research interests are in dyspnea and patient-ventilator synchrony.
Dr. Lynch-Smith is a member of the Sigma Theta Tau, Society of Critical Care Medicine, American Association of Nurse Practitioners, National Association of Nurse Practitioner Faculties, American Association of Critical Care Nurses and American Association for Respiratory Care.
A native of Maryland, she received her Diploma in Nursing from MacQueen Gibbs Willis School of Nursing (1976), a Bachelor of Science degree from the University of Memphis (1989), a Master of Science degree in Nursing (Clinical Nurse Specialist - 1995) and a Doctorate in Nursing Practice (Acute Care Nurse Practitioner- 2009) from The University of Tennessee Health Science Center.
Dr. Lynch-Smith is a Board Certified Acute Care Nurse Practitioner, Nurse Executive and a Clinical Nurse Leader. She is an active member of the University of Tennessee Health Science Center Institutional Review Board.  Dr. Lynch-Smith practices with Mid-South Pulmonary Specialists as an intensivist in Critical Care.