West Tennessee Healthcare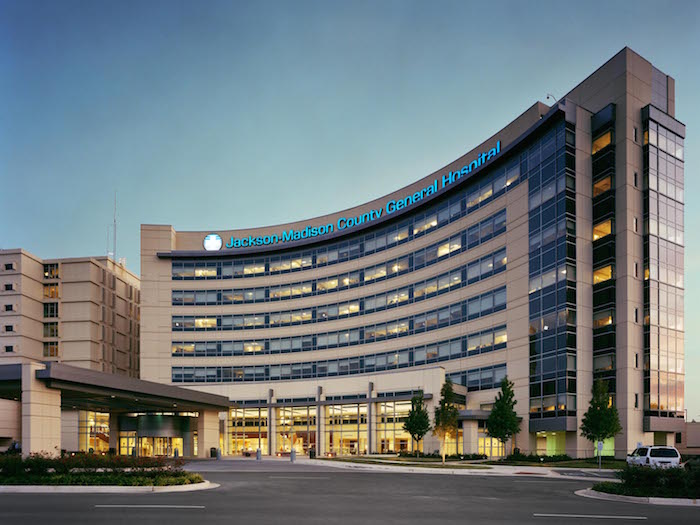 West Tennessee Healthcare is a public, non-for-profit hospital that is self-supporting and operates without any tax support. Modern Healthcare magazine listed West Tennessee Healthcare as one of the top ten largest public, not-for-profit healthcare systems in the U.S.
With locations throughout 17 counties in West Tennessee, the system provides a full compendium of care from four hospitals, medical laboratory services, medical products and infusion services, outpatient physical rehab facilities, behavioral health, early child development intervention services, community support and education, and more. West Tennessee Healthcare employs more than 7,000 people and is one of the regions' top employers.
Jackson Madison County General Hospital is the flagship of West Tennessee Healthcare. Established in 1950, General Hospital celebrated its 60th birthday in 2010. Jackson Madison County General Hospital has 642 licensed beds and has approximately 300 physicians on the medical staff.  Recently the hospital received the Platinum Performance Achievement Award from the American College of Cardiology for treating heart attack patients to the highest standard of care. The hospital has six centers of excellence: West Tennessee Heart and Vascular, Alice and Carl Kirkland Cancer Center, West Tennessee Rehabilitation Center, Emergency Services, Ayers Children's Medical Center and West Tennessee Women's Center  Jackson-Madison County General Hospital has seven intensive care units: Neurological, Medical, Surgical, Coronary, Cardiothoracic, Neonatal, and Pediatric. There is also a 23-room Operating Suite with in-house anesthesia coverage and a newly renovated 62-bed Emergency Department.
Jackson Madison County General Hospital completed a multi-million-dollar, 365,000 square foot expansion in 2008 to improve our patients' care and comfort. This nine-story addition provides approximately 280 new, modern patient rooms, new Cardiac Cath Lab suites, a new conference center, new dining and cooking areas, new chapel, new gift shop, and many more features all designed with the patients and visitors in mind. 
The Emergency Department has six state-of-the-art trauma rooms. Our ER treated more than 100,000 patients this past year. West Tennessee Surgery Center is also on the campus as well as a free-standing outpatient Imaging Center with 24-hour radiologists, PACS radiology system, CAT/CT scan, MRI, interventional radiologists, and a Breast Care Center that includes digital mammography.
With 806 licensed beds, West Tennessee Healthcare has a medical staff totaling approximately 550. The mission of West Tennessee Healthcare is to improve the health and well-being of the communities they serve while providing exceptional and compassionate care. The vision is to be chosen by staff, physicians, and the community as the best place to work, the best place to practice and the best place to receive comprehensive care. The values are continuous improvement, accountability, respect, excellence, and stewardship.
The charitable arm of the healthcare system is the West Tennessee Healthcare Foundation, a 501C3 organization that invests donations back into the lives of the people of West Tennessee through over 500 funds. These funds meet the needs in various ways, from nursing scholarships to providing medical equipment, toys, medications, and re-building homes lost during a devastating tornado. The Foundation is responsible for overseeing the millions of dollars in donations, none of which is used for operating or overhead expenses.