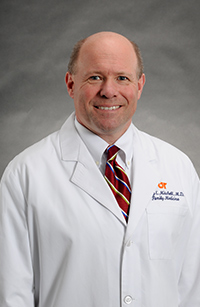 Gregg Mitchell, MD
Chair UTHSC Family Medicine Residency Program
ER Fellowship Program Director
Associate Professor
Dr. Mitchell's Bio
Hometown: Memphis, TN
Medical School: University of Tennessee
Stats: Married to Amy; two sons and one daughter
Hobbies: Golf, Hunting, Tennis, Ole Miss football
Research/Areas of Interest: Family Medicine Outpatient procedures including no-scapel vasectomy, colposcopy with LEEP, and dermatological surgeries
Tidbits: Outstanding Clinical Lecturer Award, Golden Apple Teacher's Award for the University of Tennessee, Faculty of the Year Award, SGAEC Excellence in Teaching Award for the University of Tennessee, West Tennessee Healthcare Doctor of the Year Award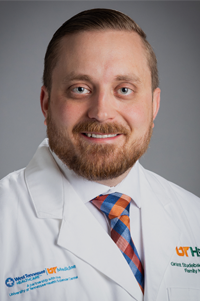 Grant Studebaker, MD
Residency Program Director
Assistant Professor
Dr. Studebaker's Bio
Hometown: Silver City, OK
Undergraduate: Oklahoma State University
Medical School: Ross University School of Medicine
Residency: University of Tennessee - Jackson
Hobbies: Travel, Movies, Cars
What I did before medical school: EMT. I did my training here and realized it is like no other residency in the country. Jackson is very unique in the breadth of training it provides to it's residents and I wanted to be a part of that atmosphere. I love to teach and wanted to help continue the legacy of where I was trained.
Interest: Critical care, teaching office and hospital procedures to residents.