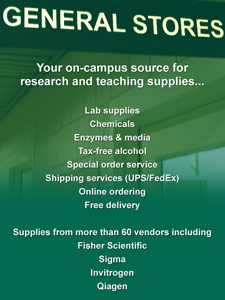 General Stores was established as a ready source of laboratory supplies for teaching and research. In accordance with UTHSC policy, General Stores is a self-supporting, non-profit facility.
Items are purchased in quantities that allow for the best possible pricing.
Is inconvenience a problem? General Stores is here for your convenience. Is your schedule too demanding? No time for ordering product, following up on arrival times or shortages and all the paperwork? No Worries!! Our goal is your satisfaction. Let General Stores be your extra set of feet and hands. General Stores will always be willing to go that extra mile to help make your work more efficient and increase your productivity.
Come by and visit us in the General Education Building. We are located down the hall from SASI in room B-41. We're sure you will be pleased with what you see.
The Crucial System Scan Tool can find memory for your computer, printer, or camera. 
Forms
---
The following documents are in PDF format and require Adobe Reader, which is a free download.
General Stores Ordering Procedure
To purchase from General Stores, you may:
phone in your order
come by the store
send your order by campus mail
fax your order
place your order using our

 

online form
You may also order using the Catalog. Here, you can search for items and add them to a shopping cart. The information we need is your name, account number or grant number, items you wish to purchase, quantity and catalog number, office address and phone number for our records and for delivery.
You can send your order by any one of the above methods or as always you are welcome to come by and shop for the items you need and take them with you.
 Handling Damaged Items or Shortages in Shipments
Shipments delivered by General Stores should be checked in detail as soon as possible after receipt and shortages or breakage reported to General Stores within two (2) working days. Damaged items will be picked up and returned to General Stores as soon as damages are established, and prompt replacements will be made. Shortages will be processed in a similar manner.  The delivery driver is not allowed to return anything to General Stores without the proper paperwork. All returns must be called in to General Stores first. Special order items are subject to a restocking charge and freight charges to send the item back.
Staff
Travis Stephenson
Manager
Phone: 901.448.6152
Handles computer and software orders, special order office supply products, and problems with your General Stores bill.
Rose Dumas
Material Control Supervisor
Phone: 901.448.6152
Quandarius Cannon
Service Assistant II 
Phone: 901.448.6152