GHHS Solidarity Week 2022 - UTHSC College of Medicine Chapter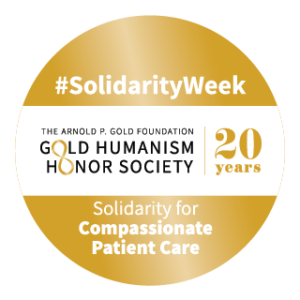 In 2011, a mass shooting tragedy united the medical community to recognize and honor the importance of compassionate patient care and humanism in medicine.  The event occurred in Tucson, Arizona on January 8, 2011 -- one that led to the death of six individuals and seriously wounded several others, including U.S. Congresswoman Garbrielle (Gabby) Giffords.  Representative Giffords was treated at the University of Arizona Medical Center by Dr. Randall Friese, Associate Professor in the Department of Surgery.  The University of Arizona College of Medicine will hold a series of events and activities this week to commemorate the mass shooting in Tucson on Jan. 8, 2011, that killed six and wounded several others, including former U.S. Rep. Gabrielle Giffords.  Dr. Friese struck a chord in the international medical community after telling The New York Times that his most important actions the day Giffords was shot were "holding her hand, speaking to her and reassuring her that she was in the hospital and would be cared for."  Just a few weeks later, on February 14, 2011, the Gold Humanism Honor Society established the first National Solidarity Day for Compassionate Patient Care in honor of the humanistic actions of Dr. Friese whose team cared for the wounded and dying patients that day.  The event has expanded to an entire week -- around Valentine's Day each year --  during which medical schools, GHHS Chapters,  and health care institutions across North America and Canada stand in solidarity, undertaking projects to pay tribute to compassionate, patient-centered caregivers like Dr. Friese.
"It is a distinct honor to have my small actions contribute to the organization of this event," Friese said. "I am pleased that a message of humanism in medicine is being communicated across the state and country."
The University of Tennessee College of Medicine GHHS Chapter carried out several initiatives to honor the heroes in compassionate, quality care for 11th anniversary of the first National Solidarity Day at clinical campuses throughout the Statewide UT System:  
Monday, February 14, 2022:  300 flowers were delivered by GHHS Students to special members of the health care team at hospitals in Memphis, Knoxville, and Chattanooga.
Tuesday, February 15, 2022:  Valentines and stickers were delivered to children in all three locations.
Wednesday, February 16, 2022:   Hand-written thank you cards were delivered to resident and fellow physicians in all three locations.
Friday, February 18, 2022:  "Hearts of Gold" Booths were set up in all locations to recognize outstanding care given to patients.  Patients and family were given materials to write quick note on a gold heart that were hung on strings and posters in areas of the hospitals for all three campuses.
Enjoy the wonderful photos below highlighting our UTCOM National Solidarity Week for Compassionate Patient Care (February 14 - 18, 2022):