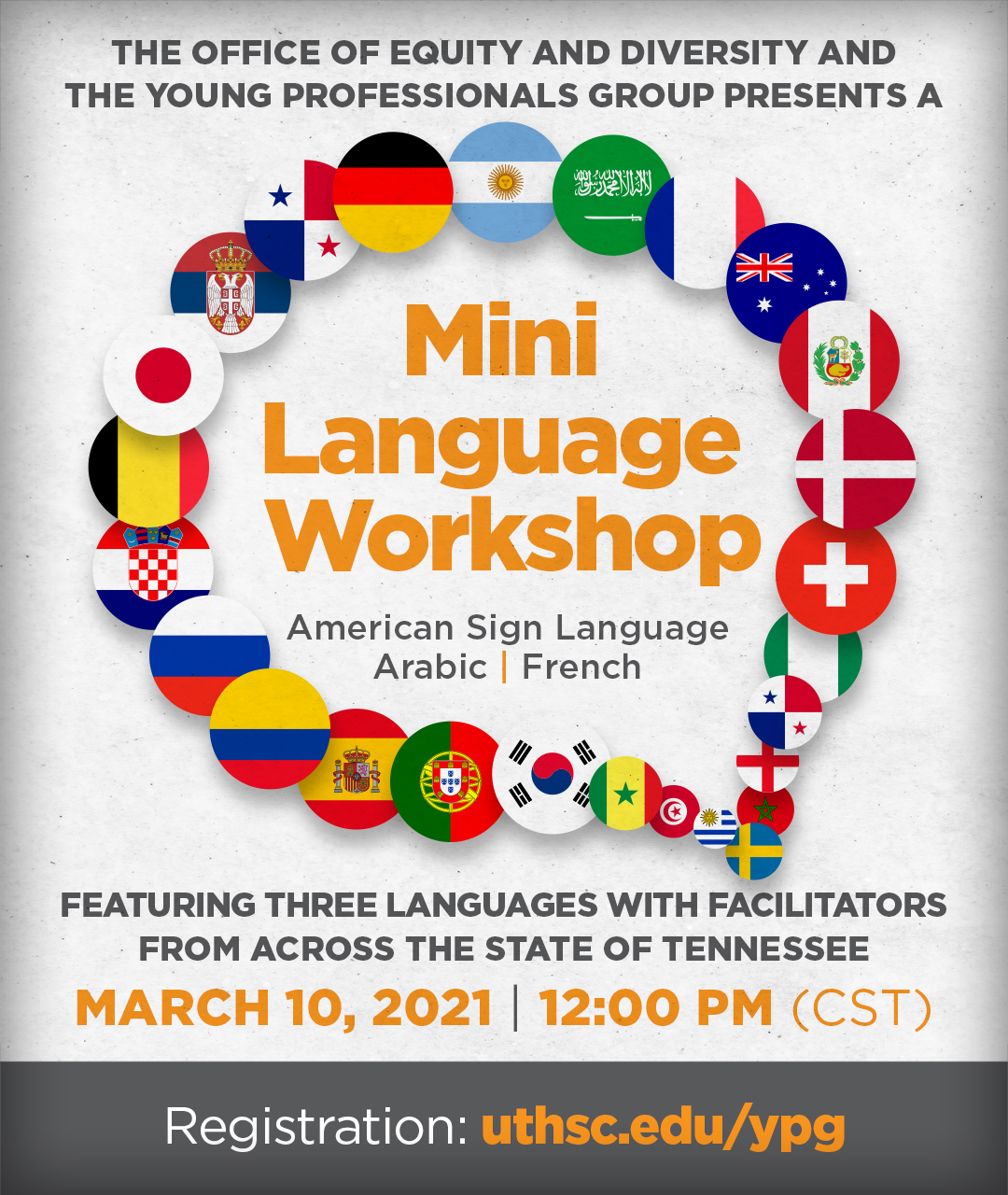 Mini Language Workshop
---
Join the Office of Equity and Diversity and the Young Professionals Group as we present an introductory language workshop featuring 4 languages (Arabic, American Sign Language, French, and Mandarin) with facilitators from across the state of Tennessee.
When: March 10, 2021
Time: Noon (CST)
Past Events
Road to Financial Wellness
---
On August 27, 2020, the Young Professionals Group held the virtual event Road to Financial Wellness. 
As part of YPG's mission to provide educational opportunities, this event helped members learn about the steps they can take towards financial well-being. While no one enjoys talking about about personal finances, it is an important part of our health and well being. If you are stressed about your finances it affects both your personal life and work life.
Our presenters Allan Landstreet, CFP, a retirement plan advisor at RetireReady TN, and Monika Johnson, Esq., an attorney with the Law Offices of Monika Johnson, provided information on budgeting, risk management, wills and trusts, and medical health directives.
To download the Personal Financial Statement and Budget spreadsheets, click here.
To view a recording of the event, visit this link.
Building Resilience During the COVID-19 Pandemic
---
On April 30, 2020, the Young Professionals Group held the virtual event Building Resilience During the COVID-19 Pandemic. 
As part of the YPG's Mission to provide educational training opportunities to its members, the event is designed to equip you with the tools you might find useful in navigating "new normal" caused by the current global pandemic. Opening remarks were presented by Dr. Altha Stewart, senior associate dean for Community Engaged Health and associate professor of psychiatry in the College of Medicine.
In addition to Dr. Stewart's remarks, participants took part in breakout sessions led by UTHSC staff members which covered topics such as meditation, professional and personal development/branding, and information technology.
To view a recording of the event, visit this link.
Tour Tuesday - West Tennessee Regional Forensic Center
---
Members of the Young Professionals Group visited the West Tennessee Regional Forensic Center (WTRFC) for the January 2020 Tour Tuesday. The tour was directed by Dr. Ben Figura (far right) who is a forensic anthropologist and the Director of the WTRFC.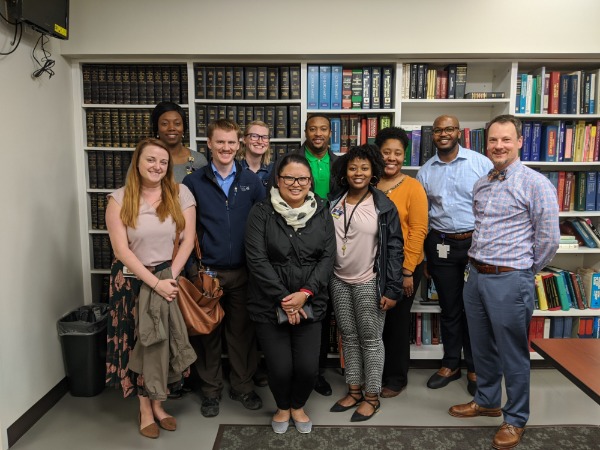 Financial Planning Workshop
---
Members of the Young Professionals Group took part in a financial planning workshop presented by Brian Nanney, a Financial Consultant for TIAA Financial Services. If you missed the event, click this link to view the presentation on Media Server. (UTHSC NetID and password required.)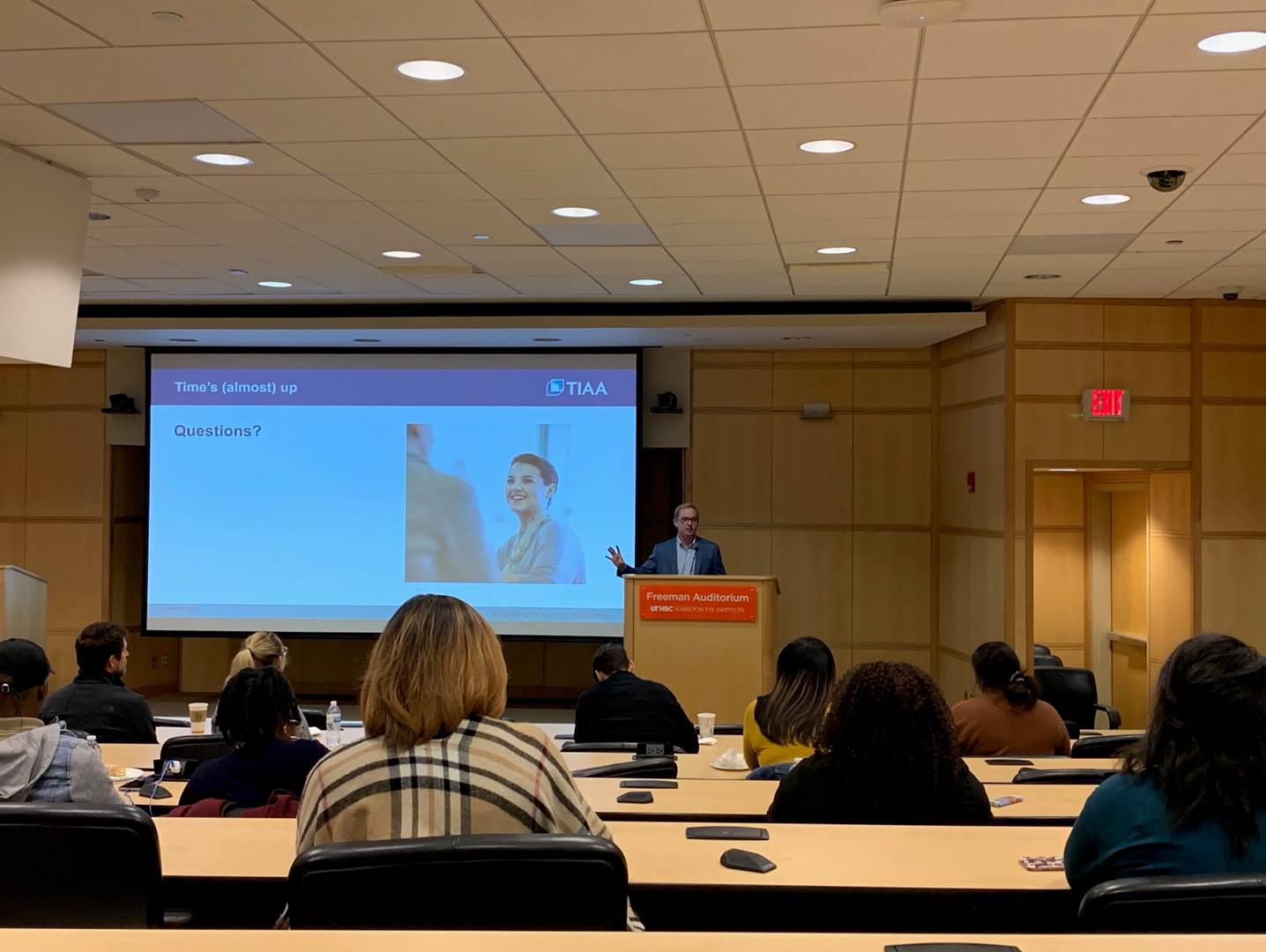 Tour Tuesday – Emergency Operations Center
---
Members of YPG had the opportunity to tour the UTHSC Emergency Operations Center (EOC) on October 1, 2019. Led by Police Chief Anthony Berryhill, the tour gave attendees the opportunity to see the behind-the-scenes action of one of the safest campuses in America.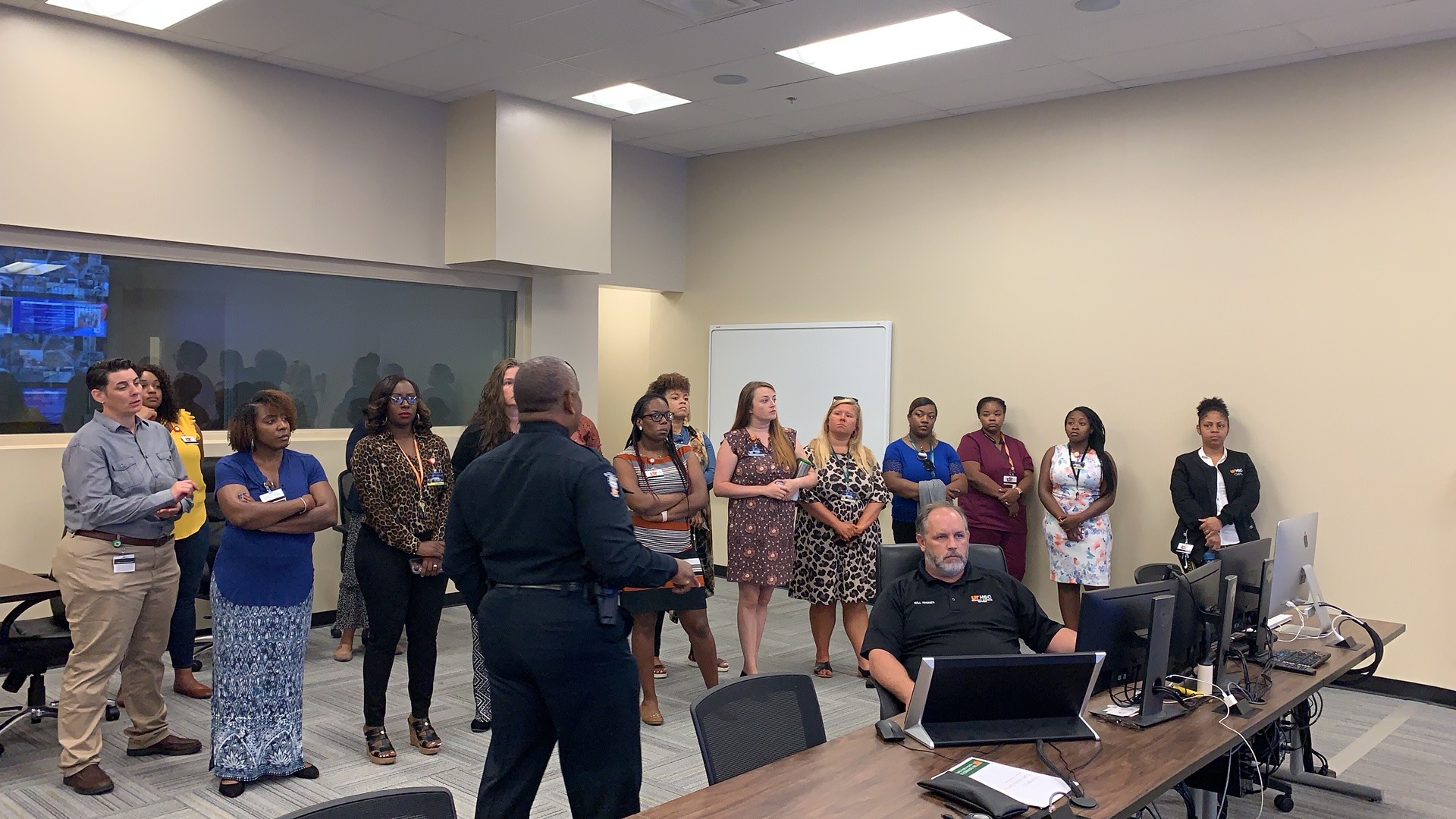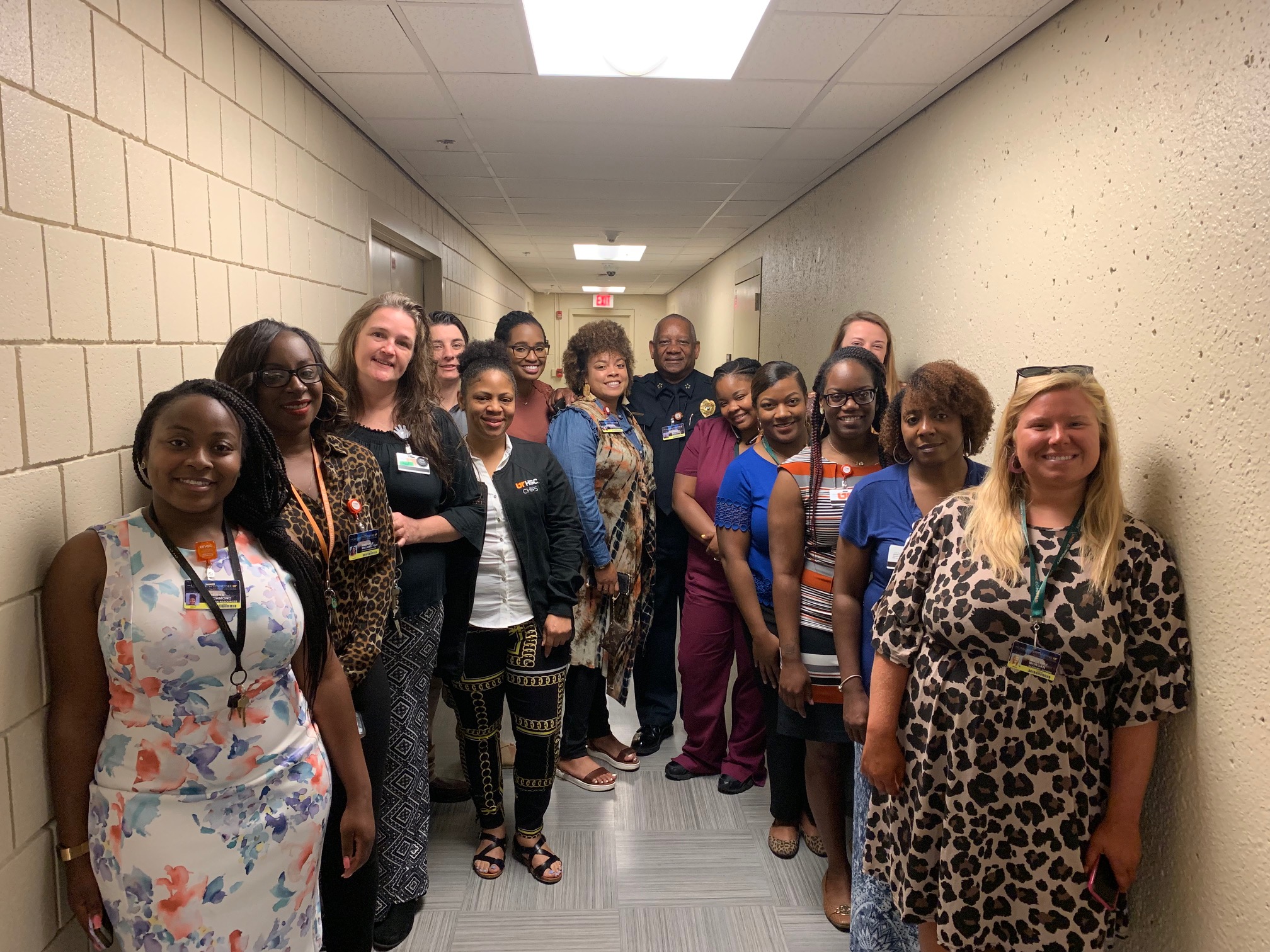 YMCA Corporate Games
---
The Young Professionals Group recently participated in the 2019 YMCA Corporate Games held September 22-28 at various locations throughout the city. The games promoted friendly competition and healthy living among Mid-South organizations. Events included kickball, dodgeball, volleyball, bowling, basketball, trivia night, and field day games such as tug-of-war, relay races, and cornhole.
"We decided to participate in the YMCA Corporate Games because it fit perfectly within the mission and values of YPG to foster an inclusive work environment, while also giving back to the community and promoting healthy living. We saw it as the perfect opportunity for colleagues from all across campus to come together and work as team, with the hope that those new relationships would extend beyond the playing field and open up new opportunities for collaboration and training in the workplace." - Cynthia Vincent, YPG Steering Committee Member
Tour Tuesday – CHIPS
---
Members of YPG had an opportunity to tour the Center for Healthcare Improvement and Patient Simulation (CHIPS) on September 3, 2019. The tour, led by Xavier Agee, Simulation Specialist and YPG steering committee member, gave members a behind the scenes look at the 45,000 square foot stand-alone building for healthcare simulation and interprofessional education, which is used by UTHSC students, residents, professional staff, and clinical partners.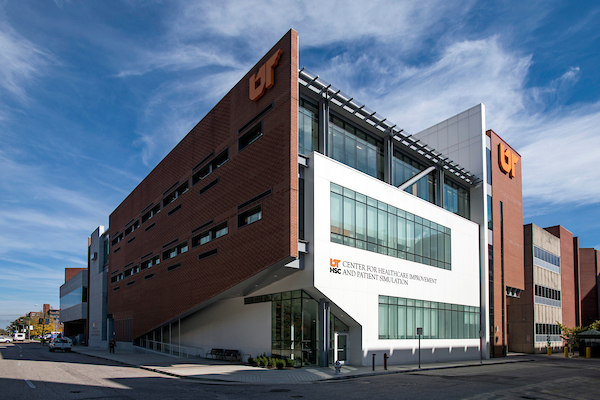 "It's my journey… I choose to own it."
---
On July 18, 2019, members of YPG gathered for a special presentation by local business leader Donald W. Comer, Staff Vice President Operations Analysis for FedEx Corporation. The event was designed to put UTHSC young professionals in a conversational setting to explore the cultivation of personal and professional growth.
You can view the presentation by following this link. Use your UTHSC NetID and password to log in.


Young Professionals Mixer
---
The University of Tennessee Health Science Center kicked off the Young Professionals Group (YPG) as the latest employee resource group for faculty and staff at a mixer held June 7, 2019. Through YPG, UTHSC hopes to increase employee engagement and pave the path for the next generation of professionals while supporting the mission of the University.