Team-based Learning (TBL) is a course design framework that:
Fosters collaborative learning
Follows a specific sequence

Readiness Assurance Process (RAP)
In-class Activities (practice)

Is a paradigm shift from learning the threshold concepts to applying these via problem-solving

Better utilizes faculty/instructor expertise
Design Resources
TBL Framework
Is designed in 3-8 class meeting chunks or modules

Each chunk/module consists of:

Readiness Assurance Process (RAP)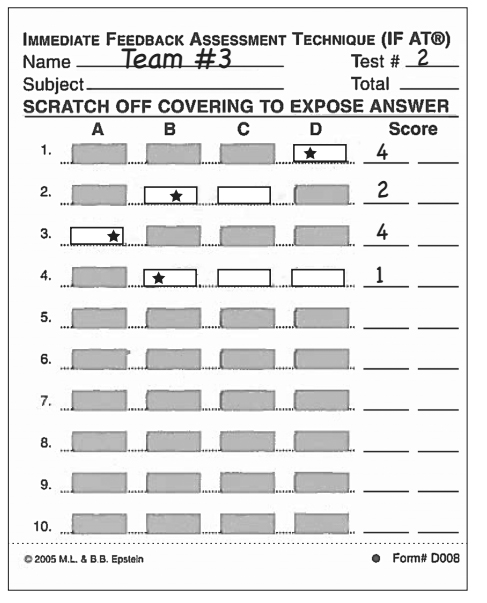 In-Class Activities (4 S's – Michaelsen and Sweet 2008)

Significant problem that is designed and presented based on RAP

Problem REQUIRES all team members to work together (rather than as individuals)

All teams are to solve the same problem
Open-ended questions empower student to make specific choices
Simultaneous report via discussion and debate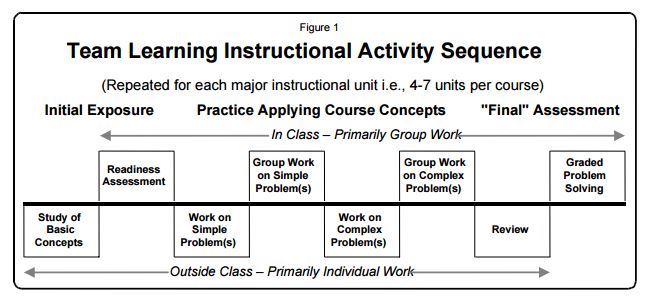 Key Design Principles
Large, diverse, and semester-long teams (5-7) which are instructor designated
Student accountability for preparing and contributing to team success
Complex application of knowledge and decision-making to solve problems/identify solutions
Frequent and timely feedback to students
Paradigm shift for teachers and students

Course goals shift from knowing to applying
Teacher is a facilitator and feedback provider
Students are active and interactive
Responsibility for learning belongs to the students
Course Design Process
Identify the threshold concepts skills and knowledge for the course.
Determine assessment strategies

Includes 15-25 multiple choice questions (iRATs) for each module

Determine grade weightings:(student negotiated?)

Individual Performance (50-75%)

iRAT
Mid-term Exam/Project
Final Exam/Project

Initial Team Performance (25-50%)
Peer evaluation (teammate)

Review TBL framework
Determine:

Readings, or reading guide A
Activities and application experiences that will help students attain threshold concepts, skills, and knowledge. These activities MUST be:
Challenging (see Bloom's taxonomy)

Have multiple possible answers, conclusions, and/or perspectives
Students will need to support and substantiate their positions
Require students to collaborate, interact, discuss, differentiate between data, materials, and resources
Example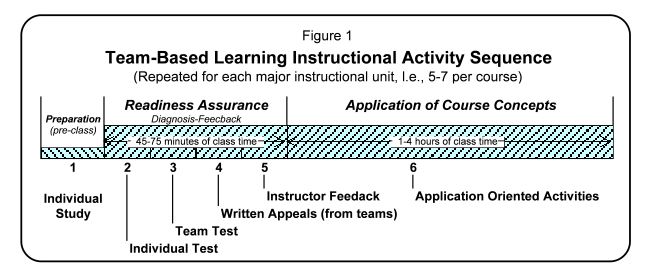 A TBL module timeline: (Michaelsen, 2002, p 42)

Immediate Feedback Assessment Technique (iRATs and tRAT) 
More on TBL  - Duke University
Appeals
Team feels strongly about the acceptability of an answer, conclusion and/or perspective that wasn't accepted
Appeal process must occur immediately following a team quiz
Only teams, not individuals, may write appeals
Only teams that write successful appeals get points for that appeal, even if another team missed the same question(s)
Opportunity for teams to make written scholarly arguments for their collective position

Must be supported by evidence from the readings, research and/or course notes
Appeals based on an allegedly ambiguously phrased question, must suggest appropriate rewording

The decision to grant or refuse an appeal will be made by the instructor after class

The decision is final
Example of Successful Appeal
Argument: 

"Answer B, rather than answer D, is the correct response to question 9."

Evidence:

Bandura (1977) "Learning would be exceedingly laborious, not to mention hazardous, if people had to rely solely on the effects of their own actions to inform them what to do," (p.22). Additionally, Vygotsky's (1978) Zone of Proximal Development implies that to learn we need outside assistance
Subsequently, Bandura also supported the idea of individual construction of knowledge beyond the learner. Based on this premise we believe constructivism is a viable answer
References
Clark, M., Nguyen, H., Bray, C., & Levine, R. (2008), Team-based learning in an undergraduate nursing course. Journal of Nursing Education, 47(3), 111-117. 
Dana, S. W. (2007), Implementing Team-based learning in an introduction to law course. Journal of Legal Studies Education, 24, 59-108.
Keeler, C. & Steinhorst, K. (1995). Using small groups to promote active learning in the introductory statistics course: A report from the field. Journal of Statistics Education, 3(2). Retrieved from http://www.amstat.org/publications/jse/v3n2/keeler.html
Koles, P., Stolfi, A., Nelson, N. & Parmelee, D. (2010). The impact of team-based learning on medical students academic performance. Academic Medicine, 85, 1739-1745. 
Lasserre, P. (2009). Adaption of team-based learning on a first term programming class. ITiCSE '09 Proceedings of the 14th Annual ACM SIGCSE Conference on Innovation and Technology in Computer Science Education. Paris, France.
Michaelsen, L. (2002). Getting started with team-based learning. In Michaelsen, L., Knight, A. & Fink, L. (Eds.) Team-based learning: A transformative use of small groups, (27-51). Westport, CT: Praeger Publisher
Michaelsen, L., Knight, A. & Fink, L. (eds.).(2004), Team-based learning: A transformative use of small groups in college teaching. Sterling, VA: Stylus Publishing, LLC. 
Michaelsen, L. & Sweet, M. (2008). The essentials of team-based learning. New Directions for Teaching & Learning, 116, 7-27.