PGY-6 - Clinical Neurophysiology Fellow
---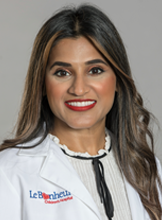 Cerin Jacob, DO
University of North Texas HSC Texas College of Osteopathic Medicine
Dr. Jacob grew up in Dallas, TX. She graduated from Baylor University in 2011 (Sic'em). When Cerin isn't working, she is probably cooking, sleeping or watching The Bachelor. She is really excited to see what the next five years hold for her as a Child Neuro resident.
PGY-5
---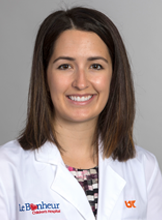 Jenny Schmidt, MD
University of Illinois – Rockford
Dr. Schmidt was born in Michigan and grew up in Nashville, TN before finally settling in Effingham, IL. She attended Southern Illinois University in Carbondale, IL and graduated with a degree in Biomedical Science. She then attended University of Illinois College of Medicine. Her husband, Jordan, joins Jenny and they are both excited for Memphis BBQ and Redbirds baseball. She loved growing up in Tennessee and is excited to be back to spend five years as a Child Neurology resident.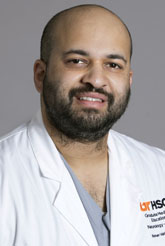 Rohan Vaidya, DO
Lake Erie College of Osteopathic Medicine
Dr. Vaidya is originally from the San Francisco Bay Area. He attended UCSD for undergrad and then made the journey to Erie, PA for medical school. While interviewing he loved how the residents at UT made him feel like a part of the family and is excited to experience everything Memphis has to offer.
Rohan enjoys reading, writing, and playing with his cat Jinx.
PGY-4
---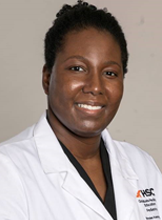 Brooke Asemota, MD
Dr. Asemota grew up in Clinton, MS. She received her B.S. in Neuroscience from New York University before attending Tulane University, where she received her Master's in Neuroscience and later received another Master's in Biomedical Engineering from UTHSC San Antonio before entering medical school. In her free time she enjoys watching sports, outdoor activities, and cooking. She also is currently working towards being mediocre at golf. She is looking forward to immersing into the Memphis culture and being close to friends and family.
Sariha Moyen, MD
Dr. Moyen was born in Atlanta, GA, but has spent most of her young adulthood in Akron, OH. Sariha has lived in five different states all over the U.S.! She majored in Biopsychology, Cognition and Neuroscience at the University of Michigan. Her passions include medical education and children in underserved populations, specifically for malnutrition and foster care. She is a southerner at heart and her favorite things include country music, tea, board games and romcoms. Sariha is ecstatic to explore Memphis to find the best barbecue, music, and soak in the warm weather.
PGY-3
---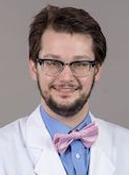 Connor Gatewood, MD
Dr. Gatewood is originally from Jonesboro, AR where he attended Arkansas State University and earned a BS in Chemistry. While there he met his wife, Whitney. They then moved to Memphis where he attended medical school at UTHSC, and she attended Christian Brothers University for PA studies. Connor and his wife are both excited for the opportunity to remain in the city that has become their home. In his free time, he enjoys watching films and tv with his wife, reading novels, studying history, playing guitar and wrangling their four small dogs.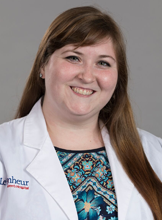 Samantha Parkhurst, MD
Dr. Parkhurst was born and raised in Indianapolis, IN. She graduated from the University of Southern Indiana with a BS in Biology with a minor in Psychology. In Samantha's free time she enjoys playing games, reading, watching movies, spending time with friends and family. She is very excited to move to Memphis and become part of the UTHSC/Le Bonheur family!
PGY-2
---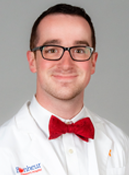 Addison Durham, DO

Dr. Durham was born in Nashville and grew up in the suburbs of Smyrna, TN. He attended East Tennessee State University in Johnson City, TN for undergrad where he received this degree in Health Sciences. After graduating, he preceded to medical school at Kansas City University of Medicine and Biosciences. In his spare time, he enjoys hiking, biking, reading, and traveling to new places. Addison is incredibly excited to continue his training in Memphis.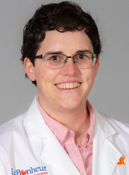 Lindsey Wise, MD
Dr. Wise was born in Florida, but spent most of her childhood in Tennessee. She completed a BS in Music Performance and MMu in Orchestral Conducting at Austin Peay State University prior to attending medical school at UTHSC. In her spare time, she and her husband, Caleb, enjoy taking their toddler to Shelby Farms, the Memphis Zoo, museums, and the Memphis Botanic Garden. She hopes to explore all the US National Parks with her beautiful family in the coming years. Lindsay is beyond thrilled to continue her medical training in Memphis, following in the footsteps of her amazing late mother, Dr. Sharon Snapp.
PGY-1
---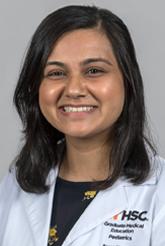 Sapna Shah, MD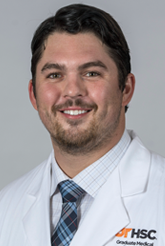 Winston Wolters, MD