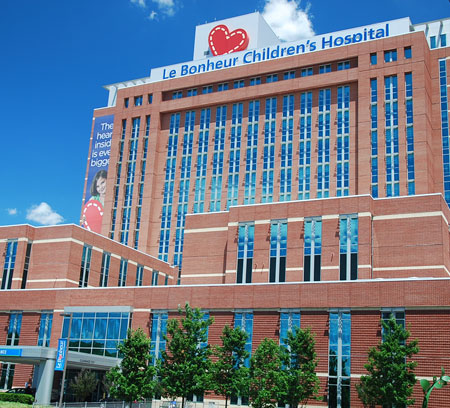 Le Bonheur Children's Hospital
848 Adams Ave
Memphis, TN 38103
901.287.5437

Established in 1952, Le Bonheur Children's Hospital is an integral part of the Methodist Le Bonheur Healthcare system and a teaching affiliate for the University of Tennessee Health Science Center. A new $340-million hospital building was built in December 2010 to accommodate the over 100,000 patients seen each year.
Named one of the nation's "Best Children's Hospitals" by U.S. News & World Report for eight consecutive years, Le Bonheur is the only Level 1 pediatric trauma center in the Mid-South. Its neonatal intensive care unit (NICU) provides the highest level of care for the region's critically ill newborns. Le Bonheur has received many accolades of excellence over the years including: Top Children's Hospital in 2017 by the Leapfrog group for its safe patient care, Magnet status - one of only 7 percent of hospitals in the U.S. to have earned this honor for quality nursing care by the American Nurses Credentialing Center (ANCC), and a three-star rating (the highest) by The Society of Thoracic Surgeons for its Heart Institute.
Continuity Clinic
General Pediatric Continuity Clinic
Residents attend continuity clinic for two half days on non-inpatient months. Residents spend their first two years of training at the ULPS general pediatric continuity clinic. They have the option to work in a private community clinic or subspecialty clinic during their third year.
A typical day in clinic will consist of several well child exams, hospital follow up evaluations, and the management of acutely ill patients. During their two years in continuity clinic, the residents will review the Johns Hopkins' Pediatrics Ambulatory Care Curriculum.
Pediatric Neurology Continuity Clinic
The continuity clinic during the three years of pediatric neurology training will take place during one half day each week on Thursday afternoon for all pediatric neurology residents. You will be exposed to the entire variety of neurologic disorders including epilepsy, developmental delay, neuromuscular disorders, genetic disorders, metabolic disorders, demyelinating disease, stroke, cerebral palsy, movement disorders, and others.  Brief study sessions occur at the end of each clinic organized by our program director.
Le Bonheur Children's Hospital is our home for our inpatient pediatric neurology service, outpatient pediatric neurology clinic, and continuity clinic.
Inpatient Pediatric Neurology Service
The inpatient pediatric neurology service exposes our residents to a wide array of pediatric neurologic disorders in the hospital setting, preparing our trainees for either academic or private future practice to function independently and comfortably as an attending in Pediatric Neurology.
This hospital includes a 20 bed PICU, a 10 bed Cardiovascular ICU, and 21 bed intermediate care unit.  We also have a dedicated 6 bed Neurosurgical ICU for care of patients following brain tumor, epilepsy, and spine surgeries. Our Epilepsy Monitoring Unit encompasses a 10 bed EMU on the general neurology floor, and 3 beds in the neurosurgical ICU for monitoring of critically ill patients.
Outpatient Pediatric Neurology Clinic
The outpatient pediatric neurology clinic rotations expose our residents to the varied presentations of neurologic disease in the outpatient setting. 
Our neurology clinic is located on the first floor of the new 255 bed hospital and we have 20 outpatient exam rooms, as well as four more rooms dedicated to our pediatric neuro-ophthalmology clinic for complete ophthalmologic examinations.  EEG, high-density EEG, EMG, TMS and MEG services are part of the clinic as well.
We have a wonderful team of dedicated nurses and clinic staff including an outpatient social worker that care for our patients.  There are dedicated computer workstations for doctors, nurse practitioners, nurses, social work and clinic staff.