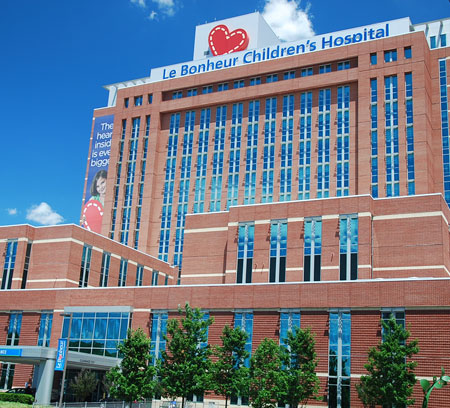 Le Bonheur Children's Hospital
848 Adams Ave
Memphis, TN 38103
901.287.5437

Established in 1952, Le Bonheur Children's Hospital is an integral part of the Methodist Le Bonheur Healthcare system and a teaching affiliate for the University of Tennessee Health Science Center. A new $340-million hospital building was built in December 2010 to accommodate the over 100,000 patients seen each year.
Named one of the nation's "Best Children's Hospitals" by U.S. News & World Report for eight consecutive years, Le Bonheur is the only Level 1 pediatric trauma center in the Mid-South. Its neonatal intensive care unit (NICU) provides the highest level of care for the region's critically ill newborns. Le Bonheur has received many accolades of excellence over the years including: Top Children's Hospital in 2017 by the Leapfrog group for its safe patient care, Magnet status - one of only 7 percent of hospitals in the U.S. to have earned this honor for quality nursing care by the American Nurses Credentialing Center (ANCC), and a three-star rating (the highest) by The Society of Thoracic Surgeons for its Heart Institute.
Here, you will train in our "critical care complex" that occupies two consecutive floors and contains three distinct units managed by one cohesive team. Our 20-bed general pediatric intensive care unit (PICU) serves a diverse population of critically ill medical/surgical patients. The 12-bed Intermediate Care Unit (IMCU) serves as both a "step-down" unit as well as an area for the care of children who depend on durable medical equipment. Our 6-bed Neuro-Intensive Care Unit accommodates a brain tumor program that is among the largest and most distinguished in the country, as well as other patients with neurological or neurosurgical illness. Finally, our critical care fellows gain valuable clinical experiences in the 10-bed Cardiovascular Intensive Care Unit (CVICU) and the 8-bed Hematology/Oncology ICU at the world-renowned St. Jude Children's Research Hospital.