Information Technology Services (ITS)
Congratulations to Our ITS Service Desk!
The Faculty Senate honored our ITS Service Desk with its Exceptional Meritorious Achievement Certificate for the outstanding work done during the pandemic to help keep everything running smoothly.
We love our Service Desk and appreciate how hard they work to keep everyone's technology running smoothly - well done and well deserved!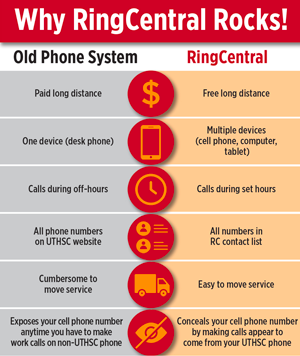 RingCentral, UTHSC's New Phone System
In 2022, RingCentral, a Voice over IP (VoIP) system, is replacing our antiquated UTHSC telephone system.
A VoIP system allows you to make calls over the internet instead of through a traditional phone network. It's a newer technology that is more flexible and offers many benefits we didn't have with our old system. Plus, it will help us avoid outages (of which we've seen an increase with the old system).