Rachel Kay Stevens was a first year Occupational Therapy student at UTHSC from Batesville, Arkansas who had a passion for helping children. Rachel passed away in late January 2015, and this clinic is named after her to honor her memory and the work she would have done as an occupational therapist.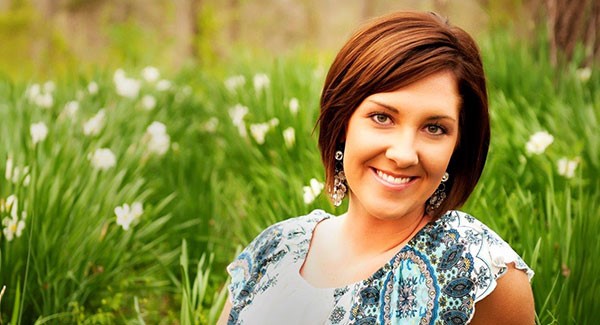 Rachel Kay Stevens was born with green eyes on St. Patrick's Day, March 17, 1993. Hours after the nurse had stamped Rachel's feet with the inkpad for the birth certificate, it was discovered that she was born with an extra digit on her left foot. She had surgery at 6 months of age and wore a tiny cast for one month. Often, if Rachel was asked to introduce herself with something memorable, she would smile and say that she was born with an extra toe.
Because of that experience, Rachel had a tender heart and a God-given gift of connecting with people with special needs. In junior high, Rachel befriended "Aaron" a boy in her class with autism. Rachel and Aaron remained friends to the end. Aaron has written poetry about Rachel and he is the faithful friend who brings flowers to the cemetery. It was in Rachel's career class in high school that she learned about the field of occupational therapy. After that, she knew her path.
She completed her undergraduate degree in psychology at Lyon College, December 2014. Prior to being admitted to grad school, she spent one semester doing an internship at Stars Academy. During the internship, Rachel designed OT bulletin boards and decorated the walls and doors for Dr. Seuss week. She also developed a new activity for the children using the cardboard spinner from her own "Twister" board game. Danielle Johnson, an OT at Stars Academy, said, "Rachel raised the bar for all future interns." She was creative and the children loved her.
While in college, Rachel was encouraged by her adviser, Mrs. Jennifer Emery, to apply for a part-time job as caregiver for Mrs. Emery's own son, Clark Emery. Clark has Down syndrome. Mrs. Emery saw qualities in Rachel that she knew would be a positive influence in Clark's life. Rachel and Clark spent hours hanging out, attending football games, playing tennis and shooting basketball. Rachel even taught Clark how to make strawberry pie. They developed a special friendship and took lots of "selfies" together. Clark quickly became part of the family and attended Rachel's family gatherings.
Three days before Rachel left this earth, she was still investing in the lives of others, including "Valley" a teenager who was struggling emotionally. Rachel stated, "Valley, my purpose in life is not to go to school or have a career. It's to make a difference in people's lives while I'm here." At the top of Rachel's entrance letter to UT, she quoted Helen Keller - "Although the world is full of suffering, it is also full of the overcoming of it." Suffering is part of life, but Rachel understood that what mattered is helping people overcome their challenges and "live life to the fullest." Rachel was one of thirty-six OT students accepted into the UTHSC MOT Class of 2017. She attended class for eleven days until the Lord called her to her heavenly home.
"I am pleased to say that I had the pleasure of knowing Rachel. She made such a great impact on us in the short time that we had with her. Rachel was the kind of person that lit up the room with her sweet smile and caring personality. It was evident that Rachel not only loved the field of Occupational Therapy, but that she had a profound love for children, as well. I cannot think of a better way to honor her memory and share this love than through the Rachel Kay Stevens Therapy Center." - Ashley Wright, MOT Class of 2017 student

"Rachel Stevens was only a student at UTHSC for a short time, but she left a big impression. Rachel was a bright light and a giver to those around her. She'll always be remembered." - Tess Barnfield, MOT Class of 2017 student