Emergency Medicine Residency
Since UTHSC opened its doors to the first class of Emergency Medicine residents, we have been leaving our mark on the medical landscape that was desperately in need of our unique skillset.
Situated at the corners of three states, we are the safety net for millions of families and are making a difference in the lives of thousands of patients every year.
Located at MUH, ROH, LBCH, and BMH
3-Year ACGME-accredited Residency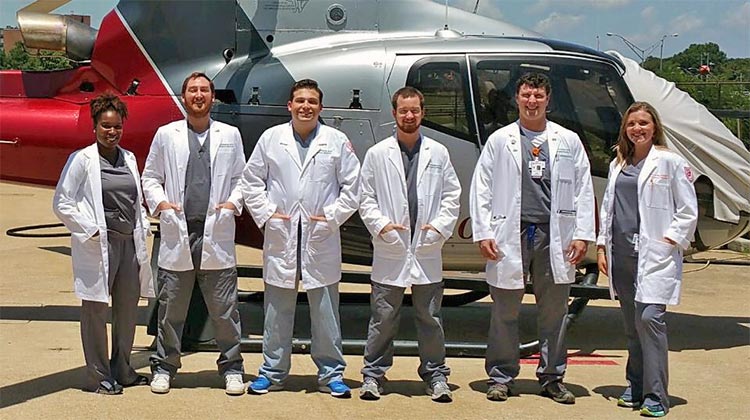 Our Emergency Medicine residency has some unique and incredible opportunities and resources for those interested in training with us.
Opportunities exist here which can only be found in a few top medical centers in the world. We feel especially fortunate to be able to provide this training to our future students and residents.
Our training philosophy is one of mutual respect and cooperation with the resident. In a very real way, we exist to serve our residents needs as much as our residents exist to serve the needs of our community.
We are looking for highly self-motivated and driven residents who recognize the opportunities this residency has to offer.  If you have an area of interest, you will be supported in your pursuit of this expertise, and expected to pass it on to all of your colleagues at the Residency. 
If this program sounds like a place you could call home for three very busy, but fun years, we would ask that you simply let one of the core faculty members know so that we can discuss how we can help you, and how you can help us.  Our residency program is new, but, for those bold enough; it is an opportunity to make your training experience exactly what you think it should be!  If you feel you need a different training experience, let us know that as well…we adapt easily, we're ER Docs after all…and that isn't for everyone.
Emergency Medicine residency's mission is that we are expected to be able to handle anything, at any time, especially when the cases are critical and/or atypical.  Our goal is to produce very competent, confident, and compassionate residents who know what they know and know where to find or learn the rest.