Admissions Requirements
To be eligible for consideration for admission, applicants must fulfill the requirements listed below. Application and admission into the PA Program is very competitive: meeting the minimum requirements does NOT assure an interview for admission to the Master of Medical Science Physician Assistant (MMS-PA) program.
Baccalaureate degree from a regionally accredited college or university at least by August 31st of the year prior to matriculation
Minimum overall and science CASPA GPA 3.0
Completion of all pre-requisites prior to application
UTHSC PA Program does not require an applicant to take the GRE. We are no longer accepting GRE scores.
UTHSC will require the PA-CAT for the 2024-2025 CASPA admission cycle. We are not setting a minimum score for this admission cycle. (PA-CAT information)
Due to the Covid-19 pandemic, we recognize that some applicants will not be able to obtain direct care experience or shadowing hours. We are waiving our minimum requirement for shadowing or direct care experience. We will give preference to those applicants that have a history of direct care experience.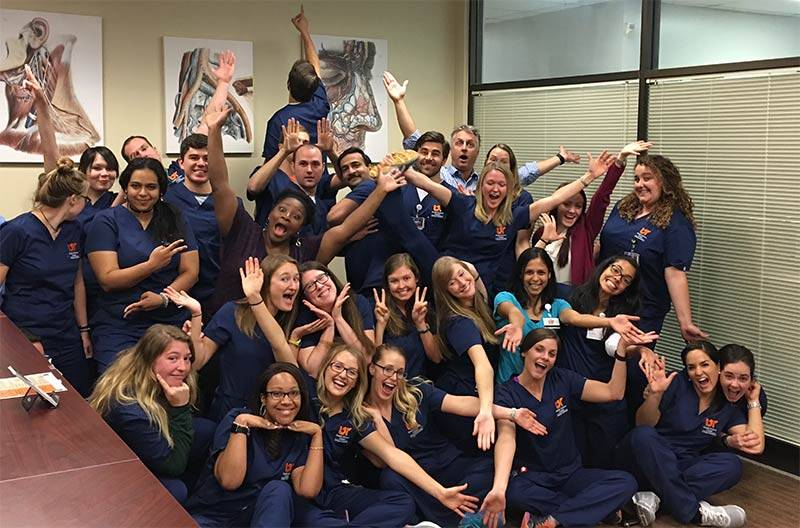 Information and Deadlines
The MMS-PA Program utilizes the Centralized Admissions for Physician Assistants (CASPA) service
The MMS-PA Program participates in a holistic admissions process and accepts one cohort per year.
A telephone or personal interview is granted to an applicant by invitation only.
Our admission window will open on April 24, 2024. This is the first day of the 2024-2025 CASPA cycle.
Our admission cycle will close on September 1, 2024.

We will only review applications that have been verified by CASPA on or before September 1, 2024.
CASPA usually takes approximately two weeks to verify an application. We strongly suggest having your application fully submitted to CASPA no later than August 1, 2024.

The program has two interview windows. The first window will be July 15, 17, 19th. This is for highly competitive applicants who are extremely interested in attending UTHSC. The second interview window will be on September 16, 18, 20, 23, 25, 27th. Please see the "Admission Checklist" for further details.
PA-CAT Exam
The University of Tennessee Health Sciences Center PA Program requires applicants to take the PA-CAT exam. The PA-CAT is a specialized test designed to measure applicant knowledge in key prerequisite science subjects typically required for PA school. For information about the PA-CAT and to schedule your exam:
Go to pa-cat.com to register for your PA-CAT exam
Ensure the University of Tennessee Health Sciences Center (Memphis) is selected to receive your score report in your PA-CAT Score Portal. To choose the University of Tennessee Health Sciences Center (Memphis) as a score-receiving school, log into your PA-CAT Score Portal at pa-cat.com.

It is recommended that you take the PA-CAT exam early in the application cycle for early admission consideration.

All applications must be submitted with a PA-CAT Score.
Admissions Policy
UTHSC's Physician Assistant Program selects one class each academic year, which matriculates in January. Each class is composed of 30 students. Students must be citizens or permanent residents of the United States at the time of application to be eligible for admission to the Physician Assistant program. 
We strive to balance applicants' academic and life histories. Please make sure to completely list your volunteer, research, leadership experiences, and community service hours in your CASPA application. We do not require a specific major for Physician Assistant Studies. 
Robust applications show evidence of academic potential, knowledge of the health care system, motivation to become a PA and show an understanding of the role of a PA, personal maturity, self-assurance, a history of providing care to the underserved, and good interpersonal skills. 
The UTHSC PA Program prefers the following groups: residents of Tennessee, the University of Tennessee alumni, those with military experience, or those who meet the HRSA indicators provided in the CASPA application. While the program does give preference to the above-listed criteria, the PA program does not have a limit on accepting non-Tennesseans. 
Deferment Policy
If you are accepted for admission, you may be able to defer program enrollment for one (1) year, with a guaranteed position in the program for the next academic year. You must provide an acceptable reason to the Program such as: inability to pay, medical concerns, military obligation. To be considered for a deferment you must submit, in writing, a formal request to the Department Chair on of before October 15 of the application year.
Deferment decisions will be made on a case by case basis and the applicant will be notified within one week of request.
If the deferment is granted, then a seat will be held in the next cohort. The tuition deposit will not be refunded. All requirements for admission into the next cohort must be met (tuition deposit, current background check, current immunizations, etc.)
Accreditation Status
The Accreditation Review Commission on Education for the Physician Assistant, Inc. (ARC-PA) has granted Accreditation-Continued status to the University of Tennessee Health Science Center Physician Assistant Program sponsored by University of Tennessee Health Science Center. Accreditation-Continued is an accreditation status granted when a currently accredited program is in compliance with the ARC-PA Standards. 
Accreditation remains in effect until the program closes or withdraws from the accreditation process or until accreditation is withdrawn for failure to comply with the Standards. The approximate date for the next validation review of the program by the ARC-PA will be March 2027. The review date is contingent upon continued compliance with the Accreditation Standards and ARC-PA policy.