Kafait U. Malik, DSc, PhD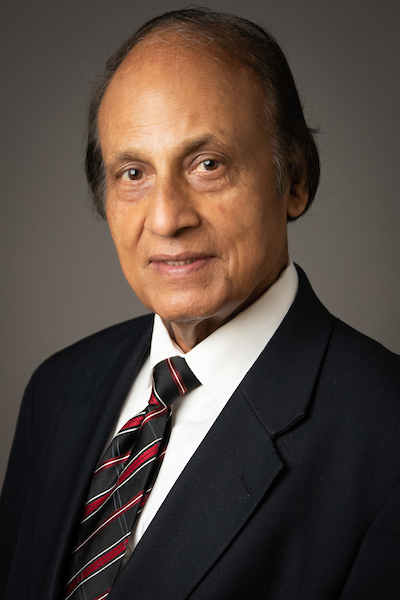 Professor of Pharmacology, College of Medicine
University of Tennessee Health Science Center
71 Manassas TSRB,218-H
Memphis, TN 38163
Email: kmalik@uthsc.edu
Phone: 901.448.6075
Fax: 901.448.7206
Education
1964 D.Sc., Pharmaceutical Technology, University of Zagreb, Zagreb,Yugoslavia (Now Croatia)
1966 M.Sc., Ph.D. Pharmacology, University of Sarajevo, Sarajevo,Yugoslavia (Now Bosnia & Hercegovina)
1966-1967 Postdoctoral Trainining, Institute of Pharmacology, Faculty of Medicine, Johanes-Gutenberg University of Mainz, West Germany
1967-1970 Postdoctoral Training, Department of Pharmacology, Faculty of Medicine, University of Ottawa, Ottawa, Canada
Research Interests
The overall objective of our research is to elucidate the cellular and molecular signal transduction mechanisms of growth factors, circulating hormones including angiotensin II (Ang II) and locally generated autacoids (eicosanoids) and adrenergic transmitter norepinephrine (NE) in the regulation of cardiovascular function in health and in the development of hypertension and vasculopathy associated with restenosis, atherosclerosis and diabetes. Our studies should further our knowledge of the neuro-humoral mechanisms that regulate vascular function and its alteration in vascular diseases. Moreover, these studies should allow formulating rational approaches for the development of novel therapeutic agents for the treatment of hypertension, arteriosclerosis and restenosis.
We use isolated cultured vascular smooth muscle and endothelial cells, isolated perfused organs (heart, kidney and blood vessels), wire myogrph for measuring vascular reactivity models of hypertension (Ang II- and DOCA-Salt and SHR), balloon injured carotid artery and now we are also transgenic animals for our studies. The laboratory techniques also include the use of HPLC-GC-Mass spectrometric Analysis of Eicosanoids, SDA-PAGE and Western blot analysis, DNA and RNA isolation, purification and quantitation, PCR, RT-PCR, Q-PCR, DNA transfection in cells Plasmid preparation, restriction fragment mapping, Construction of siRNA of various signal molecules, Transfection of reporter vectors as well as over-expression of constitutively active or dominant negative proteins, Co-immunoprecipitation and co-localization techniques, con-focal microscopy, site direct mutagenesis Molecular imaging of protein interactions Immunoassays and protein analysis, insertion of miRNA into adeno-, lenti- and adeno-associated viral vectors and preparation of viruses for transfection in cultured cells and for in vivo use. The signaling molecules studied by ELISA, in vitro kinase assay and Proteomics include, RasGTPas, ERK1/2, MEK, Raf, p38MAPK, c-JNK, PI3 kinase, Akt, JAK-STA, Pyk-2, c-Src, Syk and EGF.
Research Specialty
Cellular and Molecular Mechanisms Involved in the Action of Norepinephrine, Angiotensin II and Growth Factors on Vascular Reactivity, Vascular and Endothelial Cell Proliferation and Hypertrophy, Restenosis, Atherosclerosis and Hypertension and Diabetes.
Research Keywords
Pharmacology, Physiology, Molecular Biology, Vascular Biology, Vascular Smooth Muscle, Vascular Smooth Muscle and Endothelial Cells, Vascular Reactivity, Endothelial Dysfunction, Nitric Oxide, Nitric Oxide Synthase, Adrenergic Nervous System, Renin-Angiotensin System, Angiotensin II, Angiotensin Converting Enzyme 2, Growth Factors, Lipids, Phospholipase A2 and D2, Cyclooxygenase, Lipoxygenase, Cytochrome P450 A, B and C, Eicosanoids, Prostanoids, hydroxyeicosatetraenoic acids (HETEs), Epoxyeicosatetraenoic Acids , (EETs), Signal Transduction Mechanisms, Serine-Threonine and Tyrosine Kinases, Vascular Smooth Muscle and Endothelial Cell Proliferation and Hypertrophy, Restenosis, Atherosclerosis, Hypertension and Diabetes.
Publications