Neurocritical Care Fellowship
The Neurocritical Care Program at the University of Tennessee Health Science Center UTHSC – Methodist University Hospital in Memphis is proud to be the first and only academic training program in the state of Tennessee with the busiest stroke service in the US.
2-Year UCN-Accredited Fellowship
Comprehensive Stroke Center/ Methodist Neurovascular Institute with Semmes-Murphy Neurosurgery Institute
Message from the Fellowship Director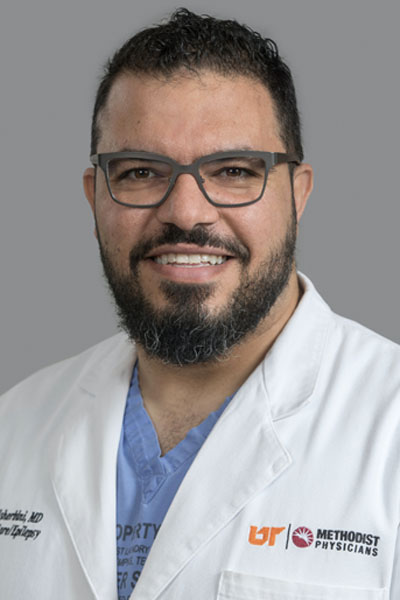 Our program trains physicians in the acute care of critically ill patients with an underlying neurological process. The faculty consists of multiple neurointensivists from different backgrounds with the majority having dual training in addition to their neuro ICU including epilepsy, stroke, and endovascular neurosurgery with strong and direct involvement with our colleagues in Neurosurgery, Critical care and Pulmonary critical care who are also part of our faculty and educators.
Our dedicated neuro ICU care for a wide variety of patient population including advanced cerebrovascular disorders, neuro-oncology, status epilepticus, neuromuscular diseases, infectious and autoimmune encephalopathies , spinal cord emergencies , wide variety oof metabolic encephalopathies , and perioperative and post-operative neurosurgical care. We also provides a consult service for all patient with targeted temperature management (TTM) for comatose survivors of cardiac arrest at Methodist University Hospital. In addition to our primary site at MUH which is a comprehensive stroke center and advanced cardiac and transplant center.
Our fellows rotate through affiliated different sites including Baptist Memorial Hospital which is a tertiary hospital for advanced cardiovascular ICU, ECMO and cardiac surgery and cardiac transplant exposure as well as Regional one hospital which is our level one trauma center for advanced exposure to trauma resuscitation , multiorgan injury and sever traumatic brain injury.
The fellowship is a two year, UCNS fully accredited program with strong focus on critical care with minimum of 10 months in the Neuroscience ICU but stretching beyond the walls of the neuro ICU to involve critical care EEG , multimodality monitoring , clinical research, advanced bedside ultrasound, including advanced point of care ECHO, and advanced airway management, including fiberoptic and video assisted laryngoscopy, advanced vascular access and all fellows are trained in bedside percutaneous tracheostomy.
Our fellowship program reflect the message of the neurocritical care society by representing a multi-disciplinary team of neurocritical care providers whose mission is to improve outcomes for patients with life-threatening neurological illnesses. Comprised of physicians, nurses, pharmacists, advanced practice providers, researchers and scientists. We invest in our graduate with a strong mentorship program and substantial effort to the career development of our fellows.
Khalid Alsherbini, MD
Prerequisite Training/Selection Criteria
Must have or will have completed an ACGME accredited Neurology, Internal Medicine, Neurosurgery, or Emergency medicine Residency Program before the July 1 fellowship start date
Must be board certified or board eligible in his residency specialty
Must provide 3 letters of recommendation by your supervisor, the residency program director and the chairman of the department
How to Apply
We accept applications through SFMatch. Candidates must submit a copy of their CV, personal statement, ECFMG certificate, medical school transcript and USMLE scores to:
Neurocritical Care Fellowship Program Manager
Department of Neurology
University of Tennessee Health Science Center
847 Monroe Avenue, Room 227A
Memphis, TN 38163
Phone: 901.448.6661
Fax: 901.448.7440
Anonymous Fellows Comment Form