Faculty/Contacts
Matthew Allman, MPAS, PA-C
Department Chair, and Assistant Professor
Bio
Mr. Allman earned his B.A. degree from Texas A&M and his Master of Physician Studies from The University of Texas Southwestern Medical Center at Dallas. Mr. Allman was most recently the medical provider at The Juilliard School, where he provided care to some of the world?s most talented young performers. Prior to that, he worked clinically with the hospitalist service at East Tennessee Children's Hospital in Knoxville and spent two years with a private pediatric practice in New York City. He also spent a year at sea as the Shipboard Director aboard ClassAfloat's tall ship S/V Concordia.
Paul "PJ" Koltnow, MS, MSPAS, PA
Assistant Professor
Bio
As one who truly appreciates the importance of being a ?life-long learner? Mr. Koltnow brings to the program a varied background of health care and academic experience. After obtaining a Master?s degree in Counseling Psychology from the University of Memphis, he began his health care career mainly treating at?risk youth with substance abuse issues as well as serving the needs of adult psychiatric patients.
Having a strong interest and desire to pursue further medical training Mr. Koltnow graduated from Bethel College with his MSPAS. He spent 7 years in a private pediatric practice as well as practicing Internal Medicine for two years.
In addition, Mr. Koltnow has a B. A. in Journalism from Memphis State University and a B. S. in Psychology from the University of Memphis. He has proudly served on the board of the Tennessee Academy of Physician Assistants. He has also taught as adjunct faculty at the University of Memphis and occasionally will use his Journalism skills writing freelance articles for various local publications.
Mr. Koltnow?s research interests currently include pediatric obesity and Physician Assistant educational issues.
Maurice Skillern, MPAS, PA-C
Assistant Professor
Bio
Mr. Maurice Skillern is a military trained Physician Assistant and he is also a retired United States Army Veteran who served in Iraq. He earned his Licensed Vocational Nursing (LVN) training from Saint Phillips Community College (San Antonio, Texas), B.S. degree from the University of Nebraska Medical Center and his Masters in Physician Assistant Studies (MSPAS) also from University Of Nebraska Medical Center.
He brings a wealth of PA experience with clinical experience in both family practice and orthopedics; LVN experience in clinical and home health care; and clinical management experience from leadership positions held while serving in the military and while working within the Veterans Administration Hospital System. He obtained the "H" skill identifier for military training and served in various training positions to include a position of officer-in-charge of the combat medical training program while serving in Iraq. He also served as the subject matter expert for training and deployment of the electronic "Post Deployment Health Assessment System" while serving in Iraq. While he is now officially retired from the military he is still called upon by his colleges and subordinates still serving for medical and training advice.
Mr. Skillern has demonstrated a focused commitment to leadership, leadership development, teaching, public service and the continued advancement of quality medical healthcare.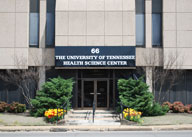 Quick Links
Contact Us
Master of Medical Science Physician Assistant Program

66 North Pauline, Ste. 116
Memphis TN 38163
Email: paprograminfo@uthsc.edu
Phone: 901-448-8000