COVID-19 Information Update
COVID-19 Updates as of April 25, 2021 for The University of Tennessee Health Science Center College of Medicine Chattanooga. We honor our health care workers, physicians, and all in our community who serve every day to provide vital services to others!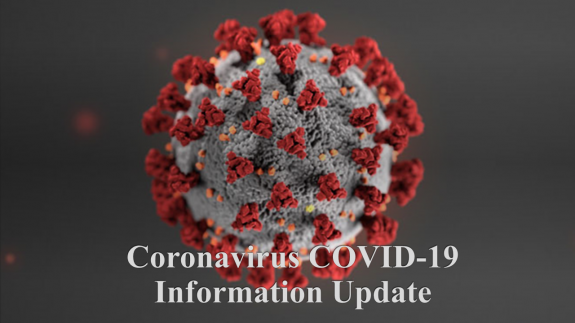 The Statewide Graduate Medical Education System within the University of Tennessee Health Science Center is committed to providing information to the communities we serve about important health issues. The College of Medicine and the university have been leaders in informing the public about the novel coronavirus (SARS CoV-2) and in battling the disease it is causing (COVID-19).  As part of that statewide system, our campus, The University of Tennessee College of Medicine Chattanooga encourages you to click on this hyperlink to view the vast resources and information provided on the main UTHSC website.
Our Major Clinical Affiliated Hospital and Partner, Erlanger Health System, provides periodic updates on its response to the COVID-19 pandemic for our community in Chattanooga.  Click on this hyperlink to view our the updated information.
The University, Erlanger, and our community are thankful that the number of COVID patients and COVID-related deaths are lower lower than had been initially projected.  Everyone has worked together with the goal of slowing the spread of the virus and ensuring the hospital's ability to treat patients safely and to protect our healthcare providers with necessary supplies and PPE. Efforts have included:
Erlanger continues to require and utilize a daily online reporting of physical symptoms before any employee, allied health provider, or physician (including Residents and Fellows) begins each shift at the hospital (effective May 1, 2020).
This hyperlink provides guidance (as of March 5, 2021) regarding Erlanger limited visitors during COVID-19.
Erlanger has provided PPE to clinical staff including Residents and Fellows with guidelines for distribution and conserving resources.  This hyperlink provides guidance (as of April 15, 2021) regarding universal masking requirements and standards during COVID-19.
The University campus and our administrative offices have been permitted to work remotely whenever possible during the pandemic; however, many of these employees are now working via a combination of working in-person and remotely.  Coverage by at least one administrative staff member has resumed for all UT College of Medicine Chattanooga administratie offices.  Department Chairs continue to have authority over the phased return of their respective departments and staff.

The University permitted UT third and fourth year Medical Students and 2nd year PA

Students to return to the clinical arena in June 2020.

In accordance with recent recommendations from the Physician Coalition and the Association of American Medical Colleges (AAMC), visiting medical student rotations processed via the AAMC's Visiting Student Learning Opportunities (VSLO) online system.  These guidelines indicate that schools should limit their students to one external rotation per student. 

University of Tennessee College of Medicine Chattanooga official domestic travel is still discouraged but will be up to the discretion of each Department Chair. No official UT-related international travel is permitted. Personal international travel is also discouraged.  CDC guidelines in effect at the time of personal travel (e.g., self-quarantine) must be following upon returning to the U.S.
Most of our programs have transitioned to zoom didactics, grand rounds, and educational conferences, as well as key meetings with Residents and Faculty to disseminate information and listen to issues and creative solutions for problems that arise. We expect this will continue for some time, particularly while the Erlanger-imposed maximum of 10 people in meetings within the hospital is still in place.
Erlanger has limited meetings to no more than 10 individuals in each room, and requiring everyone to practice physical distancing (6 ft.) as much as possible.
Erlanger has continued to restrict exterior access to the hospital to limited entrances that are monitored by staff.
On April 15, 2021, the UTHSC Executive Chancellor Steve Schwab issued a statement and update about in-person activities as of May 1. He indicated that,
"The UT Health Science Center will slowly and safely begin having limited in-person events on campus beginning May 1. Permission for any in-person events of more than 10 people will be granted at the discretion of the Deans and Vice Chancellors. Events will be required to follow current guidelines from the Centers for Disease Control and Prevention (CDC).  
UTHSC remains very mindful of the COVID-19 pandemic and our responsibility to protect our employees and students from this disease. There continues to be daily positive case counts in Shelby County, as well as Tennessee, particularly among the student-aged demographic. While the availability of the COVID-19 vaccine reduces the risk to those who have received it – and many individuals at UTHSC have taken advantage of the opportunity – many individuals within the campus community have not. To date, the university COVID-19 guidelines have been effective at preventing the spread of COVID-19 on campus. These should be relied on as the best method of continued prevention and must be observed by everyone planning to come to campus. This includes: 
Performing a self-check for COVID-19 symptoms before coming to campus. Anyone experiencing COVID-19 symptoms must remain off campus.  

Wearing a face mask over your mouth and nose  
Maintaining social distancing of at least 6 feet  
Observing any COVID-19 occupancy limits posted on entrances to spaces on campus
Practicing routine hand hygiene
Avoiding the consumption of food and drink during in-person gatherings that would require the removal of your face mask while in proximity to others.
For more detailed guidance from the CDC for organizing large events and gatherings, please visit their website at https://www.cdc.gov/coronavirus/2019-ncov/community/large-events/considerations-for-events-gatherings.html. 

While the leadership team is excited to slowly open campus back up as the number of people getting vaccinated increases, we do want to stress the importance of our campus continuing to adhere to the CDC guidelines. Thank you for your vigilance as we maintain a practical approach to enjoying in-person events again at UTHSC!"
The UTHSC College of Medicine Chattanooga deans and staff want to continue to reassure you that we are in this together. We will rally as a community around our commonUnity to ensure efficient clinical care, society responsibility, and education. We are all committed to these missions. In addition, we will also care for our colleagues and ourselves. Sometimes stress and anxiety can creep up on us. It can be hard to recognize that we're stressed and anxious, and soon we start to feel overwhelmed."
Please remember that there are multiple resources available from the UTHSC and UTCOM Chattanooga benefit structure that can be as simple as a telephone consultation with a mental health specialist or a series of telehealth consultations through NexGen or the resources with LifeBridge, coordinated through the Chattanooga Hamilton County Medical Society. Click on this hyperlink to view a flyer with contact information for all our Well-Being Resources.
For additional information about our well-being initiatives, please view our Well-Being webpage.
Please take care of yourselves and each other as you tirelessly care for your patients and our community.