Clinical training at The University of Tennessee utilizes a variety of facilities in Memphis, a long-established referral center in which the medical industry provides 10% of all jobs in the metropolitan area. The majority of training takes place in the downtown Medical Center, but additional hospital facilities in east Memphis are utilized to provide an educationally diverse variety of obstetrical, surgical, and office experiences. 
Continuity of Care Clinics
Following requirements from the Accreditation Council for Graduate Medical Education, the Department maintains Continuity of Care Clinics in which each resident, starting with the first year of the program, establishes his/her own "practice." It is anticipated that this cadre of both pregnant and non-pregnant patients will develop a primary care relationship with that particular resident during the four year residency.
Regional One Health
877 Jefferson Avenue
Memphis, TN 38103
901.545.7100
Regional One Health (ROH) was established in 1829, making it the oldest health system in Tennessee.  In addition to being the home of the Elvis Presley Trauma Center, Regional One Health also includes Centers of Excellence in Burn, High-Risk Obstetrics, and Neonatal Intensive Care (NICU).  
ROH is the largest medical and surgical teaching site for the University of Tennessee Health Science Center.  More than half of Tennessee's doctors will receive some, if not all, training at ROH.  The partnership between Regional One Health and the University of Tennessee Health Science Center includes the UT Regional One Physicians group, the largest teaching physician group of its kind in the Mid-South.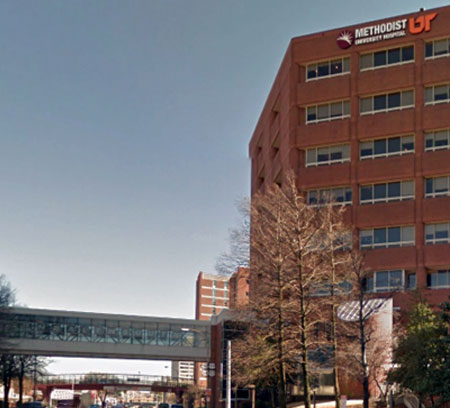 Methodist University Hospital
1265 Union Avenue
Memphis, TN 38104
901.516.7000

Methodist University Hospital (MUH) is a partnership of two healthcare leaders, Methodist Healthcare and the University of Tennessee Health Science Center (UTHSC). Located in the medical center and formerly known as Methodist Central, MUH is a 617-bed facility and is one of UTHSC's primary adult teaching hospitals. Methodist University Hospital provides real-world experiences of managing medical problems in an efficient and effective institution.
MUH and UTHSC bring together research, medicine, and innovation. This partnership supports multidisciplinary collaboration among doctors and clinical team members, leading to more advanced medical care for patients.
Baptist Memorial Hospital for Women
6225 Humphreys Blvd
Memphis, TN 38120
(901) 227–9000
Baptist Memorial Hospital for Women, a free-standing facility, is totally dedicated to women's obstetrical and gynecologic care. Residents maintain an obstetrical and gynecologic surgery service, actively working with private clinical faculty who direct their education in the operating room and labor and delivery. The Center for Urinary and Pelvic Disorders is a modern continence center (with urodynamics and cystoscopy equipment) through which residents rotate when on the urogynecology rotation.