Mona Newsome Wicks, PhD, RN, FAAN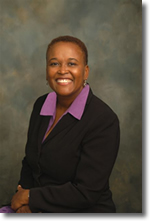 Professor
Department of Advanced Practice and Doctoral Studies
920 Madison, #950
Memphis, TN 38163
901-448-6250
mwicks@uthsc.edu
Mona Newsome Wicks, Ph.D., RN, FAAN received her Associate and Bachelor of Science degrees in nursing from the University of Memphis in 1978 and 1981, respectively. Her M.S.N. (medical and surgical nursing) was earned from the University of Tennessee, Memphis (1987) and her Ph.D. from Wayne State University (1992). A faculty member in the College of Nursing since 1987, Dr. Wicks teaches and mentors students enrolled in the Ph.D. program and teaches DNP program courses.
Professional memberships include the American Academy of Nursing (2015 - 2016 Co-chair of the Expert Panel on Cultural Competence and Health Equity), American and Tennessee Nurses Associations, Council for the Advancement of Nursing Science, Sigma Theta Tau International (Beta Theta Chapter-at-large Newsletter Editor), and Southern Nurses Research Society (Tennessee State Liaison). She is a lifetime member of the Greater Memphis Area Chapter of the American Association of Critical Care Nurses and is a former resident of this organization. Dr. Wicks was a permanent member of two National Institutes of Health study sections (2006- 2012) and served as an ad hoc reviewer in 2013 and 2015.
Her research interests include ethnic minority, family caregiver, and women's health within the context of chronic illness; health promotion/risk reduction; and health disparities. Dr. Wicks completed a National Institute of Nursing Research, NIH-funded study that tested whether a cognitive behavioral support group reduced depressive and anxiety symptoms in African American women caring for relatives receiving chronic hemodialysis. She also served as co-investigator on a National Center for Minority Health and Health Disparities NIH-funded
Exploratory Center of Excellence grant. Dr. Wicks is a site principle investigator for National Institute of Nursing Research-funded, multi-site intervention study designed to improve asthma outcomes in adolescents with persistent asthma symptoms.
A Robert Wood Johnson Foundation Executive Nurse Fellow (2008-2011), Dr. Wicks was named Outstanding Alumna by The University of Tennessee Health Science Center College of Nursing in 2009. She was selected to Leadership America in 2010 and inducted as an American Academy of Nursing Fellow in November 2010. Dr. Wicks is the recipient of institutional, regional, and national awards for her teaching and mentoring skills and author/co-author on 79 published journal articles, newspaper editorials, abstracts, and book chapters. She serves on the Editorial Board of the Journal of Nursing Education and is an Associate Editor, Health Behavior, and Policy Review. Dr. Wicks is a manuscript reviewer for several nursing and interdisciplinary journals including Nursing Outlook, Nephrology Nursing, Research in Nursing and Health, and the American Journal of Health Behavior. Her personal interests include mentoring ethnic minority high school and college students exploring health and science careers. Dr. Wicks serves as Chair of the Board of Trustees for the Memphis Mental Health Institute, the regional mental health institute for Shelby County. She also serves on the Program Advisory Board of the Shelby County Relative Caregivers Program, a Department of Children's Services program that supports children whose parents are not able to raise them. In 2014, Dr. Wicks joined the Board of Directors of the Tennessee Action Coalition.