Dual Program: DNP/PhD Admission Requirements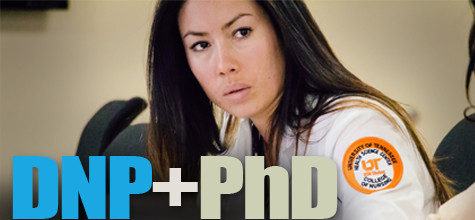 If you are interested in applying to the Dual DNP/PhD program, follow the instructions as if you are applying to the DNP program and also email Carolyn Graff for specific instructions for applying to the PhD program.
APPLICATION DEADLINES
Fall 2018 Admission: January 15th 2018
Please Note: Applicants who meet the minimum program requirements are not guaranteed interview or admission.
Apply Early!
Please don't wait until the night before a program deadline to submit your application. You should apply before the earliest deadline of the program(s) that you are applying to. This will allow the necessary time to verify and process your application.
Please refer to the residency requirements for DNP program taken from our admissions page: DNP applicants without APN licensure will need to reside in the tri-state area (TN, MS, AR) during their enrollment in the DNP program and complete clinical in those states. DNP students with APN license or Post-BSN DNP Neonatal Nursing applicants should contact the Office of Student Affairs at 901-448-6139 or joverton@uthsc.edu for questions on state authorization.  Students residing within a 50 mile radius of Shelby County at the time of application to the program are eligible for regional tuition, which is lower than out of state tuition.
Application Guidelines
For General Inquiries:
Jasmine Osborn, BPS
Administrative Coordinator
920 Madison, #1020
Memphis, TN 38163
901-448-6125
josborn18@uthsc.edu
For Program Inquiries or Transcript Evaluations:
Helen Lu, M.S., M.A.
Recruiting Coordinator
920 Madison, #1031
Memphis, TN 38163
901-448-1302
ylu26@uthsc.edu

Jamie Overton, M.A.Ed.
Director of Student Affairs
920 Madison, #1021
Memphis, TN 38163
901-448-6139
joverton@uthsc.edu