Admissions
Admissions Policy
As the state's only public health science center, UTHSC aims to improve human health through education, research, clinical care and public service. A variety of professional programs are offered through the six colleges that comprise the health science center: Dentistry, Graduate Health Sciences, Health Professions, Medicine, Nursing and Pharmacy. These programs prepare skilled and ethical health care professionals to meet the health care needs of the state of Tennessee and surrounding communities. To this end, the campus welcomes applications from women and men of all races, creeds, and cultures, who can pursue their studies in an environment that values intellectual curiosity, the pursuit of knowledge, excellence, compassion and integrity. Admission committees select highly qualified applicants, with preference to Tennessee residents, seeking to enroll students from a variety of backgrounds and experiences, so as to provide access to a broad range of students and to serve the needs of the state's diverse communities for skilled health care providers.
Admission criteria for professional programs continue to emphasize academic excellence. However, in order to serve the needs of the state for health care professionals in rural, urban and suburban environments, additional factors are also considered, including applications from qualified individuals who are underrepresented in the health care professions, from non-traditional students and from students who represent the first in their families to pursue higher education.
The Physician Assistant Program Admissions Committee will make a holistic review of the application and may give consideration to the following as well as other factors when granting an interview: academic history and success, co-curricular activities, health care experience, military experience, Tennessee residency, applicants from groups currently underrepresented in the PA profession, non-traditional students, and those who represent the first in their family to pursue higher education.
UTHSC's Physician Assistant Program evaluates applications using a holistic process. Strong applications show evidence of academic potential, knowledge of the health care system, motivation, personal maturity, self-assurance, and good interpersonal skills. Other factors used may include Tennessee residency, UT alumni, military experience, under-represented minority status and a willingness to provide care to the underserved. The committee may give consideration when granting an interview to an applicant with a strong history of co-curricular activities, health care experience, military experience, applicants from groups currently underrepresented in the PA profession, non-traditional students, and those who represent the first in their family to pursue higher education.
Admissions Requirements
To be eligible for consideration for admission, applicants must fulfill the requirements listed below. Application and admission into the PA Program is very competitive: meeting the minimum requirements does NOT assure an interview for admission to the Master of Medical Science Physician Assistant (MMS-PA) program.
Baccalaureate degree from a regionally accredited college or university
Minimum overall CASPA GPA 3.0
Completion of all pre-requisites prior to enrollment
GRE less than 5 years old; combined score of 300 is considered competitive
500 hours of prior health care experience and/or shadowing is required; the program considers 300 hours competitive
General Applicant Information/Deadlines
The MMS-PA Program utilizes the Centralized Admissions for Physician Assistants (CASPA) service: (https://portal.caspaonline.org/)
The MMS-PA Program participates in a rolling admissions process and accepts one cohort per year. THE PROGRAM STRONGLY ENCOURAGES YOU TO APPLY AS EARLY AS POSSIBLE.
The application window opens May 1st and closes September 1st for the cohort that will matriculate the following January. THE COHORT MAY FILL LONG BEFORE THE SEPTEMBER DEADLINE.
A telephone or personal interview is granted to an applicant by invitation only.
Deferment Policy
If you are accepted for admission, you may be able to defer program enrollment for one (1) year, with a guaranteed position in the program for the next academic year. You must provide an acceptable reason to the Program such as: inability to pay, medical concerns, military obligation, personal and/or family obligations. To be considered for a deferment you must submit, in writing, a formal request to the Department Chair on of before November 15 of the application year.
Deferment decisions will be made on a case by case basis and the applicant will be notified within one week of request.
If the deferment is granted, then a seat will be held in the next cohort. The tuition deposit will not be refunded. All requirements for admission into the next cohort must be met (tuition deposit, current background check, current immunizations, etc.)
Accreditation Status
The University of Tennessee Health Science Center Physician Assistant Studies Program received Accreditation-Provisional status from ARC-PA in September 2013, admitted the first class in January 2014 and graduated its first cohort in December 2015. In July 2016, the program was relocated to the College of Medicine to better align institutional resources with the program's mission and goals. To build a strong foundation in leadership, Stephanie Storgion, MD was appointed the new chair of the PA program in June 2016, and Kristopher Maday, MS, PA-C became the new program director in January 2017. We now have stable leadership and a stable core of faculty for the program.  Our second cohort of students achieved a 100% first-time pass rate on the PANCE and we are confident that this is a predictor of future success for our students. These changes should move the program in a strong positive direction to be the leader in PA education in the state of Tennessee.
In October 2016, the program had a full accreditation site visit.  During the preparation for this visit, only one cohort had graduated and the second cohort was in the middle of the clinical year.  As a result of this site visit, ARC-PA placed the program on Accreditation-Probation status. As a condition of probation status, the university is required to provide the following statement:
At its January 2017 meeting, the Accreditation Review Commission on Education for the Physician Assistant (ARC-PA) placed The University of Tennessee Health Science Center Physician Assistant program sponsored by The University of Tennessee Health Science Center on Accreditation-Probation status until its next review in March 2019. 
Probation is a temporary status of accreditation conferred when a program does not meet the Standards and when the capability of the program to provide an acceptable educational experience for its students is threatened. 
Once placed on probation, programs that still fail to comply with accreditation requirements in a timely manner, as specified by the ARC-PA, may be scheduled for a focused site visit and/or risk having their accreditation withdrawn. 
Specific questions regarding the Program and its plans should be directed to the Program Director and/or the appropriate institutional official(s). 
The University of Tennessee Health Science Center Physician Assistant Studies program is committed to achieving full accreditation status in March of 2019 and has already begun preparing for this review.  This current accreditation status has no negative impact on the ability for the program to accept students or for the current students to be eligible to sit for the PANCE, or limit in any way graduates' ability to practice in the future.
NCCPA PANCE outcomes for graduated students can be found here.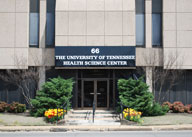 Contact Us
Master of Medical Science Physician Assistant Program

66 North Pauline, Ste. 116
Memphis TN 38163
Email: paprograminfo@uthsc.edu
Phone: 901-448-8000