Neurophysiology Fellow

Norimitsu Kuwabara, MD
"Norinori" (aka "groovy Nori") graduated from Asahikawa Medical University, Hokkaido, Japan. He initially started his career from diagnostic and interventional radiology. However, he switched to pediatrics after he realized how much he wanted to spend time with patients and loved to teach clinical tips to medical students and residents at the bedside. He has decided to pursue pediatric neurology after completing a pediatrics residency at the University of Hawaii. He chose Memphis because "I am captivated by the warm southern spirits in Le Bonheur Children's Hospital." His family has also moved to support him - his wife and their two sons. His dream is to become an international well-rounded pediatric neurologist, also, to make a bridge between East and West. He aims to make a cultural and personnel exchange in an enthusiastic and educational way between Japan, Hawaii and Memphis in the future, sincerely. He is respectful and a hard worker, as well as a positive thinker as represented by his favorite phrase; "no rain, no rainbow."
5th Year
Paola Castri, MD, PhD
Dr. Castri was born and raised in Italy and attended medical school at the University of Rome. Following medical school she completed her doctorate in Neuroscience at the US National Institutes of Health, just outside of Washington, D.D. While there she discovered that the best pizza made on earth actually comes form America! She loves spending time with her family, running, baking break and making pasta. She hopes to become a compassionate, effective and investigational Pediatric Neurologist.
4th Year
Andrew Schroeder, MD
Dr. Schroeder is originally from Central Illinois and went to Saint Louis University for both undergrad and medical school. Andrew enjoys running and playing racquet ball. His favorite activities are listening to music, collecting vinyl, and he loves seeing live shows!

Gian Rossi, DO
Having been born in New York, but raised in Florida, Dr. Rossi considers Memphis, TN to be the near perfect blend of Southern hospitality, city life, and four-seasons weather. While obtaining his B.A. in Neuroscience at Vanderbilt University, he enjoyed weekend trips to Memphis to attend Grizzlies games and sample the city's terrific soul food. He subsequently received his D.O. from Lake Erie College of Osteopathic Medicine. In his spare time, Gian enjoys traveling, playing basketball, reading poetry and philosophy, and socializing with friends and family.
3rd Year
Omer Abdul Hamid, MD
Virginia Tech Carillion School of Medicine
Dr. Abdul Hamid is originally from Fairfax, VA and studied Biology and Cognitive Science at the University of Virginia before medical school. He is a budding child neurologist with a special interest in Nero Muscular disorders. Omer enjoys playing basketball, hiking, cooking and traveling. He looks forward to seeing the Grizzlies play!
Cerin Jacob, DO
University of North Texas HSC Texas College of Osteopathic Medicine
Dr. Jacob grew up in Dallas, TX. She graduated from Baylor University in 2011 (Sic'em). When Cerin isn't working, she is probably cooking, sleeping or watching The Bachelor. She is really excited to see what the next five years hold for her as a Child Neuro resident.
2nd Year
Jenny Schmidt, MD
University of Illinois – Rockford
Dr. Schmidt was born in Michigan and grew up in Nashville, TN before finally settling in Effingham, IL. She attended Southern Illinois University in Carbondale, IL and graduated with a degree in Biomedical Science. She then attended University of Illinois College of Medicine. Her husband, Jordan, joins Jenny and they are both excited for Memphis BBQ and Redbirds baseball. She loved growing up in Tennessee and is excited to be back to spend five years as a Child Neurology resident.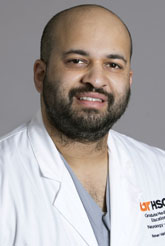 Rohan Vaidya, DO
Lake Erie College of Osteopathic Medicine
Dr. Vaidya is originally from the San Francisco Bay Area. He attended UCSD for undergrad and then made the journey to Erie, PA for medical school. While interviewing he loved how the residents at UT made him feel like a part of the family and is excited to experience everything Memphis has to offer.
Rohan enjoys reading, writing, and playing with his cat Jinx.
1st Year
Brooke Asemota, MD
Sariha Moyen, MD