Faculty of our Division of Gastroenterology and Hepatology provide inpatient and outpatient clinical services at three medical centers, the Methodist University Hospital, the Regional Medical Center in Memphis, and the Memphis Veterans Affairs Medical Center, and at University Clinical Health locations.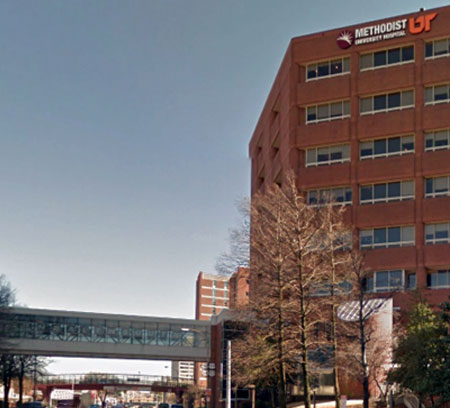 Methodist University Hospital
1265 Union Avenue
Memphis, TN 38104
(901) 516-7000

Methodist University Hospital (MUH) is a partnership of two healthcare leaders, Methodist Healthcare and the University of Tennessee Health Science Center (UTHSC). Located in the medical center and formerly known as Methodist Central, MUH is a 617-bed facility and the principal adult private teaching hospital for UTHSC. Methodist University Hospital provides real-world experiences of managing medical problems in an efficient and effective institution.
MUH and UTHSC bring together research, medicine, and innovation. This partnership supports multidisciplinary collaboration among doctors and clinical team members, leading to more advanced medical care for patients.
Regional One Health
877 Jefferson Avenue
Memphis, TN 38103
(901) 545-7100
Regional One Health (ROH) was established in 1829, making it the oldest health system in Tennessee.  In addition to being the home of the Elvis Presley Trauma Center, Regional One Health also includes Centers of Excellence in Burn, High-Risk Obstetrics, and Neonatal Intensive Care (NICU).  
ROH is the largest medical and surgical teaching site for the University of Tennessee Health Science Center.  More than half of Tennessee's doctors will receive some, if not all, training at ROH.  The partnership between Regional One Health and the University of Tennessee Health Science Center includes the UT Regional One Physicians group, the largest teaching physician group of its kind in the Mid-South.
Memphis VA Medical Center
1030 Jefferson Avenue
Memphis, TN 38104
(901) 523-8990

Founded in 1922, the Memphis VA Medical Center (VAMC) is affiliated with the University of Tennessee Health Science Center and is one of UTHSC's primary adult teaching hospitals.  It offers quality healthcare for the changing medical, surgical, and quality of life needs of the Mid-South men and women who so proudly served our nation.
For the 196,000 veterans from 53 counties in western Tennessee, northern Mississippi, and northwest Arkansas, the VAMC offers a variety of services for both physical and mental health needs.  New programs include those for traumatic brain injuries, post-traumatic stress disorder (PTSD), and suicide prevention.
University Clinical Health
 (UCH), through its affiliation with the University of Tennessee Health Science Center (UTHSC), is comprised of 130 physicians who provide competitively priced health care services in the Mid-South.  Expert, value-based patient care is offered in the following specialty areas: addiction medicine, dermatology, dermpath, family medicine, hematology, neonatology, nephrology, neurology, ophthalmology, plastic surgery, and psychiatry.  Through its 30 different practice locations, UCH has more than 100,000 patient encounters yearly.