Student Learning Outcomes
Our outcomes are guided by the "Competencies for the Physician Assistant Profession" document published by the National Commission on Certification of Physician Assistants. The purpose of that document is to communicate to the PA profession and to the public a set of competencies that all physician assistants, regardless of specialty or setting, are expected to acquire and maintain throughout their careers. The competencies provide a road map for the individual PA, the physician-PA team and PA-related professional organizations. These competencies also mirror the Accreditation Council for Graduate Medical Education (ACGME) competencies for the medical resident.
The Outcomes: our graduate physician assistant students will demonstrate:
Medical Knowledge
An understanding of pathophysiology, patient presentation, differential diagnosis, patient management, surgical principles, health promotion and disease prevention.
A core knowledge about established and evolving biomedical and clinical sciences and the application of this knowledge to patient care in their area of practice.
An investigatory and analytic thinking approach to clinical situations.
Interpersonal and Communication Skills
Appropriate verbal, nonverbal and written exchange of information.
Interpersonal and communication skills that result in effective information exchange with patients and their families, physicians, professional associates, and the health care system.
Patient Care
Age-appropriate assessment, evaluation and management.
Care that is effective, patient-centered, timely, efficient and equitable for the treatment of health problems and the promotion of wellness.
Professionalism
The ability to prioritize the interests of those being served above one's own.
Knowledge of their professional and personal limitations.
Practice without impairment from substance abuse, cognitive deficiency or mental illness.
A high level of responsibility, ethical practice, sensitivity to a diverse patient population and adherence to legal and regulatory requirements.
Practice Based Learning and Improvement
The ability to assess, evaluate and improve their patient care practices by completing critical analysis of their own practice experience, medical literature, and other information sources.
Systems Based Practice
An awareness of and responsiveness to the larger system of health care to provide patient care that is of optimal value.
An awareness of the societal, organizational and economic environments in which health care is delivered.
Published in the 2015 Department of Physician Assistant Studies Manual, pp 11-13, and on the PA program website.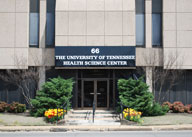 Contact Us
Master of Medical Science Physician Assistant Program

66 North Pauline, Ste. 116
Memphis TN 38163
Email: paprograminfo@uthsc.edu
Phone: 901-448-8000