Chancellor's Office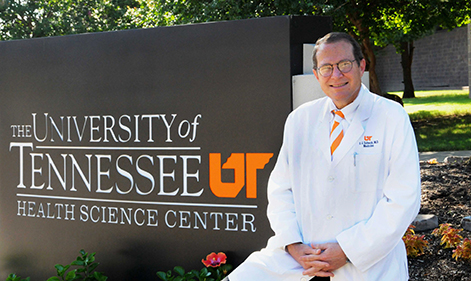 It is my pleasure to welcome you to the University of Tennessee Health Science Center (UTHSC). The Health Science Center is a statewide institution with its home campus in Memphis, and major locations in Knoxville, Chattanooga and Nashville, as well as more than 100 clinical and educational sites across Tennessee.
Our institution comprises six fully accredited health science colleges -- Dentistry, Graduate Health Sciences, Health Professions, Medicine, Nursing and Pharmacy – which are integrated for maximum educational and clinical impact at our major locations. These colleges are the primary source of health care professional training for the state of Tennessee. The main campus in Memphis serves as the home of all our colleges as well as the location of four core, partner, teaching hospitals -- Methodist University Hospital, Le Bonheur Children's Hospital, the Regional Medical Center, and the Department of Veterans Affairs Medical Center. The Colleges of Medicine, Pharmacy, and Health Professions constitute our major location in Knoxville, which is based at the UT Medical Center. In Chattanooga, the College of Medicine maintains a large campus in close association with the Erlanger Medical Center. In Nashville, a partnership with the Saint Thomas Health System will serve as a base for all six of our colleges in the state's capitol city.
Our clinical practices account for more than $200 million in revenue. Our sponsored program enterprise, consisting of grants, contracts and non-clinical services, contributes more than $200 million to the UTHSC mission. In addition to our degree-granting programs, UTHSC has approximately 1,200 physician residents and fellows in 86 fully accredited training programs. Advanced training for nurses, pharmacists, dentists, health professionals, and medical scientists is integral to the Health Science Center.
Our colleges are led by professionals with a solid commitment to our mission: to improve human health through education, research, clinical care and public service. As Tennessee's only public, statewide, academic health system, UTHSC is dedicated to delivering groundbreaking discoveries that improve the lives of those in our immediate area, as well as those in our state, region and global community. We are committed to providing an environment that is challenging, enriching, productive and safe. UTHSC faculty, staff and administrators recognize that we are training the next generation of leaders for the health sciences. This knowledge deepens our commitment to our educational, research and clinical mission.
Please visit our individual college Web sites as well as our UTHSC content Web sites to learn more about our diverse, highly skilled team and our central role in the dynamic field of health care education, discovery and delivery.
With best regards,
Steve J. Schwab, MD
sschwab@uthsc.edu
Chancellor
The University of Tennessee Health Science Center