Justice, Equity, Diversity and Inclusion (JEDI) Committee
Mission
The University of Tennessee Health Science Center Department of Pediatrics (UTHSC DOP) is dedicated to recruiting, training and retaining a diverse body of leaders within pediatrics. To accomplish this goal, our department created the UTHSC DOP Diversity and Inclusion Committee. Our mission is to promote a departmental culture of respect, equity and inclusion for all our trainees regardless of race, ethnicity, country of origin, culture, religion, gender identity, sex, sexual orientation, age, pregnancy status, physical ability, justice system involved status, and covered veteran status. We believe maintaining a culture of inclusion is a necessary feature of a safe and nurturing learning environment that allows all trainees to thrive and become culturally sensitive physicians and community advocates. In addition, our committee fully supports UTHSC DOP's commitment to solving children's health issues and eliminating disparities in our community.
Vision
We will act as an advisory board to UTHSC DOP to achieve the following:
Develop initiatives and programs to recruit, educate, empower, and retain under-represented individuals in medicine.
Provide training opportunities and implement additional courses on cultural humility, cultural sensitivity, social advocacy and health equity for our faculty and trainees. 
Develop a confidential and anonymous system for faculty and trainees to report instances of bias, microaggressions, and any other racially or culturally insensitive issues.
Enhance mentorship and support resources for under-represented individuals in medicine.
Collaborate with other diversity and inclusion groups within the UTHSC system as well as our health partners at Methodist LeBonheur Healthcare System, Regional One Health Medical Center, and St. Jude Children's Research Hospital.
Create community outreach initiatives, including mentorships and other projects, to educate under-represented individuals about healthcare and opportunities in medicine.
Foster interest and support research in social and health inequity.

LaPrecious Harrold, MD (she/her)
Co-Chair
lharrol2@uthsc.edu
Bio
Hometown: Memphis, TN 
Undergrad: Howard University (Go Bison!)
Medical School: University of Illinois COM
Residency: Pediatrics, Eastern Virginia Medical School
Clinical Interests: Hospital Medicine, Quality Improvement 
Personal Interests: I'm a native Memphian who loves to travel, cook, cycle, and spend time with my loved ones.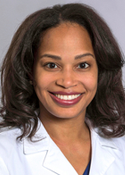 Crystal Pourciau, MD (she/her)
Co-Chair
cpourcia@uthsc.edu
Bio
Hometown: Chattanooga, TN 
Undergrad: Spelman College
Medical School: University of North Carolina, School of Medicine 
Graduate: MPH, Health Care and Prevention, UNC, School of Public Health 
Internship: Pediatrics, Cincinnati Children's Hospital
Residency: Dermatology, Henry Ford Hospital, Detroit, MI
Fellowship: Pediatric Dermatology, Baylor College of Medicine/Texas Children's Hospital
Clinical Interests: General pediatric dermatology, eczematous dermatitis, skin of color, health equity 
Personal Interests: I enjoy sunshine and warm weather as well as spending time with my family and friends.