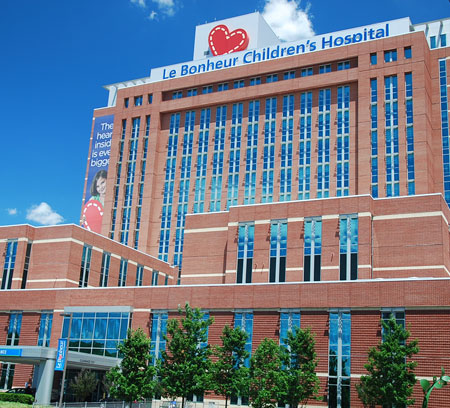 Le Bonheur Children's Hospital
848 Adams Ave
Memphis, TN 38103
901.287.5437

Established in 1952, Le Bonheur Children's Hospital is an integral part of the Methodist Le Bonheur Healthcare system and a teaching affiliate for the University of Tennessee Health Science Center. A new $340-million hospital building was built in December 2010 to accommodate the over 100,000 patients seen each year.
Named one of the nation's "Best Children's Hospitals" by U.S. News & World Report for eight consecutive years, Le Bonheur is the only Level 1 pediatric trauma center in the Mid-South. Its neonatal intensive care unit (NICU) provides the highest level of care for the region's critically ill newborns. Le Bonheur has received many accolades of excellence over the years including: Top Children's Hospital in 2017 by the Leapfrog group for its safe patient care, Magnet status - one of only 7 percent of hospitals in the U.S. to have earned this honor for quality nursing care by the American Nurses Credentialing Center (ANCC), and a three-star rating (the highest) by The Society of Thoracic Surgeons for its Heart Institute.
Primary location
2 Nurse Practitioners
Comprehensive Pediatric Otolaryngology care provided in all areas: Airway and Aerodigestive, Head and Neck, Facial Plastics, Rhinology, Congenital Anomalies, Otology
500-mile circumference patient catchment area, including patients from Tennessee, Arkansas, Mississippi, Kentucky, Alabama, & Missouri
# of ENT Cases per year – 2018: 3939, 2019: 4010, 2020: 3449, 2021: ~3800
60 bed NICU, >30 bed PICU (building larger CVICU)
Level 1 Trauma Center
Complex care by multiple other outstanding teams – Cardiothoracic Surgery, Transplantation, Neurosurgery, Neurology, Pulmonology, and Gastroenterology – bringing patients from across the country.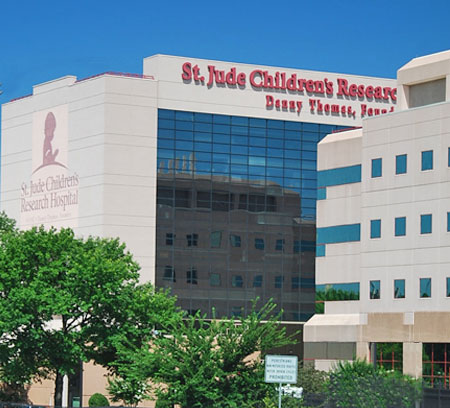 St. Jude Children's Hospital
262 Danny Thomas Place
Memphis, TN 38105
866.278.5833

St. Jude Children's Research Hospital, founded by actor Danny Thomas along with Lemuel Diggs and Anthony Abraham in 1962, started as a promise to St. Jude Thaddeus, the patron saint of the hopeless. In return for guidance in his career, Thomas pledged to build a facility to treat ill children regardless of their race, color, creed, or their family's ability to pay. St. Jude has become a premier pediatric treatment and research facility, focusing on children with aggressive cancers. The hospital treats children from all over the United States as well as 70 other countries throughout the world. St. Jude research has helped reduce the childhood cancer survival rate from 20% to 80%.
In 2019, St. Jude Children's Research Hospital was ranked the number two pediatric cancer hospital by U.S. News & World Report. St. Jude and the World Health Organization recently announced a five-year collaboration to cure at least 60% of children worldwide with the six most common types of cancer by 2030.
Secondary location
1 Nurse Practitioner
$60,000 Annual ENT Research Budget
World-wide referrals for Oncology, Hematology, and Solid Tumor patients
Complex care of Head and Neck Cancer patients and Oncology patients with ENT pathology
Neuro-Oncology Tumor Board, Solid Tumor Clinic Tumor Board and Malignant Thyroid Tumor Board are available for fellow participation