Keevia Porter, DNP, NP-C, RN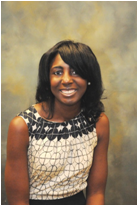 Assistant Professor
BSN/MSN Programs Department
920 Madison Ave, #1019
Memphis, TN 38163
901-448-6134
kporter6@uthsc.edu
Dr. Keevia Yvette Porter, a Memphis native, is a 2011 graduate of University of Tennessee Health Sciences Center's (UTHSC) Doctor of Nursing Practice (DNP) program with an emphasis in Public Health Nursing. She earned her BSN from the University of Memphis in 1998 and her MSN (administration) from Union University in 2003. She later earned a family nurse practitioner post-graduate certificate from the University of Memphis in 2007.
Dr. Porter has been with UTHSC since summer 2011. She teaches across programs in various courses. She is currently the course coordinator for NSG 415 Health of Populations and HOPN 877 Healthcare Economics. Dr. Porter current practices in primary care.
She is a member of the American Academy of Nurse Practitioners, Sigma Theta Tau, National League of Nursing, Tennessee Nurses Association, and American Nurses Association. She also currently serves on the board of the YWCA of Greater Memphis.
In her spare time, Dr. Porter enjoys spending time with her husband and two small daughters.