Meet the Staff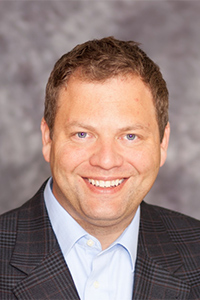 Chad Epps, MD
Executive Director of Healthcare Simulation
Chad Epps, MD trained in Anesthesiology at the Mount Sinai Medical Center and completed a fellowship in Human Patient Simulation at Mount Sinai's Human Emulation Education and Evaluation Lab for Patient Safety and Professionalism. He joined UTHSC in 2016 as the Executive Director of Healthcare Simulation. As a fellow, faculty, and director of simulation he has been active in simulation education, research, assessment, and center management since 2004. He has successfully implemented high quality interprofessional simulations across both Universities and Health Systems. Dr. Epps is the President of the Society for Simulation in Healthcare and in the past served as Chair of the Council on Accreditation of Healthcare Simulation Programs. He is published in the areas of simulation-based interprofessional education and co-edited the recently released textbook Defining Excellence in Simulation Programs (Lippincott Williams & Wilkins, 2014).
Teresa Britt, M.S.N., R.N.
Director, Interprofessional Education and Clinical Simulation
Ms. Teresa Britt, M.S.N., R.N., is the Director of Interprofessional Education and Clinical Simulation (IPECS) for the UTHSC. Ms. Britt oversees the daily operations and functions of the IPECS Center (located in 920 Madison on the 5th, 6th and 7th floors) and facilitates the integration of interprofessional opportunities and clinical simulation into the programs offered across the UTHSC. Ms. Britt has been a nurse since 1977, in nursing education since 1982, and specifically in clinical simulation development since 1992. Previously she served as the Director of Nursing Simulation for the UTHSC College of Nursing.
In this new position, Ms. Britt will be overseeing the development and implementation of clinical simulations, using both standardized patients and a range of simulation technologies, designed to support education of professional students at UTHSC. Ms. Britt will be working with faculty and staff across the professional programs to support curriculum development and coordinate faculty development in both interprofessional education and clinical simulation.

Jarrod Young, BSBME
Simulation Operations Lead
Jarrod Young joined the UTHSC Simulation Program in 2016 as the Simulation Operations Lead. Mr. Young received his Bachelor's in Biomedical Engineering from the University of Alabama at Birmingham (UAB) and has experience in laboratory, educational, and clinical settings. As a former rehabilitation engineer, Jarrod worked with rehabilitation assistive technologies, including ergonomic considerations, product design, and product modifications. Mr. Young entered into the field of healthcare simulation at UAB's Office of Interprofessional Simulation (OIPS). During his time with OIPS, Jarrod was project lead on multiple OIPS strategic priorities, including product design projects with the School of Engineering, and was responsible for training and supervising simulation specialists, simulation technicians, and work study students in OIPS. Mr. Young also holds a Graduate Certificate in Healthcare Quality and Safety from UAB and has experience with quality improvement methodologies such as: Lean, Six Sigma, PDSA, and DMAIC. He has also completed the Technical Apprenticeship in Healthcare Simulation offered by the Center for Medical Simulation in Charlestown, Massachusetts. In his current role, Mr. Young manages all operations and activity in the UTHSC Simulation Program.
Nick Brauer, B.S.
Simulation Specialist
Mr. Nick Brauer, B.S., started his new position as the Assistant Director of Clinical Simulation on December 1, 2011. Mr. Brauer graduated with a biology degree from the University of Memphis and has been with the UTHSC since 2000 (serving initially as a senior research coordinator from 2000 through 2009). For the past two years he has serves as the Simulation Coordinator for Graduate Medical Education in the College of Medicine. Mr. Brauer has also served as an Emergency Services Officer for the Shelby County Sheriff's Office since 1999, where he supervises teams on emergency medical and trauma calls throughout the county.
As the Assistant Director of Clinical Simulation, Mr. Brauer will coordinate the operations of an emerging comprehensive simulation program at the UTHSC, serving the needs of its professional programs. He will work with faculty and staff across UTHSC, particularly on the Memphis campus, in securing and facilitating the use of a wide range of simulation technologies to enrich the training of students and residents.

James Orr, NRP, FP-C
Simulation Specialist
James Orr, NRP, FP-C recently returned to UTHSC and joined the Simulation Center as a Simulation Specialist. He brings 33 years of prehospital EMS and aeromedical experience to the program. His background in EMS coupled with previous simulation experience provides valuable insight into the application of scenario based simulations. Previously employed with UTHSC in the prior UT Bowld Hospital ER contributed to 18 years of prior ER experience. James recently retired from the Memphis Fire Dept. after 25 years of service to the citizens of Memphis, TN. His experience also includes 8 years in prehospital aeromedical service as a flight paramedic. The experience gained during his career is incorporated and accentuates the application of scenario based simulations in our program.
Venus L. Claxton, M.P.A.
Program Administrator
Ms. Venus L. Claxton, M.P.A., started her new position as the Program Administrator for Interprofessional Education and Clinical Simulation in March 2012. Her responsibilities include overseeing budgets, managing the day-to-day operations of the office and emerging simulation center, and preparing regular financial reports to ensure key stakeholders are aware of the progress made. She graduated from the University of Memphis with a Bachelor's Degree in Criminal Justice and a Masters' Degree in Public Administration.
Contact Us
UTHSC Simulation Program
920 Madison Building,
Suite 700
Memphis, TN 38163
Phone: (901) 448-4530
Fax: (901) 448-4532
Email: simulate@uthsc.edu