Pediatric Inpatient Teams at Le Bonheur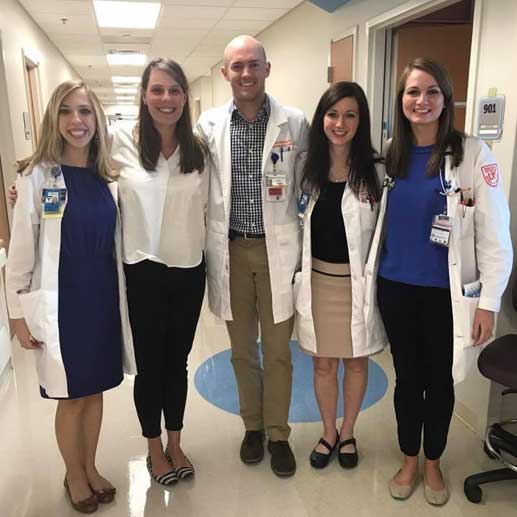 All non-surgical admissions are assigned to an inpatient pediatric team. There are four, "floor-based" pediatric teams which are resident centered – each team cares for a mix of general pediatric and subspecialty patients. The residents manage all patients on the team with the guidance of attending physicians and fellows. Each team is composed of a faculty attending, 1-2 supervising residents, 3-4 interns, a junior intern (fourth year medical student) and several third-year medical students. All inpatient services have daily family centered bedside walk rounds with the supervising residents acting as rounding leaders.

Continuity Clinic
Residents attend continuity clinic for two half days on non-inpatient months. Residents spend their first two years of training at the ULPS general pediatric continuity clinic. They have the option to work in a private community clinic or subspecialty clinic during their third year. A typical day in clinic will consist of several well child exams, hospital follow up evaluations, and the management of acutely ill patients. During their three years in continuity clinic, the residents will review the Johns Hopkins' Pediatrics Ambulatory Care Curriculum.
Chief Residents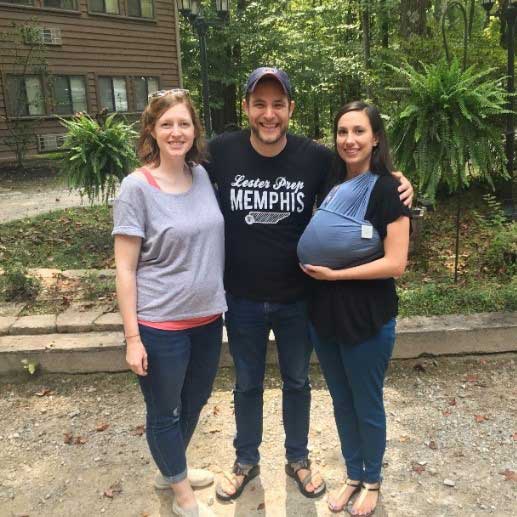 There are three pediatric chief residents and three Medicine-Pediatrics chief residents. The pediatric chief residents have each completed at least three years of residency training in pediatrics. The chief residents are selected each year for their recognized excellence in patient management, teaching expertise, leadership abilities and administrative skills. They serve as mentors to the housestaff and resident liaisons for all administrative discussions about the residency program. They are responsible for organizing/implementing morning reports, daily educational conferences, and patient review conferences with the medical students. They also serve as attending physicians on inpatient wards during two months of the academic year.
Residents as Teachers
At the University of Tennessee Health Science Center, medical student education is an integral part of the pediatrics program. While assigned to inpatient services, interns serve as mentors to third and fourth year medical students. While the intern plays an important role, ultimately the attending physician and the senior resident are responsible for the supervision and coordination of the patient care activities of the students. During second year, residents attend a seminar to learn effective methods of teaching medical students to help prepare with this transition.
Educational Opportunities
Morning Report: While on inpatient, every weekday except Wednesday, each team conducts a morning report after patient handoff. The residents, medical students and attending physicians all participate in morning report.
Grand Rounds: Every Wednesday morning, hospital wide grand rounds are held – speakers include current faculty, fellows and visiting faculty.
Noon Conference:  Held for one hour each weekday for all residents – specifically targeted to resident education and board preparation. Each month is "system-based" and scheduled in conjunction with the internal medicine conferences. Included in these conferences are: pediatric board review (led by the chief residents), journal club, team-based learning, radiology rounds, ethics rounds, morbidity & mortality, and professor's rounds.
Subspecialty Teaching: In addition to seven elective months during which residents may work with any subspecialty service, residents also work closely with many subspecialists while on inpatient /critical care services.
Self-Directed Learning:
Each resident is given access to board PREP questions (Pedialink) through the AAP website.
All residents are given a copy of Harriet Lane and online access to Redbook. They also have online access to e-books, e-journals, up-to-date and many other electronic resources through the UTHSC library website.
Residents are also provided "book money" each year to purchase additional resources they may need. Reimbursement for educational/research conference attendance is also available.
Scholarly Activity: Each resident is required to complete a scholarly activity (research, quality improvement or advocacy) prior to graduation. Residents receive formal training in quality improvement, research design and practicing in resource-poor areas.
Wellness Events
Numerous wellness activities are organized throughout the year. These include:
Chief Resident Welcome Party for new Interns
Program Director's Welcome Party for new Interns
Fall Intern Retreat for Interns and their families
"Duck Dinner" and Etteldorf Alumni Reunion
Spring Graduation and Awards Banquet
Housestaff Holiday Party
Monthly lunches/dinners with inpatient attendings
Le Bonheur Resident Appreciation Week
Wellness morning reports on inpatient
Monthly debrief session
Resident Houses
Monthly birthday celebrations